The revolution is coming and it's going to be led by Anna Chancellor.
Local hobby groups shall rise up and reclaim their country from the political elite; Morris dancers will attack town halls; the WI shall be kitted out with sniper rifles, and flower arranging classes will stockpile Semtex. It is to be, well, a very British revolution.
That's the absurdist vision that propels Rory Mullarkey's new play, The Wolf From the Door at the Royal Court in London. Short and sharp, funny and angry, it's the 2014 Pinter Commission – a new-writing prize handed out annually by the theatre and Harold Pinter's widow, Lady Antonia Fraser –and has already won Mullarkey the George Devine award for most promising playwright. Chancellor plays Lady Catherine, an aristocrat who recruits a young, beautiful boy (Calvin Demba) to help her lead an armed insurrection.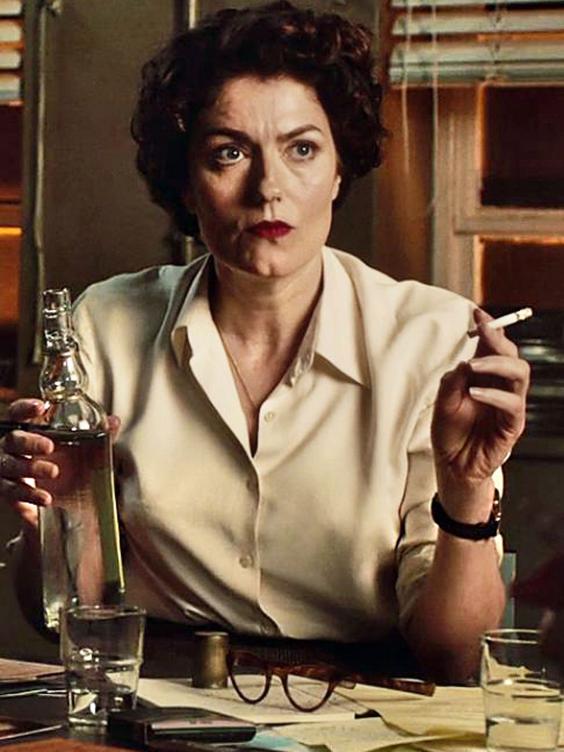 Still best known to many as Duckface from Four Weddings and a Funeral, the 49-year-old actress has more recently drawn acclaim as a scene-stealing news hound opposite Peter Capaldi in The Hour and as a tempestuous romantic in Noël Coward's Private Lives on stage with Toby Stephens. What did she think of this play when she first read it?
"Well … I thought …. What the f***?"
Conversation with Chancellor tends to go like that; pregnant pauses, meandering musings, and then gloriously direct pronouncements. You sense it wouldn't even occur to her to say anything other than exactly what she wants to: our lunchtime discussion duly leaps all over the place.
She holds forth on the youth of today: "Some young people are incredibly politically activated and knowledgeable, and a lot are caught up with just being incredibly vain … I think young people have become quite straight."  And the male bias in sports coverage: "It's 99 per cent about men. I mean, fuck them? What happens if you had a really athletic daughter?" She even instructs me in how to write the interview: "I hope you don't write 'she enthused'. Does anyone use it except journalists? I hate 'enthused'!"
Something tells me Chancellor's going to make a convincingly fiery revolutionary – and not just because she's dressed almost head-to-toe today in Communist Party bright red. Still, she's not exactly got over that initial "WTF?"' reaction to Mullarkey's provocative, teasing call-to-arms. "There's an energy and anarchy in the writing … something quite explosive," she says. "[But] I don't think I've got much of a take on it yet. I don't know if I ever will. You just have to be as true and as believable in this absurdist world as possible."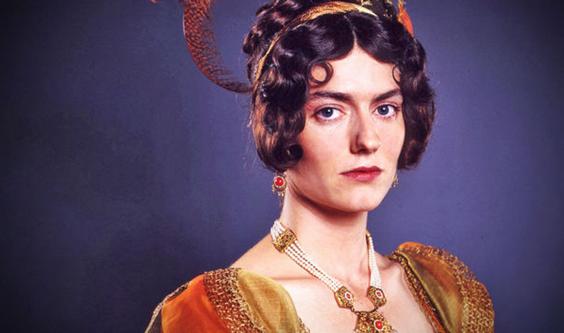 That said, she's right behind Mullarkey's attack on our modern apathy. "One of my lines is, 'We're sleepwalking through our lives', and I do think that's true …. A lot of people are getting away with a hell of a lot because we are so caught up with the minuteness of our lives. And I am part of that. There's a sort of public cry of 'What can we do about it?' But of course we could do a lot about it, because together we're stronger."
Chancellor doesn't know quite how audiences will react to The Wolf ..., but says that, at the very least, they won't be bored. "It's very horrible for an audience to be bored. But because I don't think they're going to be bored, I think it will be fine; they might be angry, irritated, or they might love it," she says, adding with rather debonair dismissiveness that she'll simply tell some people "not to come". "I could imagine men being really irritated by it," she decides, doing an impression of a scornful stuffed-shirt harrumphing at its change-the-world fervour.
Establishment types may be more keen on her other new projects, though: she steals the show  in the opening episode of Downton Abbey later this month, and has recently finished filming on a new  three-part BBC drama based on E F Benson's Mapp and Lucia novels, alongside Miranda Richardson, which is likely to air around Christmas.
Her Downton stint is suitably naughty: Chancellor is a visiting Lady who has her eye on a pretty young member of the below-stairs staff… "I've had loads of relationships with young men – isn't that funny?" she says with a twinkle. "Which is unusual, isn't it? Normally it's the other way round." She then declares she has nothing else to say about Downton Abbey.
I attempt to draw her – is she a fan? She avoids the question elegantly by answering "I don't actually watch much telly… there's just so many things to do. You could be having a bath. Couldn't you? Or just lying on your bed."
OK – but why does she think Downton's been so hugely popular? She asks me the question straight back. After I burble on about a retrograde desire to step back in time to an age when everyone knew their place in the social order and wore nice frocks, she sniffs: "Well, it doesn't interest me."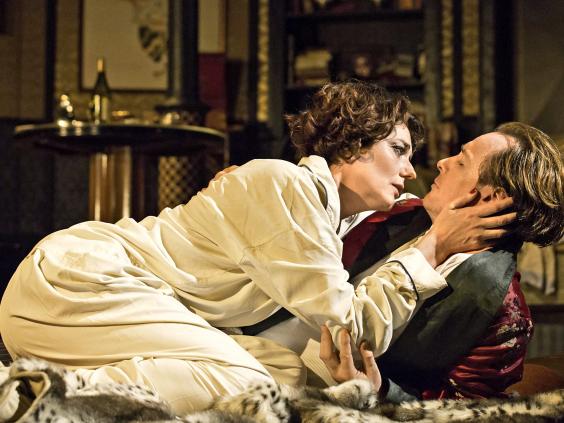 Mapp and Lucia, however, she would watch. The League of Gentlemen's Steve Pemberton has adapted Benson's camply comic stories centred on two genteel but bitterly rivalrous ladies in a 1930s seaside village – last seen in the Eighties, in the much-loved Channel 4 series with Prunella Scales and Geraldine McEwen. "I hope it's really going to be good," says Chancellor, before reflecting that she always seems to be cast in things "written by gay men in the 1930s".
She's less keen on another casting theory: that she's always playing posh. "I knew you were going to ask me this. I was on the loo before you arrived thinking, 'She's bound to ask me why I'm always posh  ….' I haven't got anything interesting to say about it, except that I feel really lucky with the roles I have played – and not all of them have been hugely posh. If I was just endless Lady so-and-so, I think I would be a bit bored." And boredom is not to be tolerated.
The "posh question" is all the more loaded thanks to Chancellor's well-heeled background; although she claims to know little about her family tree, it's thick with earls, ladies and barons, with branches leading to Prime Minister Herbert Asquith and to Jane Austen (though she scotches rumours she's related to Lord Byron).
"Who I am – how I was brought up, who I am related to, my genetic imprint – is important to my life. But it is only important up to a certain point. Because after that, there's freedom of choice, isn't there, to be who you want to be?"
Indeed, self-determination is at the heart of The Wolf From the Door, which helps kick off a new season of Royal Court shows about revolution. Is that, I ask Chancellor, what theatre should do – shake us all up?
"We do want to be informed and engaged and kicked out of our apathy. I don't think we really enjoy feeling apathetic, that's a very gloomy place for the spirit to reside," she says. "I do actually try to keep myself awake and alive. I'm rather ill-informed ... I'm passionate. I'm passionate and ill-informed! Typical actress, probably."
'The Wolf From the Door' is at the Royal Court, London SW1, 10 Sept to 1 Nov; royalcourttheatre.com. 'Downton Abbey' begins on 21 Sept on ITV1
Five definitive roles
'Four Weddings and  a Funeral'
Chancellor provided the standout comedy in Richard Curtis's 1994 romcom when her character, the weepy and needy Henrietta (aka Duckface), punched Hugh Grant full in the kisser after he jilted her at the altar. The film was Chancellor's big break and Duckface remains the role for which she is best-known. "It'll be on my grave," she has observed.
'Pride and Prejudice'
In Andrew Davies's famed 1995 BBC adaptation, Chancellor was deliciously nasty as the duplicitous and cold-hearted Caroline Bingley. Not content with being perfectly beastly to Jane Bennet (Susannah Harker), who was sweet on her brother, she also plotted to scupper the relationship between Elizabeth (Jennifer Ehle) and Mr Darcy (Colin Firth) .
'Tipping the Velvet'
Fulfilling many a viewer's fantasy, Chancellor played the Victorian lesbian dominatrix Diana Lethaby in Andrew Davies's rollicking adaptation for BBC2 in 2002 of Sarah Waters' novel. Pure filth as decadent Diana debauched young Nan (Rachael Stirling), making her her willing sex slave.
'The Hour'
Chancellor played super-smart Lix Storm in Abi Morgan's drama series, set in a 1950s television newsroom, which aired on BBC2 in 2011. She played a sort-of British Martha Gellhorn and her hard-living character was given some whipcrack one-liners, punchily delivered in Chancellor's deadpan style. 
'Private Lives'
Chancellor's Amanda to Toby Stephens's Elyot, at Chichester and then in the West End in 2013, was described by one critic as having "charisma in spades". She poignantly brought out a loneliness beneath the soignée exterior of Noël Coward's heroine, and the scene in which she danced feverishly to Stravinsky's The Rite of Spring was a comic highlight. 
Reuse content