In that seemingly endless hinterland south of Croydon and north of Brighton lies Purley, a fully-detached commuter nirvana whose very name has become a byword for suburban contentment. Despite its relative proximity to the harsh realities of Croydon, Norwood and Crystal Palace, it wouldn't be facetious to say that it's in places such as Purley where Boris Johnson won the Mayorship, or where the careers of James Blunt, Michael McIntyre and Tony Blair were made. For Purley is purely Middle England.
It's also in towns and villages such as Purley where people have the Daily Mail and Express dropped on to their double driveways every morning, their bold black headlines providing a strange and hysterical insight into the rest of the world. And it's places such as Purley where the people still very much believe in the legend of the Express's own Helen of Troy: Lady Diana, The Princess of Wales, Queen of Hearts, England's Rose.
One man who definitely still has a place for Diana in his heart, is Brian Watson, a Purley man for 15 years. Brian, a kind of ad guru from a maverick British old school that has more in common with Michael Winner than Mad Men (he's apparently directed the most adverts ever, a staggering 1,880 or so). Brian boasts of a long history with making ads for the Daily Mail (its editor is quoted on his website as calling him a "genius"). Today, though, I'm here to talk to him about something different, I'm here to talk about Diana, Princess of Wales.
Because, like anyone with a healthy interest in the life and times of the people's princess, he decided to turn his passion into art. Not by making conspiracy-spreading YouTube videos or sending angry letters to Balmoral, but by writing a 12-song West End musical spectacular about her life, totally on spec, without even the help of an agent. Sadly, no one, as yet, has agreed to put it on stage.
Over a platter of recently quartered Sainsbury's egg and bacon sandwiches, I ask Brian just what it was about Diana that made people so enamoured with her. "Remarkability," he replies with the certainty that would make Paul Burrell seem like an impartial observer. "She was a remarkable person. She wasn't afraid to don that flak jacket and tread in minefields. She was the first royal to be part of the people, and the people responded to that in such a great way, they loved her."
"She touched a lot of people, it's a cliché, but she really did," interjects his writing partner, David Smart, a boyish Australian jingle writer with a touch of the Rob Lowe to him.
Together, Brian and David have taken the brave step of writing their musical. Alongside Daily Mail stalwart Richard Kay (a personal friend of the princess who received a phone call from her on the day she died), the trio have created Diana: The Musical, a spectacular audio-visual tribute to her short life.
The musical aims to tell the story of Diana through a series of songs based around those inescapably public moments in her life. The photos by Mario Testino, her lonely moment at the Taj Mahal, the Royal Wedding, the children's hospices, the famous dresses, the Bashir interview, right up to those haunting final photos of the wrecked Mercedes in the tunnel.
It does this without much dialogue, with the scenes being set up by members of the media – reporters, paparazzi and an off-screen Martin Bashir forming a kind of public narrative of her story. It's a piece which relates strongly to our own, media-formed relationship with Diana. Brian explains it simply as "a series of musical vignettes, linked together by the media, who obviously played a huge part in her life, and in her death, as some believe".
Making our way through some Scotch eggs and cherry tomatoes, Brian and David play me a few choice numbers from the musical. The big song, that is, the one aimed at the Britain's Got Talent auditions market, is a number called "I Can Only Dream", a touching piano-led ballad based around the black-and-white Testino shots that so many newspapers made her defining image. As it plays, a post-divorce Diana dances among her most famous dresses as they come to life and twirl with her in a typically West End show of bittersweet determination.
"We're looking at things like The X Factor, all these huge concerts you see on TV for inspiration, and then we're putting an icon into the middle of that, and getting something really dynamic out of it," says David.
Other highlights include: "A Cuddle and a Smile" (a sentimental number set in a hospice in which the children and Diana dance together), "A Sergeant Major's Job" (a Gilbert and Sullivan-style bit of comic relief sung by a bolshy Sergeant Major, enthusiastically voiced by Brian on the demo CD he gave me), "A Right Royal Wedding" (a rousing number in which the people of London chant "There's going to be a wedding?", "There's going to be a wedding!", "A right royal wedding!" at each other like something out of a cockney Les Mis) and "Sea of Flowers" (the ambitious opening number which uses a clever bit of audience participation, with the front aisles being issued with bouquets).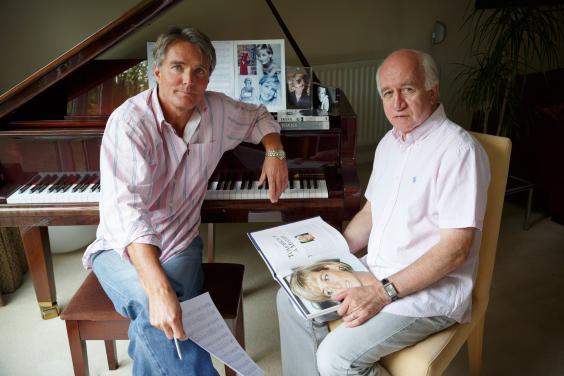 The whole thing starts and ends with the lone voice of the same young girl crying out the word, "Diana". It's probably just as camp and overblown as you were hoping.
What about the finale, though? Surely a stage musical can't end on something as tragic and brutal as the way Diana's real story ended? "You can end a play on a downer, but you can't end a musical on a downer," Brian tells me assuredly. And a big ending they surely have; I won't spoil it for you, but it involves lookalikes of many of the famous people that Diana met through her life, in a barnstorming finale.
What strikes you, listening to the songs and looking at the production notes, is that for a woman whose life was so inextricably linked with scandal and intrigue, there seems to be very little of it in the musical.
"We want this to appeal to every Diana fan. It's not controversial, there's no gossip, there's no fiction. It literally is just a celebration of her royal life," states Brian.
Brian and David believe that where their musical differs from this month's actually-not-that-bad, but-not-great-either Naomi Watts vehicle, Diana, is that it's an altogether more respectful take on her story. There's no hearsay or speculation in it, and absolutely no sex whatsoever. There's no dashing cavalry man or Arab playboy in sight.
It's clearly something Brian feels quite passionate about. "We set out with the yardstick of not upsetting William and Harry, and if you don't upset William and Harry, you're not going to upset any Diana fans anywhere. We feel it's time that there was a proper tribute to Diana, not someone trying to make money out of dishing the dirt, airing her sex life and getting it wrong. We want William and Harry to come and see this, and leave loving their mother even more than they did before they came to the theatre."
Despite Brian's slightly dubious sentiments regarding the princes, I couldn't help but be taken along with his take on the Diana myth. It seemed to be a musical written about the Diana we all knew, rather than the one that we wanted to. It actually seems fairly post-modern with its use of media iconography and sly references to the bits we all know. But does he think that the British public would really be interested in something so flattering and deferential?
Says Brian, "A few people said to us, up front when we first said we were doing this, 'You've got to make it confrontational, that's what people want'. But it isn't, because that's what the film is, and it's already getting a real slagging".
But what about the most contentious part of Diana's narrative? The part which still keeps those Daily Express subscriptions going to this day: her untimely death in a Parisian underpass? Well, Brian, despite being a fully-fledged royalist ("I love the royal family and always have done," he tells me with the utmost sincerity), is also a fully signed-up conspiracy theorist. His personally-held take (which David seems to go along with, as well) is that Diana's car was being remote-controlled by the mysterious white Fiat Uno.
"That Mercedes that she was driving, the computer was stolen and the car was off the road for 14 days. So I phoned up my local Mercedes dealership, as I drive a Merc, and asked them how long it would take to put a new one in. They said about half an hour or so. Then I asked the guy if you could perhaps control the car with the right computer. He said, 'Yes, you could'. When I told him why I was asking him he went cold."
"Nobody ever found the Fiat Uno either," David drops in like Fitz from Cracker would when he knew he had a really killer piece of evidence.
Presumably this was excised from the musical's plot for reasons of taste, rather than something far more sinister? "A few years back, I wrote a synopsis for a movie called, Who Killed The Queen of Hearts?, and I sent it out to several studios. I got a phone call from one of the studio executives telling me, 'If you value you family's life, you will drop this immediately'. I said to David, 'Have I got too close to the truth?'."
Ridiculous or not, you can't fault Brian and David's passion for the project. Writing a West End musical takes a lot of time, and getting one made takes a lot of money. Creating this show without any guaranteed way for it to be shown is a testament to their dedication.
But how confident were they really, standing in the face of a 1,000 performances and scrapped proposals? Could it end up going the same way as Mike Read's notorious Oscar Wilde musical? Will it even make it to the stage at all? Is Sheridan Smith going to have to play Lady Di to get anyone in the house?
David is unfaltering in his faith in the project. "The thing is, this is our first musical, but we've been in various forms of the entertainment business for 30 years. We've crafted every single scene here, we know exactly what we want and how we want it, and the story is out there. She's one of the most famous people in the world, and we know the music is solid." I ask them if investors or directors were going to try and alter any part of their vision, what it would be? Their answer comes out in tandem: "The size [ie, the scale] of it".
Brian and David's musical might not be the new Drake album when it comes to the cool stakes. But if there was ever a popular British icon that would appeal to the coach-trip and Aberdeen Steak House crowd (not to mention her staggering international appeal), it's probably Diana. Sure, there's some shaky dialogue, taste lapses and dodgy metaphors here and there, but have you seen Cats? That's what musicals are all about. You can't help but think that Diana's story would be much better served by something slightly ridiculous rather than the drab, glorified TV movie that is the Naomi Watts film.
The Diana story is one of excess and glorious institutional camp, which the musical seems to capture effortlessly, but it's also one of darkness and sex, which it steadfastly refuses to. This will be where its success lies. Can the public really put its desire for salaciousness behind them? I'm not sure, but I'm wishing Brian and David well.
Reuse content