There have been few plays this century more mysterious than Jez Butterworth's The River.
The drama chronicles a man's relationship with two women in a remote log cabin set against the backdrop of a fly-fishing trip. Yet the production history of The River is as enigmatic, if less eerie, as the play itself.
The River played for less than a month in autumn 2012 at the Royal Court's 90-seat Jerwood Theatre Upstairs, starring Dominic West, Laura Donnelly and Miranda Raison. Since it was Butterworth's follow-up to his astoundingly successful state-of-the-nation play Jerusalem – staged at the Royal Court, twice in the West End and on Broadway – a novel ticketing scheme was implemented to cater for the demand; no seats were sold in advance with a mixture available online and at the Court's box office.
With the possible exception of the London Olympics, The River generated better reviews over here than any other form of entertainment in 2012 (Paul Taylor, theatre critic of The Independent, wrote that The River "unfolds like a tantalising cross between a piece of deeply felt poetry and a sleight-of-hand puzzle"). No West End run ensued but now this intimate three-hander chamber piece has landed on Broadway with Donnelly returning alongside original director Ian Rickson, former artistic director of the Royal Court. Replacing Dominic West and Miranda Raison are Hugh Jackman and Cush Jumbo.
The Broadway debuts of Donnelly, 32, and Jumbo, 29, are significant milestones for UK theatre. But it's the presence of Jackman that has transported The River across the pond and made it the most intriguing straight play of this Broadway season. The Australian star of the X-Men films balances Hollywood blockbusters with stints on stage, where he started out (his breakthrough stage role was in Sir Trevor Nunn's National Theatre's 1998 revival of Oklahoma!). Jackman is beloved on Broadway. Earlier this year he hosted the Tonys, New York's equivalent of the Oscars, and his 2011 one-man show Hugh Jackman, Back on Broadway would probably still be running so if he hadn't opted for a limited two-month run.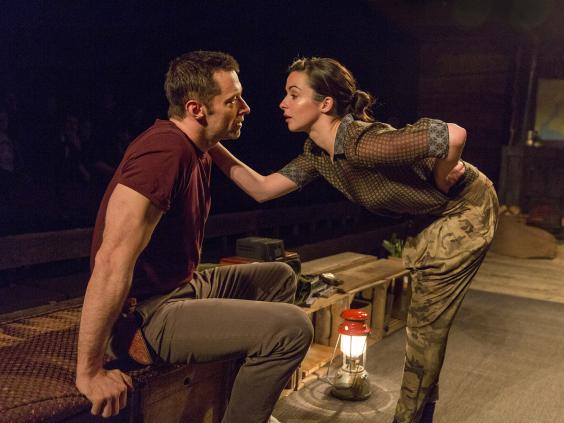 Ordinarily a complex, intimate drama such as The River would face a challenging fight to stay on its feet in the Broadway arena but the presence of Jackman, 46, ensures its status as a sell-out hit at the Circle in the Square theatre before it has even opened. It's tempting to think this has all been meticulously plotted by producer Sonia Friedman, Rickson and Butterworth, but The River's journey to New York is the latest in a chain of accidents.
Butterworth was commissioned to write The River for the West End before opting to stage it in the shoebox of the Jerwood Theatre Upstairs.
"Frankly I would have put the play straight in the West End from the Court but not every actor who was in it wanted to do that," Rickson tells The Independent. "That created an opportunity. Why not originate the show on Broadway? It's like doing a new play as only a few people saw it in London during its four-week run in a tiny theatre. We found Hugh early on."
Jackman warmed to the prospect of playing The Man, an intimidating yet tender soul. "I can't stop telling you what an amazing guy he is," says Rickson. "Hugh has a radiant charisma. You walk around New York with him and everyone has a sense of ownership of him. He'll take you far into this play because he has the masculinity and power you want but he's so sensitive and artistic."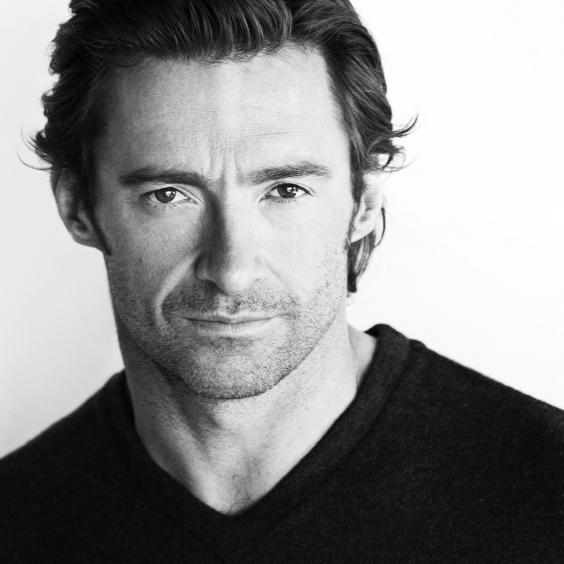 Jackman says he was drawn to The River by its slow-burning existentialism. "It's the kind of play I haven't seen in a long period of time," he told the Vulture website. "Literally from the moment it opens, you're brought into a world where the audience will feel almost uncomfortable to be there – it's very private, very interior. It really asks: when you find someone in life, are we actually just trying to recapture something we've lost, or is it real?"
Donnelly is the only member of the original acting trio who has crossed the Atlantic for The River. "It was a question of trying to get a time whenever Dominic [West] would be available to do it," she remembers of early attempts to stage The River in the West End. "There was always the intention of it having another life outside of the Court and I made it clear to Ian that I wasn't done with it and wanted to bring it somewhere else. When Hugh got involved, it made so much more sense to bring it to New York."
Donnelly shares the theatre world's fascination with how Jackman's fans will respond to such a personal piece. "People expect a certain kind of entertainment from Hugh Jackman because he is essentially Mr Broadway," she says. "He can do it all – sing, dance and act – and people think they know him as a lovely guy, which for the record he really is. People will go in expecting, or at least wanting, to see that side of him and it will be interesting to see how they react to the fact it's not necessarily the side of himself he's giving in this." According to Donnelly, an A-list ego is nowhere to be found: "What we're getting from Hugh as an actor is a sensitive, incredible performance in a way I've never experienced from any other actor I've been on the stage with."
Friedman, who struck box-office gold and Tony Awards glory on Broadway last year when she exported the Globe Theatre's all-male Twelfth Night and Richard III, chose not to cash in on Jackman's celebrity this time, staging The River in one of Broadway's most intimate theatres, the 776-seater Circle in the Square. The thrust stage means even the back row is only a few feet away from the performers, something Donnelly says is in keeping with The River's spirit: "It feels much more collaborative, like everyone is sharing an experience rather than the audience sitting down to face people on stage doing the work."
The River marks the latest collaboration between director Rickson and writer Butterworth that began two decades ago when Mojo was staged at the Royal Court. Their partnership is perhaps the most intriguing Royal Court export since John Osborne and Tony Richardson took Look Back in Anger and The Entertainer to Broadway six decades ago. Staging Jerusalem in New York with Mark Rylance, Rickson recalls, "felt like we were a bunch of pirates doing this raucous, anarchic and rousing thing. Just seeing Broadway audiences getting obscure English riffs about BBC South West was affirming."
This time round they're being exposed in The River to the joys of fly-fishing, but Rickson is adamant X-Men aficionados won't drown in English esotericism when they see The River. "Hugh Jackman fans and Wolverine fans might not have seen this sort thing before," he says, "but I don't think they'll be daunted or dismayed. The River is really accessible."
'The River' opens at the Circle on the Square, New York, on 16 November
Reuse content