His face may not be familiar, but there's a good chance you've seen one of Jack Thorne's TV programmes – Skins, Glue, This is England '86, (and '88 and '90 come to that), The Fades – or maybe his hit stage version of vampire movie Let the Right One In, or council budget-cuts drama Hope, which played at the Royal Court.
What if I say he's the new JK Rowling? This summer, Harry Potter and the Cursed Child arrives in the West End, and Thorne is the man putting words in the mouth of a grown-up Harry. It is, the 37-year-old says, acknowledging the weight of fan expectation, "an honour".
Those expectations have already been unsettled with an ace bit of casting – Noma Dumezweni, a black actress, as Hermione. It set the internet on fire, but for Thorne it was a no-brainer: she's a brilliant actress. And anyway, he's a writer who likes to see things differently – and cast his plays differently. His current show takes disabled theatre company Graeae into the National, and Thorne is an outspoken advocate for greater diversity in the arts. "It's probably the most important thing I can do," he says. "It's something I feel very passionate about; it's still the hardest thing to get disabled characters on TV."
Culture news in pictures
Culture news in pictures
1/30 30 September 2016

An employee hangs works of art with "Grand Teatro" by Marino Marini (R) and bronze sculpture "Sfera N.3" by Arnaldo Pomodoro seen ahead of a Contemporary Art auction on 7 October, at Sotheby's in London

REUTERS

2/30 29 September 2016

Street art by Portuguese artist Odeith is seen in Dresden, during an exhibition "Magic City - art of the streets"

AFP/Getty Images

3/30 28 September 2016

Dancers attend a photocall for the new "THE ONE Grand Show" at Friedrichstadt-Palast in Berlin, Germany

REUTERS

4/30 28 September 2016

With an array of thrift store china, humorous souvenirs and handmade tile adorning its walls and floors, the Mosaic Tile House in Venice stands as a monument to two decades of artistic collaboration between Cheri Pann and husband Gonzalo Duran

REUTERS

5/30 27 September 2016

A gallery assistant poses amongst work by Anthea Hamilton from her nominated show "Lichen! Libido!(London!) Chastity!" at a preview of the Turner Prize in London

REUTERS

6/30 27 September 2016

A technician wearing virtual reality glasses checks his installation in three British public telephone booths, set up outside the Mauritshuis museum in The Hague, Netherlands. The installation allows visitors a 3-D look into the museum which has twenty-two paintings belonging to the British Royal Collection, on loan for an exhibit from 29 September 2016 till 8 January 2017

AP

7/30 26 September 2016

An Indian artist dressed as Hindu god Shiva performs on a chariot as he participates in a religious procession 'Ravan ki Barat' held to mark the forthcoming Dussehra festival in Allahabad

AFP/Getty Images

8/30 26 September 2016

Jean-Michel Basquiat's 'Air Power', 1984, is displayed at the Bowie/Collector media preview at Sotheby's in New York

AFP/Getty

9/30 25 September 2016

A woman looks at an untitled painting by Albert Oehlen during the opening of an exhibition of works by German artists Georg Baselitz and Albert Oehlen in Reutlingen, Germany. The exhibition runs at the Kunstverein (art society) Reutlingen until 15 January 2017

EPA

10/30 24 September 2016

Fan BingBing (C) attends the closing ceremony of the 64th San Sebastian Film Festival at Kursaal in San Sebastian, Spain

Getty Images

11/30 23 September 2016

A view of the artwork 'You Are Metamorphosing' (1964) as part of the exhibition 'Retrospektive' of Japanese artist Tetsumi Kudo at Fridericianum in Kassel, Germany. The exhibition runs from 25 September 2016 to 1 January 2017

EPA

12/30 22 September 2016

Jo Applin from the Courtauld Institute of Art looks at Green Tilework in Live Flesh by Adriana Vareja, which features in a new exhibition, Flesh, at York Art Gallery. The new exhibition features works by Degas, Chardin, Francis Bacon and Sarah Lucas, showing how flesh has been portrayed by artists over the last 600 years

PA

13/30 21 September 2016

Performers Sean Atkins and Sally Miller standing in for the characters played by Asa Butterfield and Ella Purnell during a photocall for Tim Burton's "Miss Peregrines Home For Peculiar Children" at Potters Field Park in London

Getty Images

14/30 20 September 2016

A detail from the blanket 'Alpine Cattle Drive' from 1926 by artist Ernst Ludwig Kirchner is displayed at the 'Hamburger Bahnhof - Museum for Contemporary Arts' in Berlin. The exhibition named 'Ernst Ludwig Kirchner - Hieroglyphen' showing the complete collection of Berlin's Nationalgallerie works of the German artist Ernst Ludwig Kirchner and will run from 23 September 2016 until 26 February 2017

AP

15/30 20 September 2016

A man looks at portrait photos by US photographer Bruce Gilden in the exhibition 'Masters of Photography' at the photokina in Cologne, Germany. The trade fair on photography, photokina, schowcases some 1,000 exhibitors from 40 countries and runs from 20 to 25 September. The event also features various photo exhibitions

EPA

16/30 20 September 2016

A woman looks at 'Blue Poles', 1952 by Jackson Pollock during a photocall at the Royal Academy of Arts, London

PA

17/30 19 September 2016

Art installation The Refusal of Time, a collaboration with Philip Miller, Catherine Meyburgh and Peter Galison, which features as part of the William Kentridge exhibition Thick Time, showing from 21 September to 15 January at the Whitechapel Gallery in London

PA

18/30 18 September 2016

Artists creating one off designs at the Mm6 Maison Margiela presentation during London Fashion Week Spring/Summer collections 2017 in London

Getty Images

19/30 18 September 2016

Bethenny Frankel attends the special screening of Disney's "Beauty and the Beast" to celebrate the 25th Anniversary Edition release on Blu-Ray and DVD in New York City

Getty Images for Walt Disney Stu

20/30 17 September 2016

Visitors attend the 2016 Oktoberfest beer festival at Theresienwiese in Munich, Germany

Getty Images

21/30 16 September 2016

Visitors looks at British artist Damien Hirst work of art 'The Incomplete Truth', during the 13th Yalta Annual Meeting entitled 'The World, Europe and Ukraine: storms of changes', organised by the Yalta European Strategy (YES) in partnership with the Victor Pinchuk Foundation at the Mystetsky Arsenal Art Center in Kiev

AP

22/30 16 September 2016

Tracey Emin's "My Bed" is exhibited at the Tate Liverpool as part of the exhibition Tracey Emin And William Blake In Focus, which highlights surprising links between the two artists

Getty Images

23/30 15 September 2016

Musician Dave Grohl (L) joins musician Tom Morello of Prophets of Rage onstage at the Forum in Inglewood, California

Getty Images

24/30 14 September 2016

Model feebee poses as part of art installation "Narcissism : Dazzle room" made by artist Shigeki Matsuyama at rooms33 fashion and design exhibition in Tokyo. Matsuyama's installation features a strong contrast of black and white, which he learned from dazzle camouflage used mainly in World War I

AP

25/30 13 September 2016

Visitors look at artworks by Chinese painter Cui Ruzhuo during the exhibition 'Glossiness of Uncarved Jade' held at the exhibition hall 'Manezh' in St. Petersburg, Russia. More than 200 paintings by the Chinese artist are presented until 25 September

EPA

26/30 12 September 2016

A visitor looks at Raphael's painting 'Extase de Sainte Cecile', 1515, from the Uffizi Gallery in Florence during the opening of a Raphael exhibition at the Pushkin State Museum of Fine Arts in Moscow, Russia. The first Russian exhibition of the works of the Italian Renaissance artist Raffaello Sanzio da Urbino includes eight paintings and three drawings which come from Italy. Th exhibit opens to the public from 13 September to 11 December

EPA

27/30 11 September 2016

Steve Cropper and Eddie Floyd perform during Otis Redding 75th Birthday Celebration - Rehearsals at the Macon City Auditorium in Macon, Georgia

Getty Images for Otis Redding 75

28/30 10 September 2016

Sakari Oramo conducting the BBC Symphony Orchestra, the BBC Symphony Chorus and the BBC Singers at the Last Night of the Proms 2016 at the Royal Albert Hall in London

PA

29/30 9 September 2016

A visitor walks past a piece entitled "Fruitcake" by Joana Vasconcelo, during the Beyond Limits selling exhibition at Chatsworth House near Bakewell

REUTERS

30/30 8 September 2016

A sculpture of a crescent standing on the 2,140 meters high mountain 'Freiheit' (German for 'freedom'), in the Alpstein region of the Appenzell alps, eastern Switzerland. The sculpture is lighted during the nights by means of solar panels. The 38-year-old Swiss artist and atheist Christian Meier set the crescent on the peak to start a debate on the meaning of religious symbols - as summit crosses - on mountains. 'Because so many peaks have crosses on them, it struck me as a great idea to put up an equally absurd contrast'. 'Naturally I wanted to provoke in a fun way. But it goes beyond that. The actions of an artist should be food for thought, both visually and in content'

EPA
Arriving at the National this month after a hit run in Edinburgh and a tour, The Solid Life of Sugar Water is a wincingly candid piece about a couple, Alice and Phil, who lose a child; both directly tell the audience about the stillbirth, and their often painfully comic attempts to reconnect through sex. Alice is played by Genevieve Barr, who is deaf, and Phil by Arthur Hughes, who has an arm impairment; her deafness is acknowledged, but disability is not a "theme" of the play as such.
The inspiration for the show was highly personal. "My mother had a very late miscarriage of twins and had to deliver them naturally," says Thorne when we meet on a grey morning at the National. "My mum is a very brave woman, and she's had four kids since then – but you can still see what it did to her, and to my dad."
Although he stumbles and ums as he tells me that he "struggles with emotional articulacy", Thorne is remarkably open about his work, and life. "The other thing was, my wife and I have been struggling with fertility stuff, and [writing the play] was also trying to find a way to talk about what that had done to us as a couple."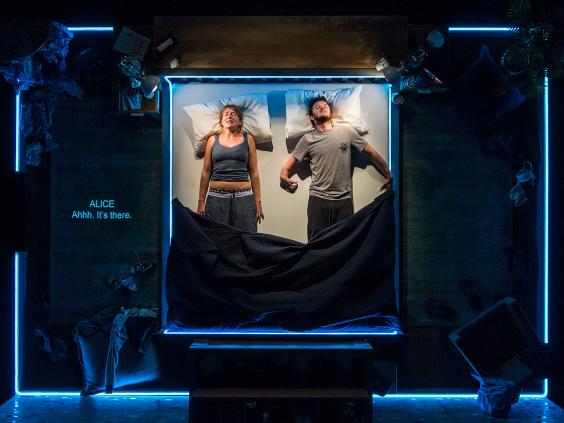 When his parents watched the play, it prompted the "most emotional" conversation he'd ever had with them. "Particularly with my dad – we just don't have those chats. But I think it was a good thing to talk about it, and they felt like [the play] was true in some way to their experience, and that's all you hope for really."
Has it prompted deep-and-meaningfuls between Thorne and his wife, the comedy agent Rachel Mason, too? A lot of The Solid Life of Sugar Water is about never really knowing what the other person in a relationship is thinking; there's a sometimes sweet, sometimes filthily explicit comedy to the characters' contradictory accounts of love and sex.
"No, I haven't talked to my wife about what it means for us, other than that she's really cool and I'm a bit of an idiot," Thorne laughs, identifying with Phil ("Clearly not the most talented man in bed"). He thinks it's a hopeful play, but adds that reviewers have suggested the couple are "doomed because of their inability to communicate properly; if that's the case, maybe my marriage is in more trouble than I thought!"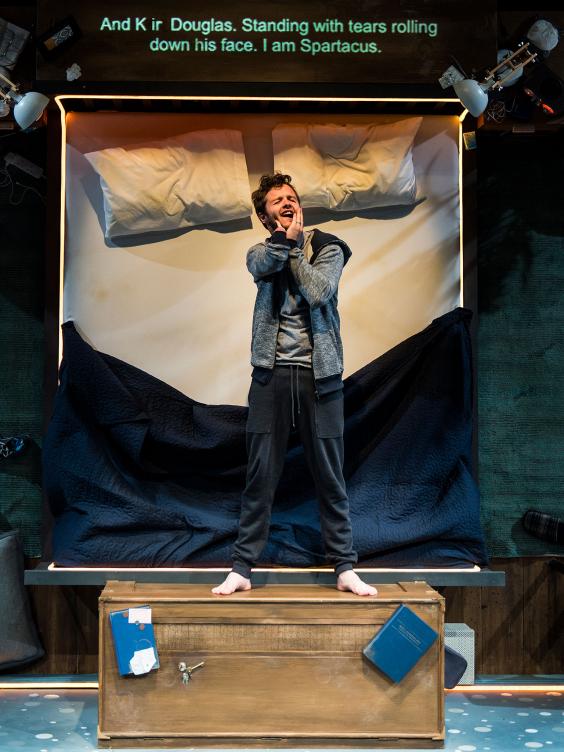 This is the first time, in its 35 years, that Graeae has performed at the National, in its small Temporary Theatre. And Thorne is quick to suggest that they should be on the main stage: "I hope we're just softly kicking the door in." He points out that the situation for disabled people, in the arts and beyond, is "becoming even worse with cuts to Access to Work". That funding enabled businesses to employ a disabled person without having to bear additional costs, creating a level playing field – soon to be scotched by cuts.
Thorne has personal experience of living with a disability. He suffers from cholinergic urticarial, a chronic heat allergy – "I became allergic to my own body temperature" – that saw him bedridden for six months when he was 21, and in near-constant pain for the next decade. At that time, Graeae was hugely important to him: "[They] said: 'Of course you're a disabled person.' And it was the closest I've ever had to a coming out moment. When you're walking into rooms and saying, 'I'm really sorry, I can't stay in this room because it's too hot,' or 'I'm really sorry, I can't walk that far,' or 'I'm really sorry, I can't work today because I'm in pain,' you're constantly having to explain your condition. At Graeae, they don't question it."
Today, Thorne no longer finds the condition debilitating enough to consider himself disabled – though he still apologises a lot. He says sorry endlessly for being a bit late; you sense this tall, slim man, who seems to prickle still with nervous energy, is a worrier. He's certainly a hard worker – he writes every day, and used to write through the night before marrying. He even thinks it was this "compulsion" that kicked off his illness – and guards against romanticising being ill. "I thought the stuff I wrote when I was bedbound would be golden. It was not. It was the most self-indulgent, horrible shit you can possibly imagine."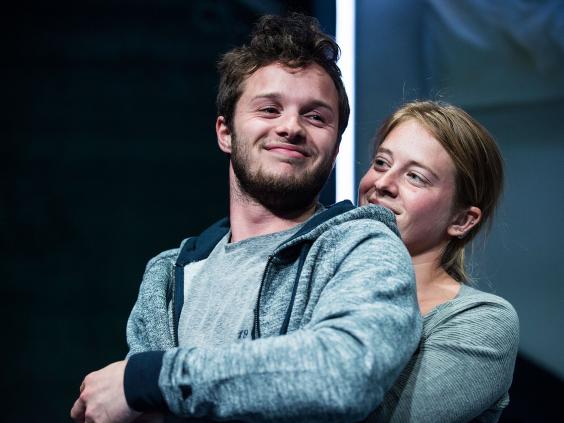 Self-deprecating he may be, but Thorne also confesses to being ambitious. He was even more so as a teenager, living in Berkshire – "I wanted to change everything about the world, and thought that I could." It was this memory that inspired his recent TV show, Glue, about badly behaved but ambitious teenagers living in the countryside. "Skins with cows" was one description of it – apt, given that Thorne was also a writer on the Bristol-set show with more underage sex and drug-taking than a Daily Mail reader's wet nightmare.
Why does he so often write teenagers? "I just remember what it feels like very keenly – I think it's because I wasn't a particularly good teenager, so I sat there, watching…"
He wasn't anywhere near as cool as the characters in Skins, he assures me: he was more into politics than partying. "I was Young Labour officer for Newbury, so I went to the Young Labour conference in 1997. It was the best time!"
What does he think of Jeremy Corbyn? "I haven't worked it out yet. I wished he hadn't [appointed John McDonnell as shadow chancellor]; you don't give your best friend that job." Still, Thorne adds, the party has always been more about its local members than about its leaders for him. "I was secretary of my branch in Luton, and Luton Council had a lot of people on it that I thought a huge amount of. As long as that core stays, then I'm staying."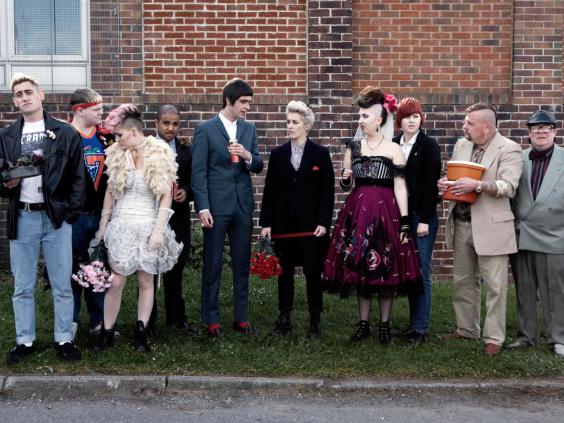 Thorne left Luton for London three years ago, as Mason works there – has he got involved in politics in the capital? "I haven't – it's partly because I don't really like London. I'm trying to find a way out!"
This summer, however, it'll surely be useful to be in town: Harry Potter and the Cursed Child opens in July, the hottest ticket of the year. Thorne is aware of the pressure – and the scrutiny – on him and director John Tiffany. "John says it will define us, whether it's good or shit, and that's true. [But] we've got an opportunity to reach an audience who don't go to the theatre at all and say, 'Look at the story we can tell.' And that's a real privilege. So let's hope we get it right."
There has already been outrage at it being split over two shows, both with West End price tags. Thorne insists this was for artistic reasons, a desire to create a fully magical world – although the suggestion came from the producer, Sonia Friedman. Then, there was the news that Hermione would be played by Noma Dumezweni. Rowling was quick to express her full support, pointing out that she'd never said Hermione was white.
It felt like a cheering breakthrough, I suggest, meaning that a generation may have their first introduction to theatre with a show that says, yes, one of their favourite fictional characters can be black. "Yeah, that's important. That's a whole other [side to the casting choice]. It's interesting, the whole diversity discussion and #Oscarssowhite… it's a slow, slow journey."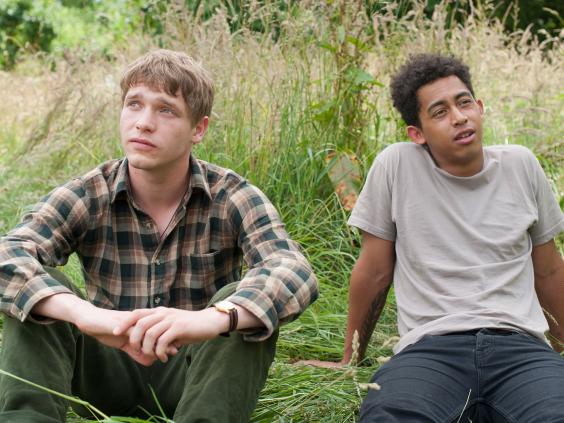 A "massive fan of Harry Potter", Thorne is more than a little smitten with the wizard's creator. "Jo's awesome, a lovely lady. She's so sure of the person she wants to be. It's taught me an awful lot about how you behave." In a professional or personal, way? "Both. To even let someone else write a word that Harry says is an incredibly generous act. She's very trusting, and is prepared to say, 'Nah, you've got it wrong.' And then, as a person, she's prepared to stick her neck out on important issues. I admire her."
He looks a little sheepish, and confesses that his wife has to read his emails to Rowling before he sends them, "in case I kiss her arse too much. She doesn't want me to be embarrassing."
Thorne's other project for 2016 isn't in quite the same vein of family entertainment: National Treasure is a Channel 4 drama examining the impact of allegations of historic sex crimes on a comedian and his family, starring Robbie Coltrane, Julie Walters and Andrea Riseborough. Naturally, it was inspired by Operation Yewtree and the rash of cases since Jimmy Savile, but National Treasure takes a less cut-and-dry instance, and the drama is motored by doubt. "It's so often, 'He said, she said.' It's about whether someone believes you – that makes a really intriguing drama."
The show also explores knottier moral questions that Yewtree has thrown up. "Are we right to do so much of this in the public spotlight? Are the police right to get someone's name out there because if they don't, other victims won't come forward? It's a complicated area."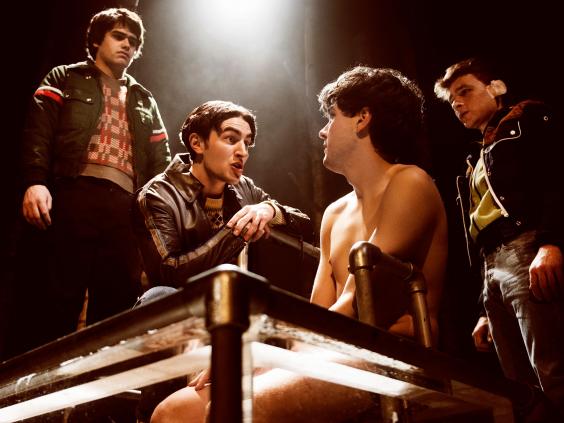 Airing later this year, National Treasure is a four-parter, but Thorne's other recent TV project was a more long-term affair. This is England '90 – one of the three This is England mini-series he wrote with Shane Meadows – was touted as the final instalment when it aired in the autumn. Heartbroken fans – not to mention the cast – would love more.
"It's up to Shane," Thorne says, resignedly. He only has good words for Meadows, mind: "Sitting in a room with Shane is a very cool experience." Is he scary to write for? "No, he's so relaxed – the man has taken naps in the writers' room… he's a proper good bloke."
This is England has certainly been a big deal to Thorne, who loved Meadows' original movie, and he likens starting work on it to approaching the beloved Harry Potter. "It was taking on this thing that was really precious to me, going, 'You've got to write words for Woody, words for Lol'… that feeling that I could destroy something I love. I'm really aware of not wanting to screw it up for me, or for anyone else."
'The Solid Life of Sugar Water' is at the National Theatre, London SE1 (nationaltheatre.org.uk) from Friday to 19 March
Reuse content