His face may not be familiar, but there's a good chance you've seen one of Jack Thorne's TV programmes – Skins, Glue, This is England '86, (and '88 and '90 come to that), The Fades – or maybe his hit stage version of vampire movie Let the Right One In, or council budget-cuts drama Hope, which played at the Royal Court.
What if I say he's the new JK Rowling? This summer, Harry Potter and the Cursed Child arrives in the West End, and Thorne is the man putting words in the mouth of a grown-up Harry. It is, the 37-year-old says, acknowledging the weight of fan expectation, "an honour".
Those expectations have already been unsettled with an ace bit of casting – Noma Dumezweni, a black actress, as Hermione. It set the internet on fire, but for Thorne it was a no-brainer: she's a brilliant actress. And anyway, he's a writer who likes to see things differently – and cast his plays differently. His current show takes disabled theatre company Graeae into the National, and Thorne is an outspoken advocate for greater diversity in the arts. "It's probably the most important thing I can do," he says. "It's something I feel very passionate about; it's still the hardest thing to get disabled characters on TV."
Culture news in pictures
Culture news in pictures
1/30 27 May 2016

An image of an indigenous Australian man is projected onto the sails of the Sydney Opera House during the opening night of the annual Vivid Sydney light festival in Sydney

Reuters

2/30 26 May 2016

A woman walks on steps lined with plastic cups, an art project of four college students, in Wuhan, China

Reuters

3/30 25 May 2016

A view of the Pyramid of the Louvre museum covered with a gigantic black and white trompe l'oeil photo of the Louvre building by French artist JR in Paris. The exhibition 'Contemporary art JR at the Louvre' runs from 25 May to 27 June

EPA

4/30 24 May 2016

Artist paints a reproduction of one of the vincent Van gogh's painting for the 'Loving Vincent' film in Wroclaw, Poland. 'Loving Vincent', the world's first fully painted animation feature film, will be about the life and death of the Dutch famous painter Vincent van Gogh

EPA

5/30 23 May 2016

John Oliver, Jimmy Fallon and Jennifer Lawrence during a taping of "The Tonight Show Starring Jimmy Fallon" in New York City

Getty Images

6/30 22 May 2016

French Moroccan director Houda Benyamina (C) poses with the Camera d'Or next to actresses Jisca Kalvanda (L), Oulaya Amamra (2ndL) and Deborah Lukumuena (R) at the Palme D'Or Winner Photocall during the 69th annual Cannes Film Festival

Getty Images

7/30 21 May 2016

Swedish artist Andreas Englund signs one of his murals at the Urban Nation museum for urban contemporary art, in Berlin

Getty Images

8/30 20 May 2016

(L-R) Autor Tom Brokaw, Legion of Honor's Grand Chancellor General Jean-Louis Georgelin, Actor Tom Hanks, Ambassador of USA in France, Jane D. Hartley and Doctor Gordon "Nick" Mueller attend Tom Hanks, Tom Brokaw & Gordon "Nick" Mueller receive the Legion d'Honneur Medal at Palais de la Legion d'Honneur in Paris

Getty Images

9/30 19 May 2016

Visitors study work by Tod Papageorge in the gallery areas at the "Photo London 2016" event at Somerset House in central London. Featuring work from some of the world's most respected photographers, the event is aiming to put London on the map as the global city of photography

Getty Images

10/30 18 May 2016

A view of the building that will house planned Urban Nation - Museum for Urban Contemporary Art in Berlin. The street art museum is scheduled to open in 2017

EPA

11/30 17 May 2016

Kate Morais looks at the 'Colossal statues of a king and a queen' (283-246 BC) - which are reflected in a display cabinet glass - which stand over five meters tall during a preview of the 'Sunken Cities: Egypt's Lost Worlds' exhibition at the British Museum in London. This is the museum's first large scale exhibition of underwater archaeological finds and tells the story of two lost Egyptian cities and their recent discoveries beneath the Mediterranean, excavated off the coast of Egypt near Alexandria between 1996 and 2012

Getty Images

12/30 16 May 2016

Kurt Cobain's Univox electric guitar played and destroyed by Cobain at Nirvana's 13 July 1989 concert at Maxwell's in Hoboken, New Jersey is displayed during Julien's Auction Music Icons Press Exhibition at Hard Rock Cafe, Times Square in New York City

Getty Images

13/30 15 May 2016

Cast of the "From The Land Of The Moon (Mal De Pierres)" attend the premiere during the 69th annual Cannes Film Festival at the Palais des Festivals

Getty Images

14/30 14 May 2016

Jamala representing Ukraine with the song "1944" celebrates with the trophy after winning the final of the Eurovision Song Contest 2016 Grand Final in Stockholm

Getty Images

15/30 13 May 2016

A mural on a restaurant wall depicting US Presidential hopeful Donald Trump and Russian President Vladimir Putin greeting each other with a kiss in the Lithuanian capital Vilnius. Kestutis Girnius, associate professor of the Institute of International Relations and Political Science in Vilnius university, said: "This graffiti expresses the fear of some Lithuanians that Donald Trump is likely to kowtow to Vladimir Putin and be indifferent to Lithuanias security concerns. Trump has notoriously stated that Putin is a strong leader, and that NATO is obsolete and expensive"

Getty Images

16/30 12 May 2016

People visit the artwork titled Seven Magic Mountains by artist Ugo Rondinone, near Jean, Nevada. The artwork was recently completed in the desert south of Las Vegas

AP

17/30 11 May 2016

Justin Timberlake attends the "Trolls" Photocall during The 69th Annual Cannes Film Festival

Getty Images

18/30 10 May 2016

Curator Ben Russell poses with a 2.4 meter robot called Cygan, built in 1957, on display at the Science Museum before announcing a new robot exhibition for 2017

Getty Images

19/30 9 May 2016

A Palestinian artist paints a graffiti on a wall of the United Nations school of Beit Hanun, in the northern Gaza Strip

Getty Images

20/30 8 May 2016

Jon Snow collects the award for best news coverage on behalf of Channel 4 during the House of Fraser BAFTA TV Awards 2016 at the Royal Festival Hall in London

PA

21/30 7 May 2016

Illustration View of the 'Empires' exhibition of Huang Yong Ping as part of Monumenta 2016 to Grand Palais from 8 May till 18 June 2016

Getty Images

22/30 6 May 2016

People, including Russian servicemen, attend a concert of Mariinsky Theatre in the amphitheatre of the Syrian city of Palmyra, Syria

Reuters

23/30 5 May 2016

A child looks at an artwork titled 'Bi-lateral Relations' by Uruguay artists Fernando Foglino and Valentina Cardellino during the Latin America and Caribbean Art Festival Visual Art Exhibition 2016 at the World Art Museum of the China Millennium Monument in Beijing. The exhibition runs until 26 May, and is part of joint activities to mark the China-Latin America and Caribbean Cultural Exchange Year

EPA

24/30 4 May 2016

(L-R) David Furnish, Lady Gaga and Macy's CEO Terry J. Lundgren attend Love Bravery by Lady Gaga and Elton John Launch at Macy's Herald Square in New York City

Getty Images

25/30 3 May 2016

The Hofburg palace is illuminated by a projection of Viennese artist Viktoria Coeln for the project Dystopia Eutopia in Vienna, Austria

AP

26/30 2 May 2016

A visitor looks at paintings by Yemeni female artists displayed at a gallery during an exhibition entitled Women Creativity for Peace in the capital Sanaa

Getty Images

27/30 1 May 2016

A man looks at an art piece during the Oshtoora festival in an open desert north Fayoum, Egypt. Oshtoora festival, or "A temporary sate," is held only once a year in a different locations within Egypt. The festival is based on expression of music, arts, and cultures in an open natural environment

AP

28/30 30 April 2016

Actress Lupita Nyong'o attends "Eclipsed" To Launch A Dedications Series In Honor Of Abducted Chibok Girls Of Northern Nigeria at Golden Theatre in New York

Getty Images

29/30 29 April 2016

Kabuki actor Shido Nakamura (in red) performs in a final dress rehearsal for the kabuki theatre show 'Hanakurabe Senbonzakura' in Tokyo, Japan. The latest digital technology kabuki theatre piece 'Hanakurabe Senbonzakura' is part of the Niconico Chokaigi festival in Tokyo. The festival was organized by video website Niconico, combining Kabuki, a traditional Japanese theatre art and cutting edge animation technology, co-starring kabuki superstar Shidou Nakamura and the popular virtual idol Hatsune Miku

Getty Images

30/30 28 April 2016

Members of the Australian ballet perform in the scene from "Scent of the Love" during the dress rehearsal for the national premiere of Symphony in C that comprises of five short ballet works at the Opera House in Sydney

Getty Images
Arriving at the National this month after a hit run in Edinburgh and a tour, The Solid Life of Sugar Water is a wincingly candid piece about a couple, Alice and Phil, who lose a child; both directly tell the audience about the stillbirth, and their often painfully comic attempts to reconnect through sex. Alice is played by Genevieve Barr, who is deaf, and Phil by Arthur Hughes, who has an arm impairment; her deafness is acknowledged, but disability is not a "theme" of the play as such.
The inspiration for the show was highly personal. "My mother had a very late miscarriage of twins and had to deliver them naturally," says Thorne when we meet on a grey morning at the National. "My mum is a very brave woman, and she's had four kids since then – but you can still see what it did to her, and to my dad."
Although he stumbles and ums as he tells me that he "struggles with emotional articulacy", Thorne is remarkably open about his work, and life. "The other thing was, my wife and I have been struggling with fertility stuff, and [writing the play] was also trying to find a way to talk about what that had done to us as a couple."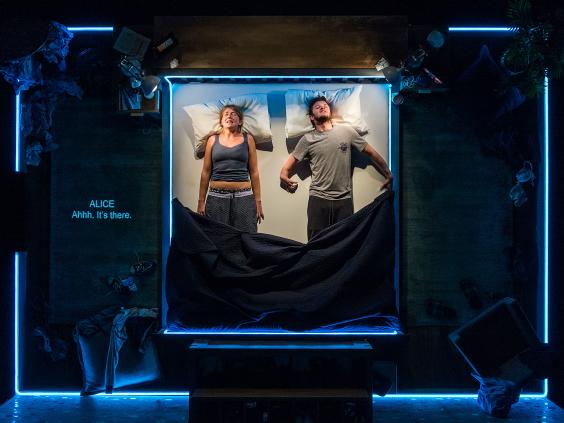 When his parents watched the play, it prompted the "most emotional" conversation he'd ever had with them. "Particularly with my dad – we just don't have those chats. But I think it was a good thing to talk about it, and they felt like [the play] was true in some way to their experience, and that's all you hope for really."
Has it prompted deep-and-meaningfuls between Thorne and his wife, the comedy agent Rachel Mason, too? A lot of The Solid Life of Sugar Water is about never really knowing what the other person in a relationship is thinking; there's a sometimes sweet, sometimes filthily explicit comedy to the characters' contradictory accounts of love and sex.
"No, I haven't talked to my wife about what it means for us, other than that she's really cool and I'm a bit of an idiot," Thorne laughs, identifying with Phil ("Clearly not the most talented man in bed"). He thinks it's a hopeful play, but adds that reviewers have suggested the couple are "doomed because of their inability to communicate properly; if that's the case, maybe my marriage is in more trouble than I thought!"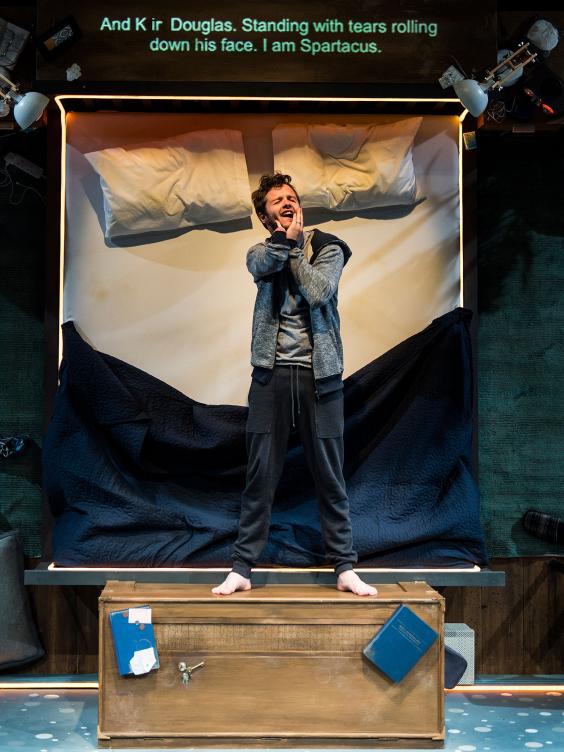 This is the first time, in its 35 years, that Graeae has performed at the National, in its small Temporary Theatre. And Thorne is quick to suggest that they should be on the main stage: "I hope we're just softly kicking the door in." He points out that the situation for disabled people, in the arts and beyond, is "becoming even worse with cuts to Access to Work". That funding enabled businesses to employ a disabled person without having to bear additional costs, creating a level playing field – soon to be scotched by cuts.
Thorne has personal experience of living with a disability. He suffers from cholinergic urticarial, a chronic heat allergy – "I became allergic to my own body temperature" – that saw him bedridden for six months when he was 21, and in near-constant pain for the next decade. At that time, Graeae was hugely important to him: "[They] said: 'Of course you're a disabled person.' And it was the closest I've ever had to a coming out moment. When you're walking into rooms and saying, 'I'm really sorry, I can't stay in this room because it's too hot,' or 'I'm really sorry, I can't walk that far,' or 'I'm really sorry, I can't work today because I'm in pain,' you're constantly having to explain your condition. At Graeae, they don't question it."
Today, Thorne no longer finds the condition debilitating enough to consider himself disabled – though he still apologises a lot. He says sorry endlessly for being a bit late; you sense this tall, slim man, who seems to prickle still with nervous energy, is a worrier. He's certainly a hard worker – he writes every day, and used to write through the night before marrying. He even thinks it was this "compulsion" that kicked off his illness – and guards against romanticising being ill. "I thought the stuff I wrote when I was bedbound would be golden. It was not. It was the most self-indulgent, horrible shit you can possibly imagine."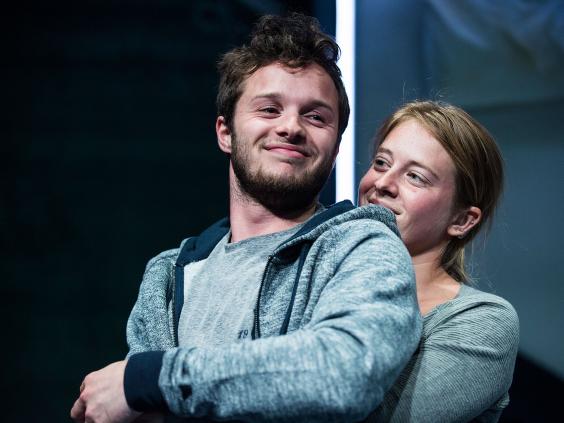 Self-deprecating he may be, but Thorne also confesses to being ambitious. He was even more so as a teenager, living in Berkshire – "I wanted to change everything about the world, and thought that I could." It was this memory that inspired his recent TV show, Glue, about badly behaved but ambitious teenagers living in the countryside. "Skins with cows" was one description of it – apt, given that Thorne was also a writer on the Bristol-set show with more underage sex and drug-taking than a Daily Mail reader's wet nightmare.
Why does he so often write teenagers? "I just remember what it feels like very keenly – I think it's because I wasn't a particularly good teenager, so I sat there, watching…"
He wasn't anywhere near as cool as the characters in Skins, he assures me: he was more into politics than partying. "I was Young Labour officer for Newbury, so I went to the Young Labour conference in 1997. It was the best time!"
What does he think of Jeremy Corbyn? "I haven't worked it out yet. I wished he hadn't [appointed John McDonnell as shadow chancellor]; you don't give your best friend that job." Still, Thorne adds, the party has always been more about its local members than about its leaders for him. "I was secretary of my branch in Luton, and Luton Council had a lot of people on it that I thought a huge amount of. As long as that core stays, then I'm staying."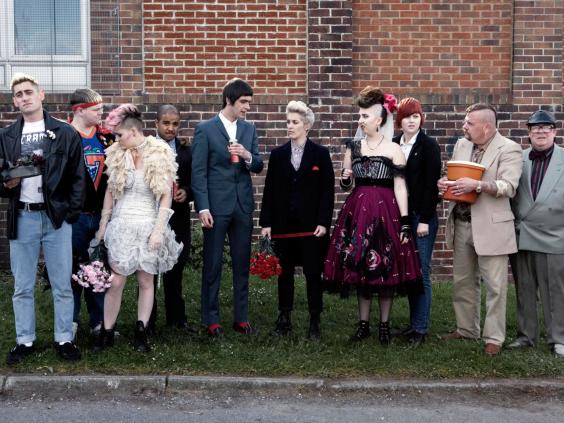 Thorne left Luton for London three years ago, as Mason works there – has he got involved in politics in the capital? "I haven't – it's partly because I don't really like London. I'm trying to find a way out!"
This summer, however, it'll surely be useful to be in town: Harry Potter and the Cursed Child opens in July, the hottest ticket of the year. Thorne is aware of the pressure – and the scrutiny – on him and director John Tiffany. "John says it will define us, whether it's good or shit, and that's true. [But] we've got an opportunity to reach an audience who don't go to the theatre at all and say, 'Look at the story we can tell.' And that's a real privilege. So let's hope we get it right."
There has already been outrage at it being split over two shows, both with West End price tags. Thorne insists this was for artistic reasons, a desire to create a fully magical world – although the suggestion came from the producer, Sonia Friedman. Then, there was the news that Hermione would be played by Noma Dumezweni. Rowling was quick to express her full support, pointing out that she'd never said Hermione was white.
It felt like a cheering breakthrough, I suggest, meaning that a generation may have their first introduction to theatre with a show that says, yes, one of their favourite fictional characters can be black. "Yeah, that's important. That's a whole other [side to the casting choice]. It's interesting, the whole diversity discussion and #Oscarssowhite… it's a slow, slow journey."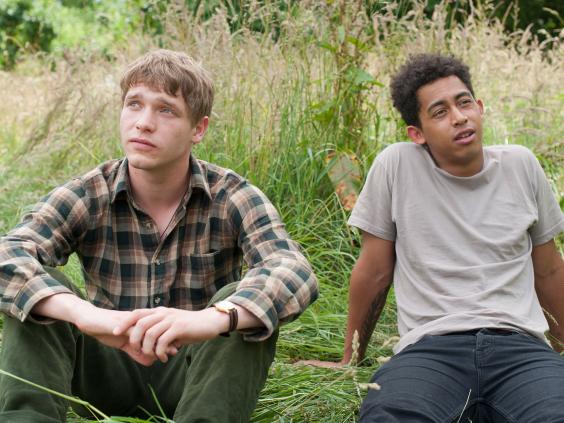 A "massive fan of Harry Potter", Thorne is more than a little smitten with the wizard's creator. "Jo's awesome, a lovely lady. She's so sure of the person she wants to be. It's taught me an awful lot about how you behave." In a professional or personal, way? "Both. To even let someone else write a word that Harry says is an incredibly generous act. She's very trusting, and is prepared to say, 'Nah, you've got it wrong.' And then, as a person, she's prepared to stick her neck out on important issues. I admire her."
He looks a little sheepish, and confesses that his wife has to read his emails to Rowling before he sends them, "in case I kiss her arse too much. She doesn't want me to be embarrassing."
Thorne's other project for 2016 isn't in quite the same vein of family entertainment: National Treasure is a Channel 4 drama examining the impact of allegations of historic sex crimes on a comedian and his family, starring Robbie Coltrane, Julie Walters and Andrea Riseborough. Naturally, it was inspired by Operation Yewtree and the rash of cases since Jimmy Savile, but National Treasure takes a less cut-and-dry instance, and the drama is motored by doubt. "It's so often, 'He said, she said.' It's about whether someone believes you – that makes a really intriguing drama."
The show also explores knottier moral questions that Yewtree has thrown up. "Are we right to do so much of this in the public spotlight? Are the police right to get someone's name out there because if they don't, other victims won't come forward? It's a complicated area."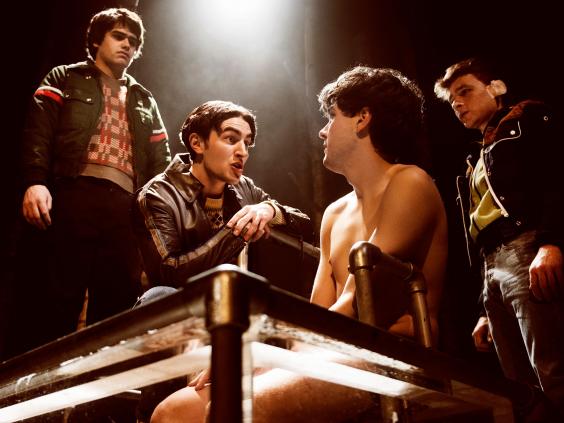 Airing later this year, National Treasure is a four-parter, but Thorne's other recent TV project was a more long-term affair. This is England '90 – one of the three This is England mini-series he wrote with Shane Meadows – was touted as the final instalment when it aired in the autumn. Heartbroken fans – not to mention the cast – would love more.
"It's up to Shane," Thorne says, resignedly. He only has good words for Meadows, mind: "Sitting in a room with Shane is a very cool experience." Is he scary to write for? "No, he's so relaxed – the man has taken naps in the writers' room… he's a proper good bloke."
This is England has certainly been a big deal to Thorne, who loved Meadows' original movie, and he likens starting work on it to approaching the beloved Harry Potter. "It was taking on this thing that was really precious to me, going, 'You've got to write words for Woody, words for Lol'… that feeling that I could destroy something I love. I'm really aware of not wanting to screw it up for me, or for anyone else."
'The Solid Life of Sugar Water' is at the National Theatre, London SE1 (nationaltheatre.org.uk) from Friday to 19 March