Janet McTeer feared she would have to quit acting when she hit 50. "I worried I would have to give up because I couldn't take dull parts after so many brilliant roles," says the actress. "But it just has not happened."
Now 54, McTeer remains as busy as ever playing strong, complex characters in shows like The White Queen, The Woman in Black and The Honourable Woman. She has now devised a plan for when she hits 60 instead. "That's when I'll start smoking and drinking again and never use skin products, so I can get all the interesting, wrinkly parts; bring them on." Before then, she laughs, "I'm enjoying my final fling as a cougar."
The actress's next role is the wickedly calculating and charismatic schemer, the Marquise de Merteuil in the 30th-anniversary production of Christopher Hampton's Les Liaisons Dangereuses at the Donmar Warehouse. "In Les Liaisons you get the lot and the character is beyond fun," she says. "Merteuil's mission is to mess people up, to mess with men's lives and hopefully bring a few girls along with her." Dominic West plays her manipulative foil, the Vicomte de Valmont, with Una Stubbs and Edward Holcroft, currently appearing in BBC2's London Spy, also in the cast.
Culture news in pictures
Culture news in pictures
1/30 27 May 2016

An image of an indigenous Australian man is projected onto the sails of the Sydney Opera House during the opening night of the annual Vivid Sydney light festival in Sydney

Reuters

2/30 26 May 2016

A woman walks on steps lined with plastic cups, an art project of four college students, in Wuhan, China

Reuters

3/30 25 May 2016

A view of the Pyramid of the Louvre museum covered with a gigantic black and white trompe l'oeil photo of the Louvre building by French artist JR in Paris. The exhibition 'Contemporary art JR at the Louvre' runs from 25 May to 27 June

EPA

4/30 24 May 2016

Artist paints a reproduction of one of the vincent Van gogh's painting for the 'Loving Vincent' film in Wroclaw, Poland. 'Loving Vincent', the world's first fully painted animation feature film, will be about the life and death of the Dutch famous painter Vincent van Gogh

EPA

5/30 23 May 2016

John Oliver, Jimmy Fallon and Jennifer Lawrence during a taping of "The Tonight Show Starring Jimmy Fallon" in New York City

Getty Images

6/30 22 May 2016

French Moroccan director Houda Benyamina (C) poses with the Camera d'Or next to actresses Jisca Kalvanda (L), Oulaya Amamra (2ndL) and Deborah Lukumuena (R) at the Palme D'Or Winner Photocall during the 69th annual Cannes Film Festival

Getty Images

7/30 21 May 2016

Swedish artist Andreas Englund signs one of his murals at the Urban Nation museum for urban contemporary art, in Berlin

Getty Images

8/30 20 May 2016

(L-R) Autor Tom Brokaw, Legion of Honor's Grand Chancellor General Jean-Louis Georgelin, Actor Tom Hanks, Ambassador of USA in France, Jane D. Hartley and Doctor Gordon "Nick" Mueller attend Tom Hanks, Tom Brokaw & Gordon "Nick" Mueller receive the Legion d'Honneur Medal at Palais de la Legion d'Honneur in Paris

Getty Images

9/30 19 May 2016

Visitors study work by Tod Papageorge in the gallery areas at the "Photo London 2016" event at Somerset House in central London. Featuring work from some of the world's most respected photographers, the event is aiming to put London on the map as the global city of photography

Getty Images

10/30 18 May 2016

A view of the building that will house planned Urban Nation - Museum for Urban Contemporary Art in Berlin. The street art museum is scheduled to open in 2017

EPA

11/30 17 May 2016

Kate Morais looks at the 'Colossal statues of a king and a queen' (283-246 BC) - which are reflected in a display cabinet glass - which stand over five meters tall during a preview of the 'Sunken Cities: Egypt's Lost Worlds' exhibition at the British Museum in London. This is the museum's first large scale exhibition of underwater archaeological finds and tells the story of two lost Egyptian cities and their recent discoveries beneath the Mediterranean, excavated off the coast of Egypt near Alexandria between 1996 and 2012

Getty Images

12/30 16 May 2016

Kurt Cobain's Univox electric guitar played and destroyed by Cobain at Nirvana's 13 July 1989 concert at Maxwell's in Hoboken, New Jersey is displayed during Julien's Auction Music Icons Press Exhibition at Hard Rock Cafe, Times Square in New York City

Getty Images

13/30 15 May 2016

Cast of the "From The Land Of The Moon (Mal De Pierres)" attend the premiere during the 69th annual Cannes Film Festival at the Palais des Festivals

Getty Images

14/30 14 May 2016

Jamala representing Ukraine with the song "1944" celebrates with the trophy after winning the final of the Eurovision Song Contest 2016 Grand Final in Stockholm

Getty Images

15/30 13 May 2016

A mural on a restaurant wall depicting US Presidential hopeful Donald Trump and Russian President Vladimir Putin greeting each other with a kiss in the Lithuanian capital Vilnius. Kestutis Girnius, associate professor of the Institute of International Relations and Political Science in Vilnius university, said: "This graffiti expresses the fear of some Lithuanians that Donald Trump is likely to kowtow to Vladimir Putin and be indifferent to Lithuanias security concerns. Trump has notoriously stated that Putin is a strong leader, and that NATO is obsolete and expensive"

Getty Images

16/30 12 May 2016

People visit the artwork titled Seven Magic Mountains by artist Ugo Rondinone, near Jean, Nevada. The artwork was recently completed in the desert south of Las Vegas

AP

17/30 11 May 2016

Justin Timberlake attends the "Trolls" Photocall during The 69th Annual Cannes Film Festival

Getty Images

18/30 10 May 2016

Curator Ben Russell poses with a 2.4 meter robot called Cygan, built in 1957, on display at the Science Museum before announcing a new robot exhibition for 2017

Getty Images

19/30 9 May 2016

A Palestinian artist paints a graffiti on a wall of the United Nations school of Beit Hanun, in the northern Gaza Strip

Getty Images

20/30 8 May 2016

Jon Snow collects the award for best news coverage on behalf of Channel 4 during the House of Fraser BAFTA TV Awards 2016 at the Royal Festival Hall in London

PA

21/30 7 May 2016

Illustration View of the 'Empires' exhibition of Huang Yong Ping as part of Monumenta 2016 to Grand Palais from 8 May till 18 June 2016

Getty Images

22/30 6 May 2016

People, including Russian servicemen, attend a concert of Mariinsky Theatre in the amphitheatre of the Syrian city of Palmyra, Syria

Reuters

23/30 5 May 2016

A child looks at an artwork titled 'Bi-lateral Relations' by Uruguay artists Fernando Foglino and Valentina Cardellino during the Latin America and Caribbean Art Festival Visual Art Exhibition 2016 at the World Art Museum of the China Millennium Monument in Beijing. The exhibition runs until 26 May, and is part of joint activities to mark the China-Latin America and Caribbean Cultural Exchange Year

EPA

24/30 4 May 2016

(L-R) David Furnish, Lady Gaga and Macy's CEO Terry J. Lundgren attend Love Bravery by Lady Gaga and Elton John Launch at Macy's Herald Square in New York City

Getty Images

25/30 3 May 2016

The Hofburg palace is illuminated by a projection of Viennese artist Viktoria Coeln for the project Dystopia Eutopia in Vienna, Austria

AP

26/30 2 May 2016

A visitor looks at paintings by Yemeni female artists displayed at a gallery during an exhibition entitled Women Creativity for Peace in the capital Sanaa

Getty Images

27/30 1 May 2016

A man looks at an art piece during the Oshtoora festival in an open desert north Fayoum, Egypt. Oshtoora festival, or "A temporary sate," is held only once a year in a different locations within Egypt. The festival is based on expression of music, arts, and cultures in an open natural environment

AP

28/30 30 April 2016

Actress Lupita Nyong'o attends "Eclipsed" To Launch A Dedications Series In Honor Of Abducted Chibok Girls Of Northern Nigeria at Golden Theatre in New York

Getty Images

29/30 29 April 2016

Kabuki actor Shido Nakamura (in red) performs in a final dress rehearsal for the kabuki theatre show 'Hanakurabe Senbonzakura' in Tokyo, Japan. The latest digital technology kabuki theatre piece 'Hanakurabe Senbonzakura' is part of the Niconico Chokaigi festival in Tokyo. The festival was organized by video website Niconico, combining Kabuki, a traditional Japanese theatre art and cutting edge animation technology, co-starring kabuki superstar Shidou Nakamura and the popular virtual idol Hatsune Miku

Getty Images

30/30 28 April 2016

Members of the Australian ballet perform in the scene from "Scent of the Love" during the dress rehearsal for the national premiere of Symphony in C that comprises of five short ballet works at the Opera House in Sydney

Getty Images
Hampton's adaptation of the 1782 novel by Pierre Choderlos de Laclos premiered at the RSC in 1985 with Lindsay Duncan and Alan Rickman in the lead roles. An award-winning film followed in 1998 and it was revived on Broadway a decade later. The Marquise has been played by Glenn Close and Laura Linney, among others. "There's a process in rehearsal where you have to let go of that and ask what you can do with the part," says McTeer.
"They behave so appallingly, and their egos and vanities and evilness should make them cringingly awful, yet as an audience you kind of love them. There is something delicious about seeing these people in their finery behaving in a supposedly serious manner then all they can talk about is deflowering each other and who can sleep with whom. The contrast heightens it all."
McTeer and West have worked hard in rehearsals, from creating crackling tension to drawing up a backstory for the two manipulators. "Like all great manipulators, they are jazz pianists. It's not that they have a great plan, but they think on their feet," she says. "She clearly loves Valmont but in the end she destroys him rather than let him hurt her. If there's no vulnerability about her then it just makes her purely evil." She believes the Marquise is shaped by a troubled past. "This is a play about damage. Merteuil describes herself with a catalogue of repression she's grown up under, how to escape it, and the accompanying sexual hatred. You think she's in control but she isn't. She messes herself up and destroys her life."
The play marks the Newcastle-born actress's return to the Donmar for the first time in a decade after she starred there opposite Harriet Walter in Mary Stuart, which subsequently transferred to Broadway. "To come back here feels fitting," she says. "I love the Donmar, everything about it. About the way these wonderful women [artistic director Josie Rourke and executive producer Kate Pakenham] run it. It's a great place. I also hadn't done a play in London for a long time."
She last appeared on the London stage in Yasmina Reza's God of Carnage at the Gielgud Theatre in 2008 and has been keen to return, though being based with her family in Maine has made it tricky. "I've been on Broadway three times and I've loved every minute of it. But the London stage is my home, without a doubt. It feels like where I belong, it is a joy," she said. "There have been offers before but they didn't feel right."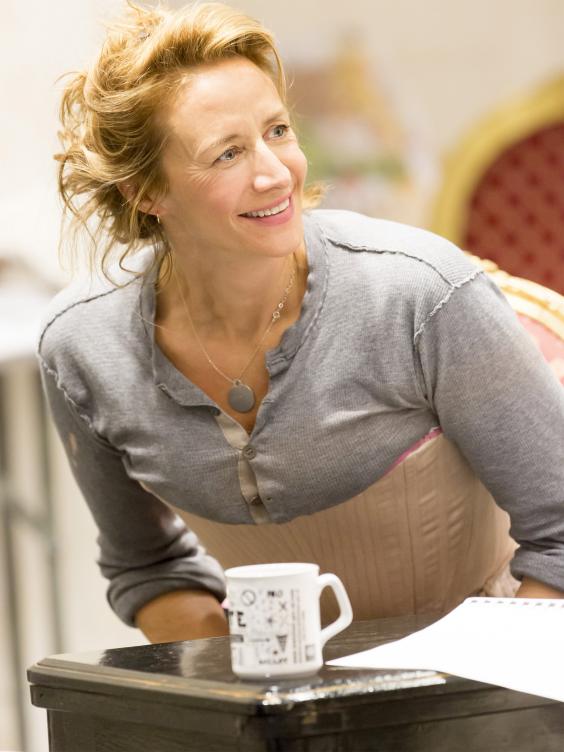 While known largely for character roles on television, in the theatre McTeer has been described as "one of the finest classical actresses of her generation". After a stand-out performance in Uncle Vanya at the National Theatre in 1992, she won an Olivier Award and then a Tony for her "supercharged" portrayal of Nora in A Doll's House, which opened in London in 1996. It was her performance on Broadway as Mary Stuart that prompted Glenn Close to offer her a role in the film Albert Nobbs, for which they both received Oscar nominations in 2012. That came just over a decade after her first Academy Award nomination for the quirky independent film Tumbleweeds for which she won a Golden Globe. "In my heart of hearts I love theatre. It's the joy and terror of putting a play on, the creativity of it," she said. "It is infinitely harder than film and television and more tiring. Your performance is heightened in the way it isn't with film."
Her love affair with the theatre was kindled relatively late, at the age of 16, when she got a job in the café of the Theatre Royal in York. After seeing the productions there, "I remember thinking that was what I want to do". Encouragement came from an unusual source. Gary Oldman was working in the theatre and suggested she apply to drama school. McTeer said the pair joked about it when they were both nominated for an Oscar in 2012, she for Albert Nobbs, he for Tinker Tailor Soldier Spy.
She was accepted at Rada and left early when she was cast in a play. She has worked ever since. "The people I respected and wanted to be then are still the people I respect and want to be. Lindsay Duncan, Harriet Walter, Juliet Stevenson, Maggie Smith, Judi Dench, Helen Mirren, who all did amazing theatre and were just incredibly good at what they did. That's what I wanted to be. The only way to do that is to be as good as you possibly can be in as varied roles as possible."
"I've been very fortunate and never not worked," she adds. "I feel strongly for the younger actresses when a lot of their career is based on how they look. That must be hard when your looks begin to go and you haven't built up the wealth of character parts to get into something else. I've never had that. I was always a character actress," McTeer says. "You never have the ingénue parts when you are young but it stands you in great stead later on. When you are old enough to rule countries and bosses and play powerful parts, who cares if you're 45, 55 or 65?"
McTeer has had her fair share of powerful roles, from the Nineties television series, The Governor, in which she played the first woman in charge of a maximum security prison, to last year's roles as the head of the MI6 in The Honourable Woman, and police chief Kim Commander Guziewicz in Battle Creek.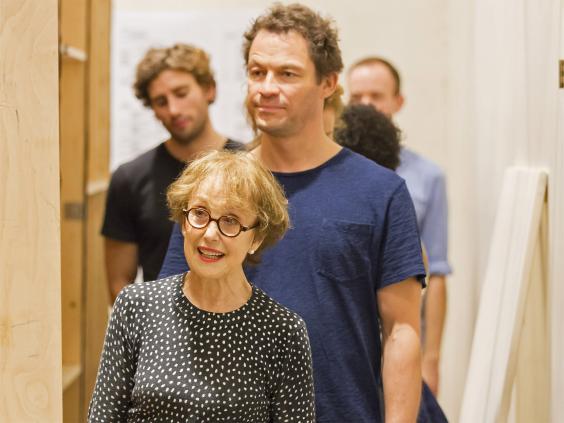 "I do get offered senior authority roles a lot. I think it's because I have a deep voice, am over 6ft and am clearly authoritarian. I find strong roles really interesting. Usually that means the character is also clever. I'm fortunate I'm in a good niche. I often say if it looks like they're going to either kill people or rule people they'll call me up."
When she played Jacquetta Woodville in the BBC series The White Queen, she even demanded adjustments to her part. "They let me play her more politically which was great. One scene was written quite bitchily, and I didn't want to play a woman of this age who's still bitchy. It's belittling to women. Let's make it a power struggle, and they did."
She is tactical about the jobs she takes. Sometimes it's about "being grown up and having to pay the mortgage" but then there are the no-brainers. "When Glenn turned up in my dressing room for Albert Nobbs. When Josie asked me to do Les Liaisons..." A recent no-brainer was accepting a role in the film The Kaiser's Last Kiss, due for release next year. McTeer plays Christopher Plummer's wife.
"He was my first love," she says. On her sixth birthday her family had just moved from Newcastle to York and she had no friends to invite to a party on her birthday. Instead she was taken to see The Sound of Music, her first ever trip to the cinema.
"I fell madly in love with Christopher Plummer and I've never fallen out of love with him," she says. "I phoned my husband and told him about the part this year. He groaned and said he'd draw up the divorce papers."
'Les Liaisons Dangereuses', Donmar Warehouse, London WC2 (www.donmarwarehouse.com) 11 December to 13 February