Janet McTeer feared she would have to quit acting when she hit 50. "I worried I would have to give up because I couldn't take dull parts after so many brilliant roles," says the actress. "But it just has not happened."
Now 54, McTeer remains as busy as ever playing strong, complex characters in shows like The White Queen, The Woman in Black and The Honourable Woman. She has now devised a plan for when she hits 60 instead. "That's when I'll start smoking and drinking again and never use skin products, so I can get all the interesting, wrinkly parts; bring them on." Before then, she laughs, "I'm enjoying my final fling as a cougar."
The actress's next role is the wickedly calculating and charismatic schemer, the Marquise de Merteuil in the 30th-anniversary production of Christopher Hampton's Les Liaisons Dangereuses at the Donmar Warehouse. "In Les Liaisons you get the lot and the character is beyond fun," she says. "Merteuil's mission is to mess people up, to mess with men's lives and hopefully bring a few girls along with her." Dominic West plays her manipulative foil, the Vicomte de Valmont, with Una Stubbs and Edward Holcroft, currently appearing in BBC2's London Spy, also in the cast.
Culture news in pictures
Culture news in pictures
1/30 19 July 2016

People apply wax on 'Le Penseur' (The Thinker), a sculpture by late French sculptor Auguste Rodin, to protect it from weather damages and pollution at the Rodin museum in Paris

AFP/Getty Images

2/30 18 July 2016

The painting 'Venus in Furs' hangs in the Picture Gallery in Park Sansouci in Potsdam, Germany. After having been missing for 70 years, the painting fom 1640 by a Flemish master was returned from private hands. The Foundation Prussian Palaces and Gardens Berlin-Brandenburg has been missing around 2,000 objects since the Second World War

EPA

3/30 17 July 2016

Artists of the French pyrotechnic company "Groupe F" perform during the show "A fleur de peau" (On edge) at the Venaria Reale Palace, in Venaria, near Turin

AFP/Getty Images

4/30 16 July 2016

Dancers of the British dance company Balletboyz perform in "Rabbit", choreographed by Pontus Lidberg, during the Malta Arts Festival in Valletta, Malta

REUTERS

5/30 15 July 2016

Singer Gwen Stefani performs on NBC's "Today" Show at Rockefeller Plaza in New York City

Getty Images

6/30 14 July 2016

People sit under illuminated giant raindrop-shapes at an interactive art installation to raise awareness of autism, in Shanghai

Rex Features

7/30 13 July 2016

An installation 'A wall of life jackets and their stories' by Andrew Wakeford and Fred George is on display at Johanneskirche in Saarbruecken, Germany. The installation is made of original life jackets found on the beaches of Greece and barbed wires, along with interviews and portraits of who have fled from the conflict in the Middle East to Europe. The exhibition runs from 15 July to 26 August

EPA

8/30 12 July 2016

Chinese artist Ai Weiwei poses next to a sculpture that is part of his installation "Circle of Animals/Zodiac Heads" in front of the Upper Belvedere palace in Vienna, Austria. From 14 July to 20 November 2016, the 21er Haus museum presents Ai Weiwei's solo show "translocation - transformation", with the central exhibit of a tea merchant family's ancestral temple from the Ming Dynasty, whose main hall will be reconstructed in the 21er Haus

AFP/Getty Images

9/30 11 July 2016

"Mediterranean Body", a monumental sculpture by COSKUN is seen at the 11th Taehwa River Eco Art Festival in Ulsan, South Korea. The artist, with his wooden monumental sculpture pays tribute to refugees who lose their lives at sea

Rex Features

10/30 10 July 2016

A festival-goer paints a mandala during the 2nd Samsara Yoga and Music Festival in the Toreki neighbourhood of Siofok, 102 kms southwest of Budapest, Hungary. Visitors can enjoy music performed on three stages and attend workshops, lectures and conversations with yoga trainers, instructors, therapeutists, psychologists, doctors and healers between 6 and 11 July

EPA

11/30 9 July 2016

Naked volunteers, painted in blue to reflect the colours found in Marine paintings in Hull's Ferens Art Gallery, participate in US artist, Spencer Tunick's "Sea of Hull" installation in Kingston upon Hull

AFP/Getty Images

12/30 8 July 2016

Mark Rylance (L) is returning to the West End stage in Nice Fish - and fans will be able to see him for free if they dress up as fish. Nice Fish, the critically acclaimed comedy by Rylance and prose poet Louis Jenkins, will have a limited run from November at London's Harold Pinter Theatre after a successful season in New York

PA

13/30 7 July 2016

Women wearing summer kimonos, called yukatas, look at goldfish during the 2016 EDO Nihonbashi Art Aquarium exhibition in Tokyo. The 10th anniversary of the festival will start on 8 July and will continue until 25 September, displaying some 8,000 goldfish in various special art exhibits

AFP/Getty Images

14/30 6 July 2016

Musician Tim Lopez (L) and Tom Higgenson of the Plain White T's perform at the Grove's Summer Concert Series in Los Angeles, California

Getty Images

15/30 5 July 2016

Tourists walk through a lantern installation in Zhangjiakou, Hebei Province, China

REUTERS

16/30 4 July 2016

One of London's most iconic venues has sent a pair of show tickets into space to celebrate the world premiere of Independence Day Live – a new film-and-orchestra event being held in September. The Royal Albert Hall has marked the occasion by blasting the tickets into the stratosphere on Independence Day itself

17/30 3 July 2016

People walk on the installation 'The Floating Piers' by Bulgarian-born artist Christo Vladimirov Yavachev, known as Christo, northern Italy

REUTERS

18/30 2 July 2016

Performers dressed as angels take part in the Place des Anges spectacle in Hull, part of UK City of Culture 2017 and the Yorkshire Festival. Up to 10,000 people have descended on Hull to watch Place des Anges. The aerial show sees white-clad angels appear on rooftops before taking off on suspended wires across the city. The event culminates with thousands of white feathers cascading onto the crowds below

PA

19/30 1 July 2016

EPA

20/30 30 June 2016

The world's largest disco ball is installed at the Duke Studios in Leeds ahead of The Big Disco event. The event, which is part of the Yorkshire Festival 2016, will see thousands of people partying under the Guinness World Record holding disco ball - which measures 10.33 metres in diameter and is two and a half times the size of a double decker bus

PA

21/30 29 June 2016

The first major solo exhibition by accessories designer, art director and fashion stylist Judy Blame has opened to the public and runs between 29 June and 4 September at the ICA, The Mall in London

22/30 28 June 2016

Prince Seeiso of Lesotho and Prince Harry on stage with the Basotho Youth Choir at the finale of the Sentebale Concert at Kensington Palace in London

Getty Images

23/30 27 June 2016

A woman looks at the Eugene Delacroix paintings made between 1849 and 1861 during a restoration at the Saints-Anges chapel inside the Saint-Sulpice church in Paris

AFP/Getty Images

24/30 26 June 2016

Chris Martin of 'Coldplay' performs on the Pyramid Stage on day 3 of the Glastonbury Festival at Worthy Farm

Getty Images

25/30 25 June 2016

Adele performing on stage at the Glastonbury Festival, at Worthy Farm in Somerset

PA

26/30 24 June 2016

US artist Joan Jonas poses during the presentation of her exhibition 'Joan Jonas: Stream or River. Flight or Pattern' at the Bitin Foundation in Santander, northern Spain. The display featuring experimental film and video-installation of pioneering Jonas will be open to the public from 25 June to 16 October 2016

EPA

27/30 23 June 2016

Evie Ferris and Georgia Scott-Hunter, Artists of The Australian Ballet next to one of Edgar Degas' iconic ballet dancer paintings 'Dancer with Bouquets' during the media preview for the 'Degas: A New Vision' exhibition at National Gallery of Victoria in Melbourne, Australia. The exhibition will run from 24 June to 18 September as part of the Melbourne Winter Masterpieces series

Getty Images

28/30 22 June 2016

Figures of characters from the comic series 'Uncle Walt' by US cartoonist Frank King are on display in the exhibition 'Pioneers of the Comic Strip. A different Avant-Garde' at the Schirn Kunsthalle museum in Frankfurt am Main, Germany. The exhibition that features the works of six primarily US illustrators created between 1905 and 1940, runs from 23 June 2016 to 18 September 2016

EPA

29/30 21 June 2016

(L-R) Actors Jonathan Holmes, Paul Moniz de Sa, Daniel Bacon, Chris Gibbs, Jemaine Clement, Penelope Wilton, Mark Rylance, Ruby Barnhill, Bill Hader, Rebecca Hall and Rafe Spall arrive on the red carpet for the US premiere of Disney's "The BFG," directed and produced by Steven Spielberg. A giant sized crowd lined the streets of Hollywood Boulevard to see stars arrive at the El Capitan Theatre

Getty Images for Disney

30/30 20 June 2016

Tony Bennett attends as the Friars Club Honors Tony Bennett With The Entertainment Icon Award - Arrivals at New York Sheraton Hotel & Tower in New York City

Getty Images
Hampton's adaptation of the 1782 novel by Pierre Choderlos de Laclos premiered at the RSC in 1985 with Lindsay Duncan and Alan Rickman in the lead roles. An award-winning film followed in 1998 and it was revived on Broadway a decade later. The Marquise has been played by Glenn Close and Laura Linney, among others. "There's a process in rehearsal where you have to let go of that and ask what you can do with the part," says McTeer.
"They behave so appallingly, and their egos and vanities and evilness should make them cringingly awful, yet as an audience you kind of love them. There is something delicious about seeing these people in their finery behaving in a supposedly serious manner then all they can talk about is deflowering each other and who can sleep with whom. The contrast heightens it all."
McTeer and West have worked hard in rehearsals, from creating crackling tension to drawing up a backstory for the two manipulators. "Like all great manipulators, they are jazz pianists. It's not that they have a great plan, but they think on their feet," she says. "She clearly loves Valmont but in the end she destroys him rather than let him hurt her. If there's no vulnerability about her then it just makes her purely evil." She believes the Marquise is shaped by a troubled past. "This is a play about damage. Merteuil describes herself with a catalogue of repression she's grown up under, how to escape it, and the accompanying sexual hatred. You think she's in control but she isn't. She messes herself up and destroys her life."
The play marks the Newcastle-born actress's return to the Donmar for the first time in a decade after she starred there opposite Harriet Walter in Mary Stuart, which subsequently transferred to Broadway. "To come back here feels fitting," she says. "I love the Donmar, everything about it. About the way these wonderful women [artistic director Josie Rourke and executive producer Kate Pakenham] run it. It's a great place. I also hadn't done a play in London for a long time."
She last appeared on the London stage in Yasmina Reza's God of Carnage at the Gielgud Theatre in 2008 and has been keen to return, though being based with her family in Maine has made it tricky. "I've been on Broadway three times and I've loved every minute of it. But the London stage is my home, without a doubt. It feels like where I belong, it is a joy," she said. "There have been offers before but they didn't feel right."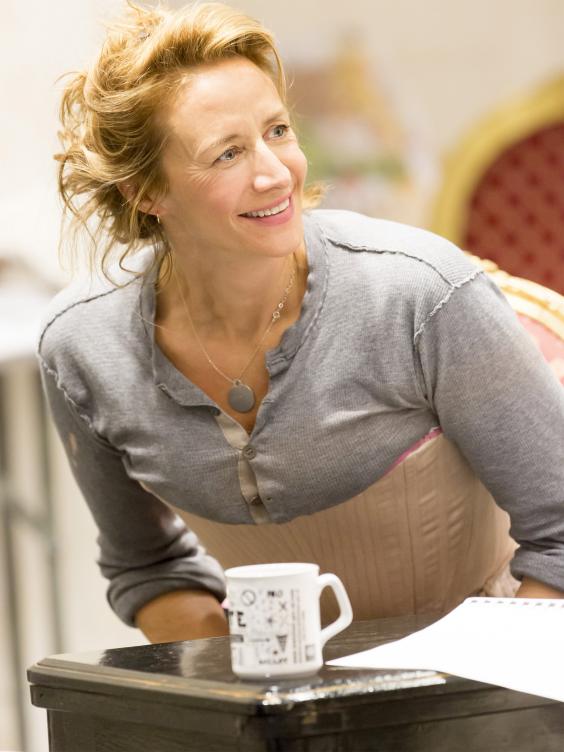 While known largely for character roles on television, in the theatre McTeer has been described as "one of the finest classical actresses of her generation". After a stand-out performance in Uncle Vanya at the National Theatre in 1992, she won an Olivier Award and then a Tony for her "supercharged" portrayal of Nora in A Doll's House, which opened in London in 1996. It was her performance on Broadway as Mary Stuart that prompted Glenn Close to offer her a role in the film Albert Nobbs, for which they both received Oscar nominations in 2012. That came just over a decade after her first Academy Award nomination for the quirky independent film Tumbleweeds for which she won a Golden Globe. "In my heart of hearts I love theatre. It's the joy and terror of putting a play on, the creativity of it," she said. "It is infinitely harder than film and television and more tiring. Your performance is heightened in the way it isn't with film."
Her love affair with the theatre was kindled relatively late, at the age of 16, when she got a job in the café of the Theatre Royal in York. After seeing the productions there, "I remember thinking that was what I want to do". Encouragement came from an unusual source. Gary Oldman was working in the theatre and suggested she apply to drama school. McTeer said the pair joked about it when they were both nominated for an Oscar in 2012, she for Albert Nobbs, he for Tinker Tailor Soldier Spy.
She was accepted at Rada and left early when she was cast in a play. She has worked ever since. "The people I respected and wanted to be then are still the people I respect and want to be. Lindsay Duncan, Harriet Walter, Juliet Stevenson, Maggie Smith, Judi Dench, Helen Mirren, who all did amazing theatre and were just incredibly good at what they did. That's what I wanted to be. The only way to do that is to be as good as you possibly can be in as varied roles as possible."
"I've been very fortunate and never not worked," she adds. "I feel strongly for the younger actresses when a lot of their career is based on how they look. That must be hard when your looks begin to go and you haven't built up the wealth of character parts to get into something else. I've never had that. I was always a character actress," McTeer says. "You never have the ingénue parts when you are young but it stands you in great stead later on. When you are old enough to rule countries and bosses and play powerful parts, who cares if you're 45, 55 or 65?"
McTeer has had her fair share of powerful roles, from the Nineties television series, The Governor, in which she played the first woman in charge of a maximum security prison, to last year's roles as the head of the MI6 in The Honourable Woman, and police chief Kim Commander Guziewicz in Battle Creek.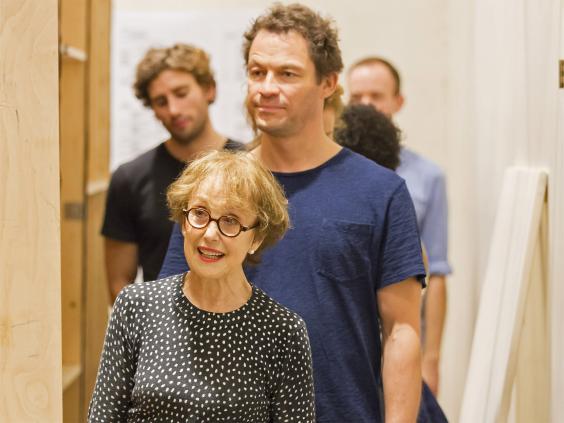 "I do get offered senior authority roles a lot. I think it's because I have a deep voice, am over 6ft and am clearly authoritarian. I find strong roles really interesting. Usually that means the character is also clever. I'm fortunate I'm in a good niche. I often say if it looks like they're going to either kill people or rule people they'll call me up."
When she played Jacquetta Woodville in the BBC series The White Queen, she even demanded adjustments to her part. "They let me play her more politically which was great. One scene was written quite bitchily, and I didn't want to play a woman of this age who's still bitchy. It's belittling to women. Let's make it a power struggle, and they did."
She is tactical about the jobs she takes. Sometimes it's about "being grown up and having to pay the mortgage" but then there are the no-brainers. "When Glenn turned up in my dressing room for Albert Nobbs. When Josie asked me to do Les Liaisons..." A recent no-brainer was accepting a role in the film The Kaiser's Last Kiss, due for release next year. McTeer plays Christopher Plummer's wife.
"He was my first love," she says. On her sixth birthday her family had just moved from Newcastle to York and she had no friends to invite to a party on her birthday. Instead she was taken to see The Sound of Music, her first ever trip to the cinema.
"I fell madly in love with Christopher Plummer and I've never fallen out of love with him," she says. "I phoned my husband and told him about the part this year. He groaned and said he'd draw up the divorce papers."
'Les Liaisons Dangereuses', Donmar Warehouse, London WC2 (www.donmarwarehouse.com) 11 December to 13 February
Reuse content