Millicent Binks is the kind of woman who is pursued at all times by an imaginary spotlight. Heads turn as she moves through the crowd with a wiggle and a wink.
At times, a man will emerge from the mêlée to spin her into a deft mini-Charleston, and she seamlessly complies, throwing her head back in laughter before pecking him on the cheek and moving on. She is Daisy Buchanan, Marilyn Monroe and burlesque queen Dita Von Teese all rolled into one. One interesting thing about Binks is that 10 minutes previously she was practically naked. Even more interesting... she is just as sexy here, fully clothed.
Binks is one of Britain's leading burlesque performers, and she is somewhat in demand at the moment. Every night of the week people flock to burlesque events in venues across the country, ranging from the exclusive at the Cellar Door in the capital, to the comedic at the Wet Spot in Leeds, or here, at London's Bloomsbury Ballroom, for  full-blown, big-league, unadulterated glamour.
This is the Prohibition Party – a spectacular affair, with jazz bands playing, roulette wheels spinning, and cocktails being presented with a flourish. And this is no naff fancy-dress party – every woman looks like they spent hours trawling through vintage shops and their grandmothers' jewellery boxes to craft the perfect outfit. The men don't disappoint either, peacocking in their braces and trilbies. This is obviously where the beautiful people have been hiding out on a Saturday night (seems I didn't get the memo).
If you thought burlesque was, like stripping, seedy and a bit grubby, then walking into this Gatsby-esque ballroom will dispel that in a heartbeat. On stage one of burlesque's legends, Vicky Butterfly, rocks serenely on a giant, sparkling crescent moon. As the music swells, and she rocks the moon higher, her layers of clothing are shed so subtly you would barely notice. It is beautiful, poetic almost. And yes, sexy, but without the aggression that goes with stripping. At the end, men applaud, women hoot with approval, and Miss Butterfly flits off stage.
For some time now, burlesque has had something of a cult following in the UK, but in the past few years, it has exploded into the mainstream. So why has burlesque struck such a chord with the middle classes? Some say it is a reaction to times of austerity, just as the Roaring Twenties itself was a rebellion against prohibition. Others say it's escapism – a chance to escape the mundane by going into character and more of an event than wasting hard-earned cash on an evening down the local.
Some say it's because burlesque, unlike stripping, is a feminist statement, with the performers very much in control of their bodies and their audience. Although there are many detractors who say that burlesque is just another way of objectifying women, most working in the industry say that it is empowering, not exploitative.
One woman who certainly seems empowered is Millicent Binks. Despite her giddy coquettishness, this is a woman whose head is firmly screwed on. "I was very inspired by the idea that you can be the sole creator of your acts, you direct and choose every element from the music, from the costume to the choreography, and create your own persona."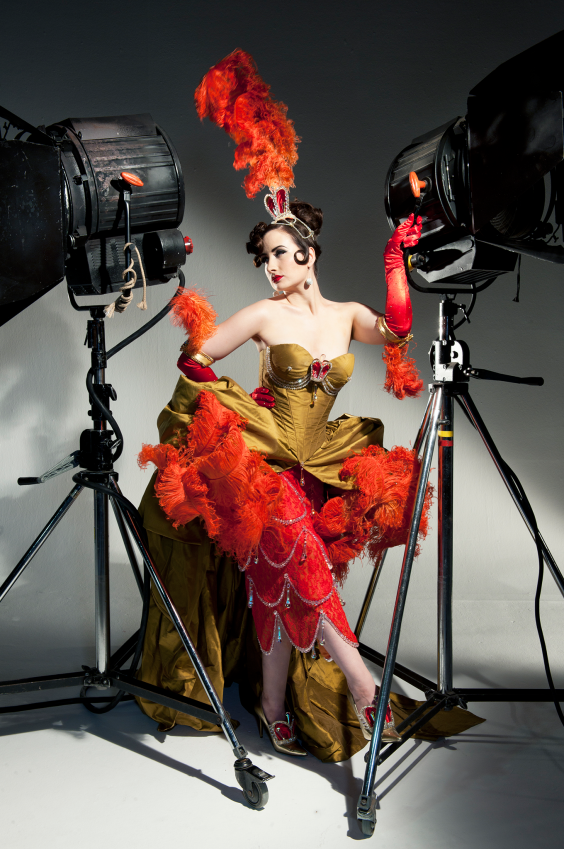 Binks's performance tonight is an intimate one, in a little "speakeasy" hidden at the back of the Ballroom. She moves through the crowd with confidence, leaving man after man slack-jawed with the odd ruffle of his hair, or gift of a discarded glove or stocking. There are many couples here, and girlfriends and wives seem more than happy to let their other halves have a second to bask in Binks's glow. When, finally, she is down to her near-naked glittering glory, she takes a bow and moves through the crowd back to her dressing room, the crowds parting respectfully to let her past. There is no leering, no grabbing as she passes.
"I am a feminist and absolutely love being a woman," she says afterwards. "I don't believe I am victimised in any way by what I do.  Women can be healthily narcissistic and enjoy to be looked at and appreciated. Eighty per cent of people who come to burlesque shows are women because they like to live vicariously through the burlesque dancer and feel the confidence and fun that comes with being a woman. I believe women can have it all, be  intelligent as well as glamorous and it doesn't mean she is not one because she displays the other. It's wonderful to be living in a country where women are not punished for their sexuality."
Of course, not everyone shares her viewpoint. In July last year, Labour politician Susan Press, chair of the Hebden Bridge Picture House Committee in West Yorkshire, succeeded in banning a burlesque troupe from performing. She rejected the argument that burlesque is part of the "fourth wave" of feminism, calling it regressive. "The portrayal of women in this type of show is something we fought against a generation ago," she said. Last month, it emerged that a circus troupe – members of which had burlesque influences – were refused permission to open a bank account by Santander due to a "moral problem".
Ryvita Von Cheese, creator of the Wet Spot events, certainly doesn't have a problem with the notion of burlesque. "My mum has been to see me perform, and I know many performers who have their parents in the crowd at shows – I'm not sure I would be inviting my mum along if I was working at a strip club!" she says. "Burlesque leaves more to the imagination – even when stripped down to a merkin and pasties. There is often a theme or a story to the routine, not just dancing. Also – the comedy, tongue-in-cheek side of burlesque is a huge part of the appeal to me – I haven't heard of any strippers riding flamingos in the style of Bernie Clifton like the wonderful Velma Von Bon Bon."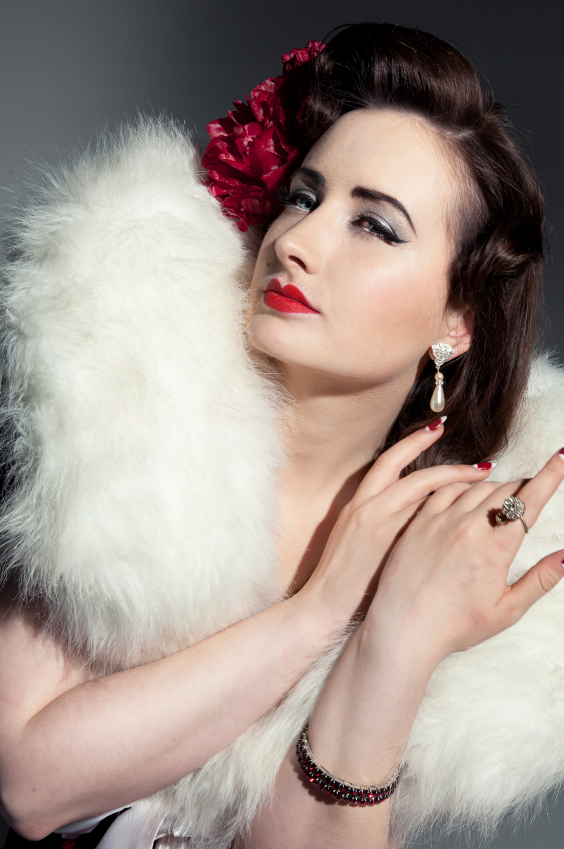 And far from being "regressive", Von Cheese says burlesque is modern, broadly appealing and inclusive. "Burlesque has performers of all shapes and size, and is a predominantly female-led scene. The majority of burlesque club organizers, show staff and promoters, performers and crowd are mostly female."
Binks agrees. "I think it is a widely recognized artform now. Most people know vaguely what burlesque is, whereas about six or seven years ago most people didn't know at all. It's popular because it can be understood and appreciated by all people, especially women, and it has a very positive and uplifting message as well as being funny. The element of dressing up and having an alter-ego is a great place to escape to, and an excuse to really be over the top and let your eccentricities shine through." 
Whether feminist or frippery, the broad appeal of burlesque is undeniable. And judging by the well-heeled crowds tripping off home after a night of dancing and devilish cocktails, the next Twenties will be Roaring too.
Reuse content