Lin-Manuel Miranda's Broadway hip-hop musical Hamilton is the most successful and significant musical this century, taking into account the reaction from audiences, critics and A-list celebrities. But very often in the morning the first thing on the writer-performer's mind is In the Heights, his musical debut currently on at the King's Cross Theatre in north London. "It's almost like In the Heights UK is my morning present," he exclaims. "What's insane is to be a New York writer and wake up to a cavalcade of tweets from, or about, the [UK] company. They've gone through their day as I'm getting up and hearing the incredible reaction. If I was not performing every night, I'd be on the next plane there."
Miranda is something of an authority on incredible reactions. If In the Heights put the 35-year-old New Yorker on the map in style, winning the 2008 Tony Award for Best Musical, then Hamilton has spectacularly invaded Broadway and revived the reputation of its subject, US Founding Father Alexander Hamilton. President Obama has seen the show twice. You'll be lucky to find a ticket for under $150 and one Broadway investor even said to me recently she wouldn't see anything else during the season for fear of it coming up short compared with Hamilton. 
Most new musicals fail (Miranda knows this; he also co-wrote the music and lyrics to Bring It On, the Broadway cheerleading musical that underperformed in 2012). The success of Hamilton – which began life last January at off-Broadway's Public Theatre before transferring to the Richard Rodgers Theatre in the summer – seemingly points to the music in a musical now being less important than ever. Certainly Miranda – who plays the lead in Hamilton as he did with In the Heights on Broadway – knows how to write a winning tune. "The Room Where It Happens", "One Shot" and "History Has Its Eyes on You" blaze with inventive lyrics and infectious melodies.  
But Hamilton's success is due to its unique spirit and determination to retell the formation of America through the lens of a mainly non-white cast, and in the process elevate itself to the forefront of the arguments of diversity and immigration occurring in the nation.
We don't meet in "The Room Where It Happens", but Manuel's dynamic enthusiasm is palpable. In the Heights might be radically different in theme and scope to Hamilton, but it also possesses a distinctive musical sensibility. The London production, directed by Luke Sheppard with choreography by Drew McOnie, began at the Southwark Playhouse 18 months ago before transferring to the King's Cross Theatre and has extended until April.
Miranda is keen to highlight its influence. "I've just come from seeing On Your Feet, the new Gloria Estefan show on Broadway, which literally has half of my Heights cast," he says. "That spirit is alive and well." Why does the rap and salsa musical that chronicles a community in the largely Dominican-American neighbourhood of Washington Heights in Upper Manhattan, possess such staying power? "There's just something about the show and the way it was conceived by our creative team [including director Thomas Kail and choreographer Andy Blankenbuehler who also brought Hamilton to life]," replies Miranda. 
"Even though the characters inhabit such a specific part of the world, there's something about them that is so identifiable… it makes us think about our own families just the way my favourites did." He pauses casting his mind back to Fiddler on the Roof: "I've never been to Anatevka, Russia, but I watch Tevye and his daughters and I feel like I know these people."
Miranda inherited a love of Broadway musicals from his Puerto Rican parents. In the Heights arose from a determination to step out of the straitjacket that he feels Latino performers are placed into. "I knew I wanted to write musical theatre but I knew didn't dance well enough to play Bernardo [from West Side Story] and if you're a Puerto Rican actor, that's about what you get, either Bernardo or Paul in  A Chorus Line. That's what available to them. So I began writing a show about the neighbourhood next to my neighbourhood growing up in New York. It was almost a dare to us."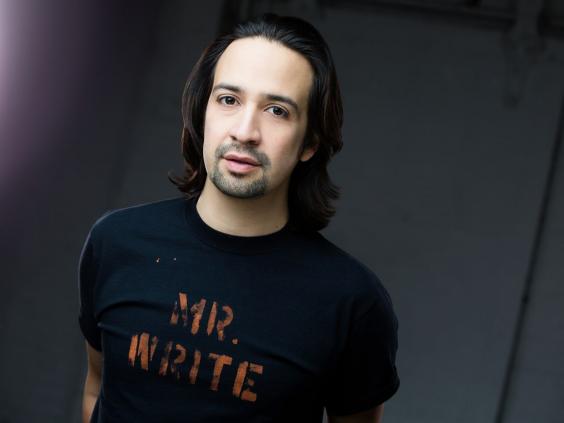 He credits his producers, who also brought Avenue Q and Rent to the stage, for shielding him from the Hispanic stereotypes. "Weirdly, there have been a lot of musicals where Latinos are carrying knives in their hands," he says. "It's like, 'That's been very well represented, thank you very much'. The code word that producers would use was 'grit'. 'What's the grit?' 'Where are the drug dealers?' Where are the knives?' Where are the pimps?' I'm sure that was part of someone's reality in the neighbourhood but it wasn't my experience growing up."
In the Heights touches upon gentrification, an issue that has hardly gone away since it was first staged. "Sometimes the people that make the neighbourhood special suddenly can't afford to live there anymore," Miranda notes. "I'm sure that's true of London, it's certainly true of Washington Heights, which is getting as increasingly expensive as the rest of New York. The West Village of Jonathan Larson's Rent doesn't exist any more. It's been replaced by Pottery Barns. Those guys won. Washington Heights is still a Dominican neighbourhood but it's getting more expensive. Soon the people who can afford to live there will have to move further and further out."
One can't imagine Miranda being priced out of his Harlem neighbourhood any time soon. Hamilton is grossing over a million pounds a week and at a conservative estimate will be on Broadway until 2020. "The initial impulse was that Hamilton is a hip-hop artist," he said of the Founding Father who established America's financial system and served as George Washington's chief aide but died in a duel with Vice-President Aaron Burr. "He uses his words to transcend his circumstances and that's what great hip-hop artists do." 
The idea came from reading Ron Chernow's acclaimed 2005 biography of Hamilton: "I was picturing this as a hip-hop album before a show so when I was reading the book I wasn't picturing the literal Founding Fathers, I was picturing which hip-hop artist embodies the essence of George Washington."
Regarding the perpetual stream of A-listers who are paying homage to Hamilton, Miranda observes, "It's become a way to energise our show. It doesn't change what I do in the show but if I know a famous rapper or someone I grew up idolising is in the audience, it gives me an extra nitro boost charge."
Samantha Power, the United States Ambassador to the United Nations, told him she wished more presidents and dictators could see it while he recalls, "Dame Helen Mirren came to see us at the Public. She was about to star in The Audience on Broadway and she said to me, 'I have to have a talk with my costume designer because I wear something just like that and after your show I'm going be laughed off the stage!"
But it is Hamilton's contemporary relevance, rather than celebrity currency, that accounts for much of its success. The show is an unabashed love letter to the benefits of immigration. In one scene Marquis de Lafayette (Daveed Diggs) extols to Hamilton, "Immigrants. We get the job done!" The alliance between France and America depicted in the show acquired fresh meaning for Miranda after the Paris terror attacks. "Those reports were coming in mid-show for us. There's a moment where Lafayette screams 'Freedom for America, freedom for France.' I got so choked up I missed my next line because that centuries-old alliance and relationship is being tested and forged yet again."
Miranda took six years to write Hamilton. "Every couplet had so much care going into it," he said. "We're not just rhyming at the end of sentences. We're rhyming six times within every line in certain places so it's a lot of care and meticulousness to make it seem like it's all coming off the cuff. I'm not that smart!"  
One standout comedic character is King George III, who appears at intermittent stages to sing doomed lullabies ("On paper it does not make sense for us to cut to King George… His first song is literally a passive-aggressive break-up letter to the United States.") Not everybody loves it (a tiny minority of naysayers question its innovative qualities claiming the dazzling wordplay masks a routinely conventional Broadway musical). 
Yet Hamilton's game-changing status is indisputable and unsurprisingly Miranda's services are being sought in high places. Star Wars: The Force Awakens director J.J Abrams revealed last week that he and Miranda have co-written a cantina song for the new blockbuster while he's also composing tunes for Disney's South Pacific-set animated adventure Moana.
Sir Cameron Mackintosh is transferring Hamilton to the West End in 2017 but Miranda says he isn't yet thinking about London. "I keep waiting for life to return to normal and it hasn't happened yet," he says. "I couldn't have predicted any of this." It's the stuff of dreams, I say. "I dreamt it," he replies, "but even I didn't dream we'd be the No 1 rap album in the US. That's crazy!" And there have to be worse early morning wake-up calls than hearing about the ways his debut keeps hitting the heights in the UK. 
'In the Heights' is on at the King's Cross Theatre, London (intheheightslondon.com) to 10 April; 'Hamilton' is on at the Richard Rodgers Theatre, New York, to 30 September 
Reuse content