In this age of high-profile celebrity trials we shouldn't forget that one of the very first opened at the Old Bailey on 3 April 1895. It promised to be one of the most sensational of the decade; an upstart Irish playwright had taken an irascible Scottish aristocrat to court; my grandfather, Oscar Wilde, was suing the Marquess of Queensberry for criminal libel.
For nearly four years Wilde had been conducting a tempestuous love affair with Queensberry's third son, Lord Alfred "Bosie" Douglas, much to the disgust of the Marquess who had tried to force his son to end the relationship. Unable to do so, he finally left a badly spelt visiting card at Wilde's club a few days after the opening night of The Importance of Being Earnest, accusing him of being a "somdomite". Egged on by Douglas, who detested his father and wanted nothing better than to see him behind bars, Wilde set in motion the libel action which was to cost him his freedom, his reputation, his art and, ultimately, his life.
On the third day of the trial, Wilde withdrew his prosecution after the defence, in justification of the libel, had started to make damning revelations about his relationships with London rent-boys. But as an exercise in damage limitation it was a failure, for Queensberry then instructed his solicitors to send all their evidence to the Director of Public Prosecutions and Wilde was arrested the same evening. Within three weeks he was back in the Old Bailey, this time in the dock, charged with "gross indecency with other male persons" under Section 11 of the 1885 Criminal Law Amendment Act. The jury failed to agree on a verdict; a retrial was ordered and on 25 May (less than 100 days after the opening of Earnest) he was sentenced to two years' imprisonment with hard labour.
So much for the facts – documented, verifiable, rehearsed ad nauseam in a hundred biographies. But what actually took place in the courtroom and behind the scenes during those seven weeks? The Old Bailey Sessions Papers, which normally gave detailed summaries of most cases simply said of the libel trial, "the details of the case are unfit for publication" and of the two prosecutions by the Crown they gave the barest of details in a few lines.
The newspapers were less squeamish, but their reports were necessarily shortened versions of the proceedings and filled with circumlocutions like "unnatural practices" and "indecent acts". It wasn't until 1912 that Oscar Wilde: Three Times Tried was published anonymously, purporting to give an accurate record of the trials in order to dispel the "vague fog of obscenity" surrounding them. No sources were given for the material but most of it seems, on analysis, to have been gleaned from contemporary newspapers, though still "with due regard to discretion". That record was reprinted more or less word for word in 1948 in the Notable British Trials series and, in the absence of any other documents preserved at the Old Bailey or in the National Archives, it remained the only account of Oscar Wilde's trials for the next 50 years.
It was in 2000, while I was helping prepare an exhibition at the British Library to commemorate the centenary of my grandfather's death, that someone appeared in the library with the shorthand transcripts of the libel trial as a possible exhibit. There are moments of discovery in any research field which are akin to the euphoria of sporting triumph or sexual climax; this was one.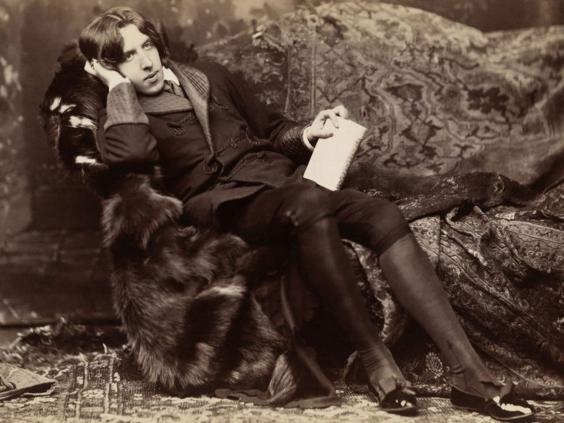 If there was a holy grail of Wilde studies, finding his words taken down in shorthand at one of the major events in his life would come quite high on the list of nominations.
The elation once over, I started to assess the implications. For a start we now had nearly 85,000 words as against the mere 30,000 known until then, and having Oscar's own words rather than paraphrases or, even worse, words he never uttered, put him in a rather different light. Far from starting his examination-in-chief with a boastful catalogue of his achievements: "I am the prosecutor in this case... I took a classical scholarship and the Gold Medal for Greek," and so on, he simply answers the relevant questions put by his counsel with a sober "yes" or "I did". This was a gift when John O'Connor and I came to dramatise the proceedings, as it provided a natural crescendo from demure and then confident, through recklessly witty ("Did you ever kiss him?"; "Oh, no, never in my life: he was a peculiarly plain boy"), to flustered and unnerved. He also spends more time than we previously thought defending his writings against the charges of immorality and obscenity, as well as declaring under cross-examination that he loved Alfred Douglas, a statement totally absent from all printed accounts until then.
Apart from being able to use the very words that Wilde uttered in court, the other major difference between this and previous attempts to present Wilde's trials as drama for the stage lies in the way they were abridged. In the course of the three cases, Wilde spent more than eight days in the Old Bailey and to reduce this to a mere two hours of well-paced theatre required the art of the surgeon's scalpel rather than the butcher's cleaver. Essentially there were three main elements to each trial: Wilde's relationship to Douglas; his defence of his art; and his consorting with rent boys and blackmailers. Each had to be represented in the right proportion and with extracts long enough to keep as much of the natural dramatic tension as possible, then the components sewn back together to form a credible whole. The result, as Peter Ackroyd said of the published transcripts, is as good as being in the gallery.
When the Irish Peacock took the Scarlet Marquess to court, he took on the British Establishment and passed, as he said, "from an eternity of fame to an eternity of infamy". It was his last public appearance as a free man, but his fight, although insanely quixotic, was fought with all that style and conviction we have come to expect from Oscar Wilde.
'The Trials of Oscar Wilde', St James Theatre, London SW1 (www.stjamestheatre.co.uk) 10 to 12 July. Merlin Holland will talk about 'The Downfall of a Decadent' before the play on 11 and 12 July
Reuse content