Nearly 10 years ago Leeds-based artist Selina Thompson, then 16, stood in front of the full-length mirror in her Birmingham bedroom and made one of the biggest decisions she will ever make. "I'd been relaxing my hair with these home relaxers for years and it was just destroyed. I had scabs on my scalp. I remember thinking, 'This is just a mess,' and 'There's nothing I can do with it.' So I shaved it off."
Some of the politically charged responses to going from "relaxed" to "natural" hair are the driving force behind her latest solo show, Dark & Lovely, which opens today at Ovalhouse in Kennington, south London, before touring the UK. 
Part of a series of autobiographical shows in which Thompson explores the way women's bodies are perceived – for a previous show, Chewing the Fat, she wore a dress made of cake – this latest is performed within a room made of hair which, despite the title, may be dark but isn't lovely. Even Thompson admit's that it's a little bit gross.
The seven-foot "tumbleweave" is made from discarded extensions collected from hair salons where she interviewed customers and hairdressers. The show is designed for an audience of up to 40, some of whom can peer into the interior or join Thompson inside – no more than five at a time – as she holds court on the tangled politics of black women's hair.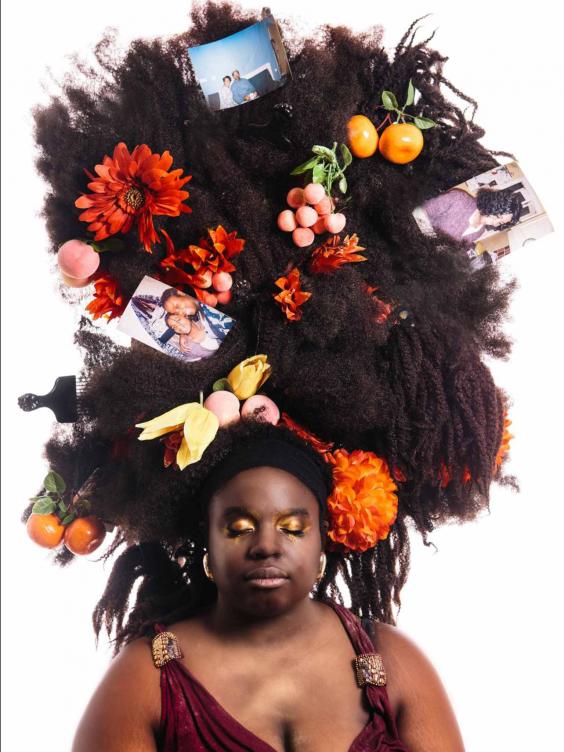 "My mum was really upset," says Thompson about the time she gave herself "the big chop". "Like, crying upset. My dad was angry and just shut down." But it was the response of those outside her home that gave Thompson her first taste of how the way a black woman wears her hair is seen by many people to be as much their business as hers.
"People asked me if I was ill. At school there were a lot of black girls in my year and many couldn't stop talking about how what I'd done was embarrassing. Not just for me. For them. It was as if what I'd done was a communal act."
We are sitting on stage at Sheffield Theatres' Studio space. Banks of empty red seats will soon be filled by those who have come to see a cult documentary called Kickin' It Kinks which is being screened at each venue of on Thompson's tour. Like Dark & Lovely, it is one of a series of recent works addressing the complexities and sensitivities attached to hair styles worn by women of African descent, among them the Chris Rock documentary Good Hair and Chimamanda Ngozi Adichie's novel Americanah. 
However, much of the debate boils down to one provocative question, and one compelling answer: Should black women wear their hair in a way that conforms to western – aka white – beauty ideals? Answer: Why should black women be any less free than white women to wear their hair however the hell they like? But it's complicated.
"I'm not interested in telling someone their decision is wrong," says Thompson. "What I want to do is unpick where that decision comes from. And expose the fact that it's not made in a vacuum. The most visible black women in the world for me are Beyoncé Knowles, Rihanna, Michelle Obama. All three have straight hair."
So is Thompson saying that the relaxed hair aesthetic is driven as much by black role models as by what she calls "white beauty ideals"? Not quite. "I remember that front cover of the The New Yorker [a cartoon, published in 2008, parodying American misconceptions about the Obamas and depicting Barack Obama as a Muslim militant]. Michelle was an angry black woman in great big boots, holding a gun – with an afro. And I thought, it's really telling that to show a black woman as radical you make her hair afro. Michele Obama has never had an afro."
The lesson, Thompson says, is that black women with natural hair are – or have been until very recently – seen as potentially troublesome. Which explains the reaction to Thompson going natural when she was 16.
"There was a sense that I was being radical, a sense that it didn't look respectable, proper, neat, or tidy; and a sense that I'd rejected what beauty should look like. And that was an act of violence on myself."
"In the film [Kicking It With the Kinks] there's a great moment with a woman with long relaxed hair who says she didn't need to wear her hair natural or afro because she knows where she's [descended] from, regardless of how she wears her hair," says Thompson. "You can problematise that statement but there's also something really powerful about it." 
Equally powerful is the term, later used by Thompson during a conversation with the film's writer and presenter, Mundea Situmbeko, to describe the environment in which British black women are making decisions about their hair. A "white supremacist beauty ideal", Thompson calls it, although it turns out that the woman in the film Thompson mentioned earlier is embracing something other than white ideals. She confidently wears relaxed hair, she explains, not because she has rejected her black heritage but because she has embraced where she is descended from, which is why, she continues while running her fingers through her long, flowing locks, "I can embrace – Indian women's hair!"
This gets a big laugh from those in the film and those watching it. After the screening there is a frank exchange of views from the audience, the majority of whom are black women with both relaxed and natural hair styles. A white woman with a mixed-race daughter worries about the corrosive effects of relaxing chemicals on her daughter's scalp. Some girls who relax at home have been terribly scarred, the film shows. "It's expensive. Girls do it at home because they can't afford a salon. I'm going to ask her to stop," says the mother. A pastor, on the other hand, proudly relates how one of his sermons led to a young congregant deciding to go natural. The mood is not judgemental about either option. Still, no one thinks that going natural is a bad choice.
Earlier, before the screening, Thompson – hair afro, often with a bow, sometimes with a "twist-out" or, if it's winter, braids because the cold weather isn't good for it – tells me a story that reveals Dark & Lovely goes back much further for her than the time she gave her hair the big chop at 16.
"I was once in a relationship with a man who had a daughter who was four years old," she says. "One day I went in to tuck her in and she was wearing a cardigan on her head. My heart turned to ice. Because I used to do that when I was little. I had a particular cardigan that I used to wear on my head to pretend that I had long princess hair. And I would swish it around.
"I think about that little girl, about me putting the cardigan on my head, about my mum who used to put a towel on her head, and my Nan who would not engage with that question. There's a passing down that has happened constantly. And I think a lot of Dark & Lovely is asking, 'Can you stop?' "
'Dark & Lovely' is on at Ovalhouse London until 17 October and is on a UK tour until 28 November (ovalhouse.com/whatson/detail/ dark-and-lovely-by-selina-thompson)