It's 11 o'clock in the morning and row upon row of well-sculpted men are pirouetting in a small room to the tinny notes coming from an upright piano. One, dark, with perfectly chiselled features and a brooding stare steps forward. Wearing grey tights and a matching leotard which has become so wet it is now see-through, he is reminiscent of Colin Firth's devilishly handsome Mr Darcy and his clingy white shirt after a quick dip in the lake at Pemberley.
But this is not the set of a quirky new period drama; it is the downstairs studio in London's Markova House, the HQ of Britain's premiere touring dance troupe: the English National Ballet. And the graceful, dripping Adonis is not a floppy-haired actor but James Forbat, an up-and-coming first soloist of the company. Later I ask why he appears to favour a more minimalist approach to his kit than his fellow dancers, to which he replies, "I sweat way more than everyone else. If I put on more clothes I am soaking wet by the end of the class." Well quite: quod erat demonstrandum.
It is 19 months since striking Spaniard Tamara Rojo, a former prima ballerina at the Royal Ballet, was hired as the artistic director at the ENB, and her appointment is proving to be a shrewd one. Today the company, founded 73 years ago by Dame Alicia Markova and Sir Anton Dolin, is rehearsing The Nutcracker – a glossy production famed for its spectacular snow scene and choreographed for the fourth year in a row by Rojo's predecessor Wayne Eagling. The ENB is the underdog of the ballet world, so it may come as a surprise to fans of the Royal Ballet that there are a number of impressive rising talents in this hard-working, smaller company who may eventually outshine the bright stars of other companies.
This afternoon a baggy purple onesie, made for Rojo by her mother (apparently she owns a number of these in a variety of colours) masks her slight figure. Busy as ever, in just under an hour she will be ushered into a cab and driven to the airport where she will fly to Granada to teach a master class and meet with key sponsors before hopping back across Europe. It's all in 24 hours work for her.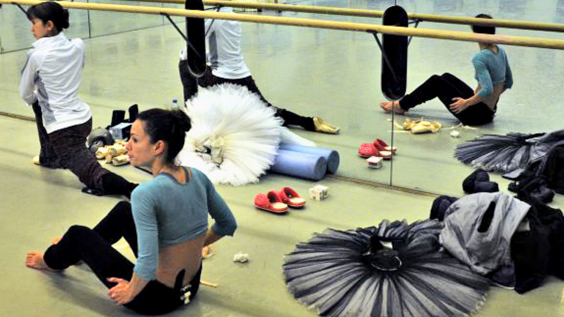 "I do believe we can achieve international recognition, size is the least important thing, and history does not matter so much. It is about what we are doing now, our repertoire and the talent we can expose," says Rojo looking up meaningfully with the wide brown eyes of a basset-hound pup. "In truth there are all kinds of personalities which are attracted to ballet. Some love it because of the discipline it involves. They have a studious nature and love working in the studio. Then others are show people, you get them in the studio when you can and they do it half-heartedly but then you get them on stage and they are explosive."
Ah, I have already spotted one of these "explosive" types. Hours before in class, there was a nonchalant figure dressed in a stripy T-shirt, loose black trousers and swathed in thick gold chains whose hops and skips were rather lukewarm. His name? Yonah Acosta. Yes, the talented nephew of acclaimed Cuban dancer Carlos, Rojo's former partner at the Royal Ballet with whom she will be reunited in Romeo and Juliet at the Royal Albert Hall next year.
"When you belong to a famous family it is both a blessing and a curse. The question will always be asked, did he get it because he deserves it? Well he really does," says Rojo. "Sometimes I see Yonah do things on stage and it shocks me because it is so much like Carlos, his cheekiness when he looks at you and his gestures. But Yonah is smaller so he is faster… he is explosive in a different way to Carlos."
A short while later Yonah sits, still sweaty from the drills. The gold chains, he informs me, are from Cuba; one with a cross, given to him by his grandmother, is of particular sentimental value to him. "It is difficult for me because everyone compares me to my uncle when I dance," he says. "At the beginning it was OK but now it annoys me. I find it strange because I am a different person to him and we have different personalities, he has his, and I have mine.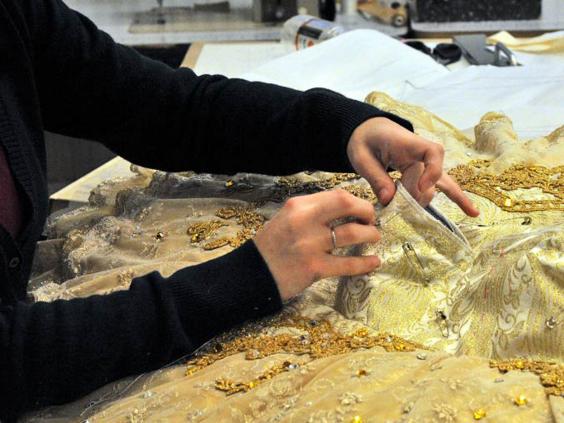 "He is very busy but he comes to see my shows and afterwards he will tell me what I have to do to make my performance better. I find classes and rehearsals hard but I love to be on stage; when I dance everything comes alive." Now dating the Royal Ballet's Australian starlet, Claudia Dean, after meeting at one of Carlos's shows he tells me: "When you go out with someone from the company you see each other all the time, in the studio, in rehearsals, it is not good for your relationship. This way it is better, we have different work and are part of different companies."
Do dancers in the company often find themselves romantically linked? It seems they do. Back in the upstairs rehearsal room smaller groups of dancers huddle apart from the main floor, like flocks of sheep grazing. When these sinewy creatures are not performing their steps they can be found pulling on woolly leggings to keep their muscles warm or lying on their backs, legs high in the air to allow the blood to drain from their limbs and back to their hearts. Either that, or they fly in and out of physiotherapy and massage sessions to help treat a plethora of injuries – in the morning two sheets of white paper pinned outside the medical wing are already full of appointments. An injury, I am told by Forbat, who is suffering pain in the ball of his foot, can sometimes be the one thing standing in the way of your promotion through the ranks.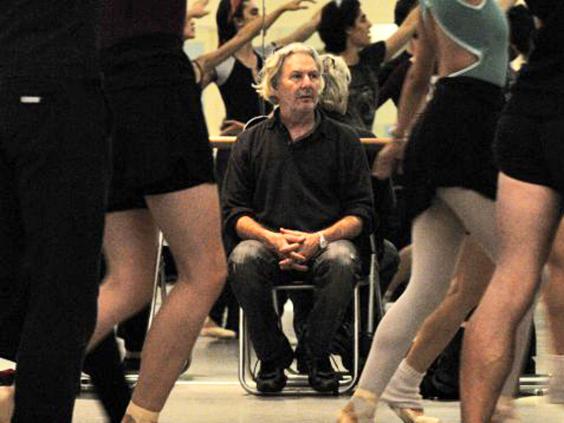 While Eagling, here to supervise his choreography, waves his arms around as he talks to the young children of Tring Park school cast as mice in the show, I sit with rising star of the ENB Laurretta Summerscales, who will be debuting as the Nutcracker's Clara, "I think people do date and get together, it happens in all dance companies… you all spend so much time together it's inevitable really," she muses. 'The longer I am here [this is her fifth year] the more I realise it's like its own kind of family. You have people who have arguments, you have people who really love each other and at the end of the day everyone always comes together and no one wants to see anyone else fall. It's a very special place."
Other gifted young dancers include the athletic Russian principal Vadim Muntagirov, a cool character often seen listening to music through his earphones on the sofas in the common room or eating alone in the kitchen between classes. He is looked upon by his colleagues as being "on another level". After a recent assessment of the whole company, it was revealed that Muntagirov, 23, can jump the highest "by a long way". Also not to be forgotten are the sweet-natured Brazilian Junor Souza, who will dance as the Nutcracker Prince, and the shaggy-haired 21-year-old Colombian Joan Sebastian Zamora, who joined only this year but is already showing signs of becoming another of those "explosive" types identified by Rojo.
Alongside the youthful and bright-eyed are more experienced stars like Georgian-born mother-of-one Elena Glurdjidze. Four years ago she performed an impromptu four-minute solo piece from Swan Lake for Chanel designer Karl Lagerfeld during a costume fitting ("I was very nervous, I still wear the tutu for charity galas and every time I see a feather drop I panic", she says while stretching in the splits) and also lead principal dancer Alina Cojocaru. A recent addition from the Royal Ballet, she is the jewel in Rojo's crown. Never without her beloved long-haired chihuahua Charlie, who she carries around in a special "doggie" handbag and has himself become an honorary member of the company, she is delicately spoken with a steely determination. "I always knew there was a bigger world out there than the Royal Ballet. In some theatres experimenting is criminal and in others it is encouraged. Here I do not know much of the politics in the back office. I can just go to the studio and do my work – it is a relief," she says. It is Cojocaru's work ethic which Rojo hopes the younger dancers will follow. "If it is 11.30pm and I still have some energy I will continue to work, go to the gym for half an hour, practise my steps. Only then will I feel I have got the best out of my day," she adds.
So with her sure-footed cavalry of ballerinas, what is Rojo's next step for the ENB?
"You have to keep the classics alive, ballet is not like a museum," she says. "You can't just hang Swan Lake on the wall and hope that it will still be there in 200 years. You have to actually dance it. But I also want to explore new things too. I am particularly interested in the art world and how I can relate it back to ballet. Often I wake up halfway through the night with an idea that has popped into my head and I think: 'How will I solve that? Did I send that email? I need to call such-and-such.'"
At the mention of her attractive contingent of male dancers, her serious expression at once breaks out into a smile: "I am not blind," she giggles. "I am also aware that it is something that also counts when I bring dancers in. I have a very handsome group of people here." She reveals: "There are a couple more dancers from other companies outside of the UK I have my eye on. I want to bring them to the ENB next year but I won't tell you who they are because I don't want anyone else to pinch them."
And with that she sweeps up her belongings, grins and continues on her crusade.
'The Nutcracker', London Coliseum, London WC2 (020 7845 9300) tonight to 5 January
Reuse content