When Mark Rylance and the cast of Farinelli and the King step on stage at the intimate Duke of York's theatre in London, from the flickering glow of the candle-lit set they may see some wide eyes in the audience. For even ticket-holders primed to watch a drama about the Spanish court of Philippe V and the king's favourite castrato singer, Farinelli, may not have heard a countertenor in full flood. Rupert Enticknap, one of three singers sharing the role of Farinelli the performer (Farinelli the man will be played by actor Sam Crane) is one who knows what it is like to open his mouth and see people in awe because the man in the tails on stage is singing the high notes generally encompassed by a female voice. "I feel like a man. I'm not impersonating a woman," says Enticknap. "You can stand up and start to sing and look out at the audience, and 20 heads go up in amazement."
Farinelli and the King, a sell-out sensation in its brief run earlier this year at the Sam Wanamaker Playhouse at Shakespeare's Globe, cannot use a castrato, of course – the practice of operating on boys' sexual organs to stop them developing and keep the child's voice high was finally abandoned in the 19th century. But the rich seam of countertenors, singing in largely the same register, has made even triple-casting the part for its West End run a dream.
Enticknap had a very traditional musical upbringing through the English choral tradition, auditioning as a boy for the choir of Magdalen College, Oxford, then studying at Wells Cathedral school, and at King's College, London, before specialising at the Royal College of Music. But he feels passionately that the countertenor voice should be regarded as a mainstream instrument, and not as a freak show.
A fan of Björk and of Icelandic band Sigur Rós, whose frontman Jónsi Birgisson is renowned for his falsetto, he points at the world of rock and pop. which takes voices of all sorts in its stride. "Why isn't there a countertenor version of Björk?" he wonders. "When the castrati were singing, the gap between folk music – the popular music of the day – and art music was very small." His own career has run at breakneck speed, from the moment he decided to live and work abroad on first leaving college, stepping in at hours' notice for the distinguished American countertenor David Daniels, whom he had long admired, in Vienna in 2013, to ecstatic reviews. Much in demand since, he works in the contemporary repertoire too, preceding his 25 performances as Farinelli with a run of Philip Glass's Akhnaten.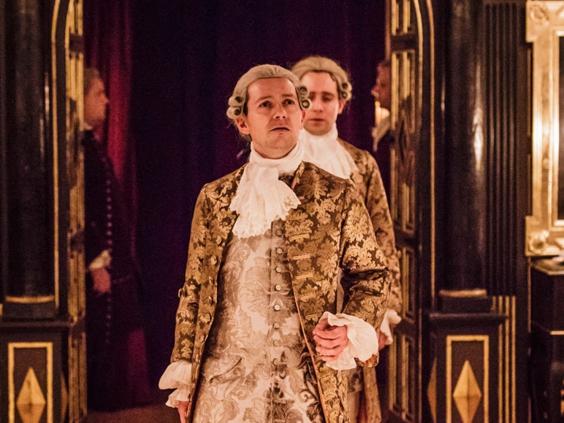 "The amazing thing about being a countertenor is that we are all different. There are those with a soprano register, mezzos, contraltos …" And he believes that as a new generation of directors – and audiences – grows up accustomed to a range of fantastic singers, casting will be more intelligent, and just as there are, say, tenors for one job that are not suitable for another, so countertenors will be picked more discerningly. "There's a fashion for singers just to go as high and fast as possible. But we don't have to sound like a beautiful little bell, either."
Owen Willetts, another Farinelli in Claire van Kampen's play, was not really aware of the counter tenor voice until, singing for his A-level music, he demonstrated to a teacher his ability to sing falsetto. Only later did he realise that the atmospheric theme music to a BBC radio adaptation of the Lord of the Rings that had entranced him as a boy had been sung by one of the early heroes of the countertenor revival, David James. There is a tendency for the voice to be used for otherworldly or unusual roles. Willetts has recently played a young slave abused mentally and physically in the court of the emperor Caligula, in Detlev Glanert's opera of that name. "Composers tend to ask for extremes of the voice, incredible and hard to sing."
It was not always so: Handel often made his countertenors the heroes. And even the castrati were not so rare, even though a handful, notably Farinelli, (real name Carlo Broschi) stand out in musical history. Pistoian-born Atto Melani, who in 1647 created the title role of Luigi Rossi's Orfeo – an opera that is staged from next month, again at the Sam Wanamaker Playhouse – had three brothers and two cousins who were each castrated for their voice. We think of the practice as long gone, but the last notable castrato, and the only one to make recordings, Alessandro Moreschi, did not die until 1922.
Theatre highlights of 2015
Theatre highlights of 2015
1/7 Hamlet - Barbican

The advance sales broke records, but there will be 100 £10 tickets held back for each day's performance of the most hotly anticipated classical production of the year: Benedict Cumberbatch as Shakespeare's brainiest hero, directed by Lyndsey (Chimerica) Turner.

2/7 Bend it Like Beckham - Phoenix Theatre

Gurinder Chadha directs a musical adaptation of her film about a Sikh girl who defies her family for football, scored by Howard Goodall. We're promised a celebratory state-of-the-nation comedy.

3/7 Hard Problem - National Theatre

The Hard Problem is consciousness in Tom Stoppard's first new play for nine years. It's set in a brain science institute and directed  by Nicholas Hytner, who steps down at the National Theatre  after a glorious reign, in April.

NT

4/7 The Hook - Royal & Derngate

To celebrate the Arthur Miller centenary, James Dacre directs a world premiere, adapted by Ron Hutchinson from Miller's FBI-suppressed screenplay about mobsters in the dockyards of 1950s Brooklyn.

Getty Images

5/7 Farinelli and the King - Sam Wanamaker Playhouse

Mark Rylance stars in this fascinating real-life story, dramatised by his wife Claire van Kampen, about Philippe V of Spain and the castrato whose voice cured him of insomnia and despair.

BBC

6/7 Antigone - Barbican and King's Theatre

The visionary Flemish director Ivo van Hove brings us Sophocles's great tragedy in a modern version starring Juliette Binoche.

Reuters

7/7 The Vote -Donmar Warehouse

James Graham aims for a media coup with his drama set in a fictional London polling booth in the last 90 minutes of Election Day 2015. The run culminates in a live broadcast on More4 on the day.

Reuters
Today, England is regarded as the fertile seedbed of countertenors, many singers having come up through the cathedral choral tradition. Purcell wrote several odes for the voice in 17th century and in oratorio the alto line was almost exclusively male until the mid-19th century. The great Westminster Abbey Handel Commemoration of 1784 featured a chorus with 45 male altos and not a single female contralto. It wasn't until Mendelssohn gave prominence to a contralto in his 1847 oratorio Elijah that the male alto or countertenor began to fade from both solo roles and choruses, but it was a slow process: as late as 1883 the Leeds Festival Chorus had 42 male altos and 17 contraltos. Benjamin Britten helped restore the countertenor solo to the operatic stage – countertenor Alfred Deller created the role of Oberon in A Midsummer Night's Dream in 1960 – and in the 1990s, the dynamic breakthrough into a lovelier, warmer, rounder voice by Andreas Scholl, captivated audiences and future singers alike.
One London agent and voice coach picks Iestyn Davies, the third of the production's Farinellis, as the outstanding countertenor of his era: "There are more good countertenors coming through than there are roles for," she says. "I can't believe  such voices weren't there before, but they weren't fashionable. Any man can sing falsetto – some tenors do when they have a high pianissimo. But they shouldn't!"
Post-castrati, the solution used to be to cast women in "pants roles" – and for some characters, especially those that lie very high in the voice, that still works well or best. Sophie Bevan will sing Orfeo at the Sam Wanamaker, and outstanding stage performances in recent years include Sarah Connolly in the title role in Handel's Giulio Cesare at Glyndebourne.
But a great aid to the countertenor bonanza has been the adoption of Baroque pitch in the wake of the early music movement: it's lower than the concert pitch of previous decades – and puts more music within the countertenor's range.
'Farinelli and the King' is at the Duke of York's Theatre until 5 Dec. (Farinellitheplay.com)
Reuse content