Shakespeare depicted him as a king, a hunchback and a Machiavellian-style baddie who ordered the death of his own brother.
And it is Richard III's villainous qualities in the historical play that have made him a canvas for countries around the world to portray their political turmoil, according to an academic.
Dr Nicole Fayard, an expert in Shakespearian Performance in France who teaches French at the University of Leicester, said that portrayals of Richard III in the UK inevitably follow Shakespeare's writing closely because of the playwright's reputation and because the play was written in English.
"The weight of history is there," she told The Independent on Sunday.
But in other countries, performances of Richard III have been altered and rewritten to follow "local needs".
Taking part in a day of expert talks about the monarch yesterday at the university, Dr Fayard gave examples of performances of Richard III in Italy being inspired by Benito Mussolini's fascist party, in Kuwait by Saddam Hussein and in the Eastern Bloc by the communist era.
"Shakespeare wrote [Richard III] as a villain… so he has that reputation. In a lot of political interpretations, he would play a tyrant, he would play a dictator… he would not play a historical English villain."
She said that it was "safer" to guise foreign villains under a distant English play.
"In a communist country for example, it would be very dangerous to write a play about the contemporary situation because if you live under a totalitarian regime, you have to deal with censorship," said Dr Fayard.
In pictures: The remains of King Richard III
In pictures: The remains of King Richard III
1/8 King Richard III

The Plantagenet Alliance wants the remains to be buried at York Minster, claiming that was the wish 'of the last medieval king of England'

PA

2/8 King Richard III

A picture shows a scale model showing the design for the tomb that will house the remains of medieval English king Richard III as it is unveiled at a press conference at Leicester Cathedral in Leicester, central England on June 16, 2014. British judges on on May 23 finally ended a bitter debate over the burial of king Richard III, ruling that his remains should be laid to rest at Leicester Caathedral the city where they were found under a car park.

AFP PHOTO/PAUL ELLISPAUL ELLIS/AFP/Getty Images

3/8 King Richard III

Richard III Society member Philippa Langley and society Chairman Dr Phil Stone stand besides a facial reconstruction of King Richard III in London. After carrying out a series scientific investigations on remains found in a car park in Leicester, the University of Leicester announced that they were those of King Richard III

4/8 King Richard III

The first major production of the play since the discovery of the king's remains will use the new archaeological evidence on the stage

5/8 King Richard III

A facial reconstruction of King Richard III is displayed on 5 February 2013 at a news conference in central London. The reconstruction is based on a CT scan of human remains found in a council car park in Leicester which are believed to belong to the last of the Plantagenet monarchs of Britain who was killed at the battle of Bosworth in 1485

Reuters

6/8 King Richard III

Students at the University of Leicester were involved in the excavation of Richard III's remains. On 4 February 2013, scientific tests confirmed that the battle-scarred skeleton with spinal curvature dug up from underneath a council car park was that of the last English king to die in battle. He had been buried five centuries ago but all physical trace had long since been lost

Getty Images

7/8 King Richard III

Remains found in trench one of the Grey Friars dig

University of Leicester/Rex Features

8/8 King Richard III

The remains of King Richard III were found in a hastily dug, untidy grave, researchers have revealed

University of Leicester
"The passage from one language to another one provides a lot of freedom… that opens up a door to linguistic freedom, to stylistic freedom."
Other countries, where tragedies and comedies are preferred, are attracted to Richard III because of Shakespeare's well-structured plot line and the flamboyancy of the main character, said Dr Fayard.
The day of expert talks - also discussing Richard III's portrayal in literary accounts, the 2012 excavation of his skeleton from a Leicester car park and tracing his descendants through genetics - form part of a series of events ahead of the reburial of the last Plantagenet King on Thursday.
David Baldwin, who has written a biography on the monarch, gave a talk about his character and reign.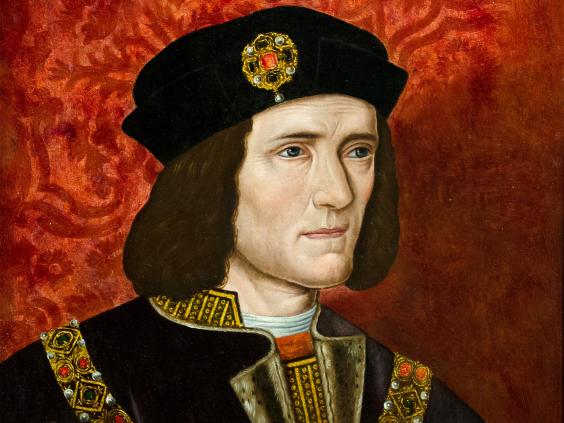 He confirmed his villainous reputation. "If Richard III had not had a ruthless streak in his character, he would not have been a successful medieval leader," said Mr Baldwin.
Richard III's body will embark on a tour of Leicestershire before it is finally laid to rest at Leicester Cathedral. However, some campaigners had previously argued that the monarch, also known as Richard of York, should be re-interred in York Minister.
Archaeologist Mathew Morris who led the Greyfriars Dig three years ago to uncover his remains, said Leicester was the right resting ground for Richard III, who was born in Leicestershire and was killed in the county's Bosworth field.
"His connections with Leicester since his death a far greater than they are with York. We've got a school names after him, we've got roads named after him. That history of memorialisation of Richard in Leicester's landscape has been there since his death so it always seemed the most appropriate place to bury him," said Mr Morris.
Reuse content