In many ways, it would be simpler to list the venues that Haworth Tompkins haven't worked on during their unrivalled 14-year-spell as the go-to theatre architects in this country. But that would be to deprive them of an astonishing roll-call of success, so here goes: the Almeida King's Cross, Bath Egg, Battersea Arts Centre, Bristol Old Vic, Bush, Liverpool Everyman, National Shed, Open Air Theatre, Royal Court and the Young Vic. Their latest project, a £20m overhaul of the much-loved Chichester Festival Theatre, is about to open and Steve Tompkins, the man who has spearheaded all this highly-praised work, is in quietly anticipatory mood.
Before we settle down to the specifics of Chichester, I ask Tompkins, 54, to elucidate the broad approach of his firm, which he co-founded with Graham Haworth in 1991, to planning theatre projects. Does he, I wonder, have an established ritual when he goes to visit a potential new client? Before setting off, he makes clear, there is crucial collaborative discussion with the dozen members of his "studio" team. "We spend a lot of time in the place where the theatre is," he says. "Often we'll want to go back at different times in the day and right in the first instance see where the sun falls, where the social centre of gravity of the neighbourhood is. Equally we will spend as much time talking to as many people in the organisation as we possibly can, from high to low. It's interesting, and not surprising actually, how much information you can glean from the person on stage door."
Haworth Tompkins have become leaders in a field that has changed substantially over the last decades, with theatre architecture sloughing off the monumentality of post-war modernism in favour of something much more democratic, malleable, and audience-centred. Is it their commitment to detailed research that has made Haworth Tompkins the preferred firm? "The other thing I think we probably have is that we hate waste and we work very hard to try to drive down the financial and resource cost of a job. If one can keep in mind that you're spending a number of production budgets every time you make a decision, it helps you to see the project through the eyes of the people you're working with," he says firmly. No wonder he's so popular with cash-strapped venues.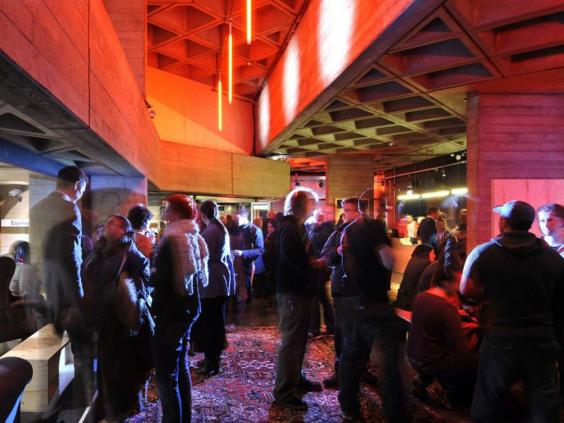 All good architects have their signature touches, so what does he think Haworth Tompkins's are? "It's not really for us to answer that, but people often say that the buildings have a tactility. We certainly try and pay attention to the sensory experience of being in a theatre." The high-profile Liverpool Everyman rebuild, which opened to acclaim earlier this year, certainly has this in abundance, brimming as it does with light and air and space. The Young Vic, a particular favourite among the theatre community, brims with rough-edged vitality which is another Haworth Tompkins trademark.
And so to Chichester. The mission here was to turn Powell and Moya's hexagonal building, originally constructed for a 10-week festival season in 1962 "without any real back-up facilities", into something fit for 21st- century purpose. It had reached such a dire state that props were being stored in garden sheds hidden on the roof. Tompkins came to the project as a professed fan of this theatre. "It has a lovely innocence," he says, "there's a sort of festive, seaside feeling about it." What he has provided is a major revamp of both front- and back-of-house facilities, introducing, for example, such previously unheard-of luxuries as windows in the actors' dressing rooms; externally, meanwhile, the forecourt of the theatre has been turned into a pedestrianised piazza. "The way the building sits in the landscape [of verdant Oaklands Park] is a really important aspect," he says. "A crucial part of its meaning is a pavilion in the park. Increasingly it became more like a pavilion in the car park." If Steve Tompkins should ever stop architecting, he'd make a very nifty scriptwriter.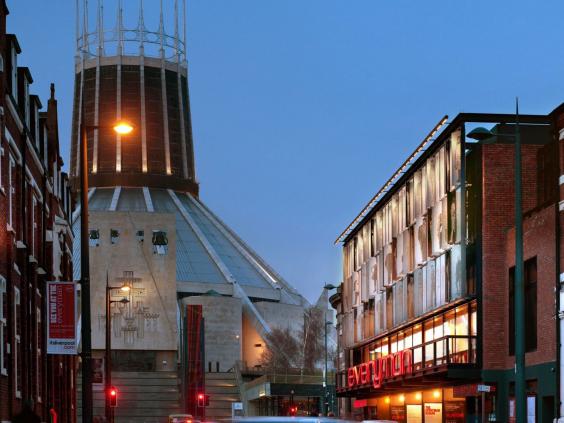 If Liverpool and Chichester are sizeable undertakings, the refreshing of the brutalist masterpiece that is the National Theatre is even bigger. Tompkins has already designed the popular pop-up venue The Shed ("it has an insouciance about it, which is very deliberate") and now is overseeing the all-encompassing work, due to be completed by Spring 2015, that will have the Cottesloe auditorium remade as the Dorfman and the entire complex given a much-needed face lift. He's trying, he says, to "make the building more responsive to the changed urban context in which it now finds itself. Since [Denys] Lasdun finished it in 1976, the South Bank has been completely transformed. So a lot of our work here is about opening up the edges of the building to the outside world and making it more porous, more inviting."
A key focus of all theatre buildings now is the customer experience, providing ample bar and restaurant space and in turn much-needed revenue. Is there a danger that venues will become, to re-point that much-pilloried V &A advertisement, "an ace caff with quite a nice theatre attached"? "Yes, I think there is," he says. "I think all theatre space has to have a 'tooth' of some sort, so it's not just an undemanding consumer experience. It's part of preparing you, as an audience member, to be on your mettle."
The subsidised sector, where Lottery money has allowed joined-up thinking and major capital projects, is where Haworth Tompkins have tended to work, but I bet that our ailing West End theatre stock would present a juicy challenge. Would he like to have a crack? "Yes, absolutely," he says with a mischievous smile. "There is so much that is extraordinary and precious about the West End theatres. So many of them feel tired now. I think they're starting to lack urbanity and a really warm welcome. That's a shame, because there's no reason why they shouldn't feel much more part of the general public realm of London." How would he achieve this? "You'd have to commission us and find out!"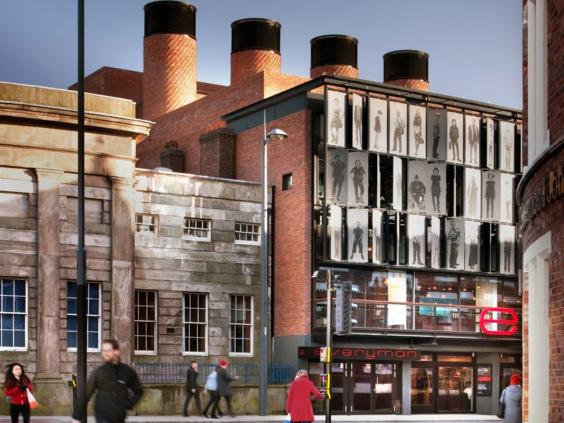 It's heartening to learn that Tompkins goes regularly to the theatre as a ticket-buying punter. Can he concentrate on the action, or does he find his attention wandering to possible defects in the building? "Usually I can get transported by the show," he says. "It's rare that I end up counting blocks!" If they're the blocks of a Haworth Tompkins design, though, they'd certainly merit close study.
Chichester Festival Theatre re-opens with 'Amadeus', which runs from Saturday to 2 August (cft.org.uk)
Reuse content