British theatre has traditionally been the preserve of those members of the chattering classes willing to shell out for a seat in the stalls at a hushed, dimly lit playhouse. But open-air theatre is on the rise, bringing plays to a wider variety of audiences, in a way reminiscent of the days of Shakespeare.
Producers say that a larger variety of shows and the informality of the performances lay behind the increasing popularity of al fresco theatre, and that audiences enjoy the novelty of seeing a play in an unusual and beautiful location without having to spend serious money for the privilege.
Last month, the Open Air Theatre in Regent's Park, north London, released an extra 5,000 tickets to cope with demand for the stage adaptation of To Kill a Mockingbird, while in May, Chester's Grosvenor Park Open Air Theatre celebrated a 300 per cent rise in ticket sales on last year.
"There is something about being outdoors, the actors and the audience, all in it together," said Nancy Davies, who has worked at Grosvenor Park since it opened in 2010. "It's really informal. The audience are bringing picnics; they are not in a dark room being shushed, and they're bringing their families along. We really embrace that. The actors have a very tangible relationship with the audience because of it, with lots of interaction."
Angus MacKechnie, producer of the National Theatre's Watch This Space festival, said outdoor theatre is also popular with directors as it gives them a "different set of tools" with which to work. "Fire, water, height for juggling – these aren't always possible in indoor venues," he said. "The fact that there is no confined scenery space also means that shows can wander … it's kind of like guerrilla theatre."
This year, Watch This Space performances will take place at 45 locations across London, such as St John's church on Waterloo roundabout, Brixton Market, Vauxhall bus station and Guy's and St Thomas' hospitals, as well as outside the National Theatre.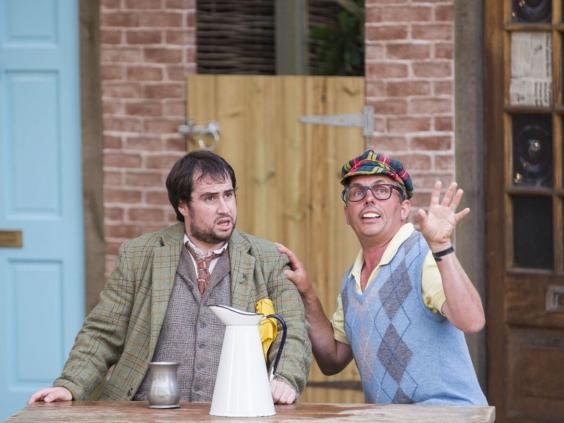 Mr MacKechnie said accessibility and low costs were also vital to the success of the outdoor shows: "People take more ownership of free work," he said. "I see lots of clever mums and dads working out how to entertain kids without spending much money."
Helen Cadwallader, director of the Independent Street Arts Network, which promotes outdoor arts in the UK and Ireland, said the performances also helped to foster a sense of community. Around 60 per cent of audiences live within 15 minutes of a venue, she said.
The impressive amphitheatre of Cornwall's Minack Theatre is perched on a rocky outcrop at Porthcurno, Penzance, and offers a unique experience for audiences, said its manager Phil Jackson. "We are sat with the Atlantic as a backdrop and one of the most picturesque bays in the whole of the UK," he said. "Not everyone sees dolphins behind the actors with a full moon overhead, as the audience did last week."
One Minack production, The Will Rogers Follies, kicked off with a plane flying above the headland and a pilot strolling over the cliff to open the show. "It's a different experience, that appeals to people who are not necessary theatregoers," said Mr Jackson. "We see people just sit and relax into the atmosphere, and feel more included in the whole experience."
Oliver Gray, the artistic director of the Illyria Open-Air Touring Theatre company, said the popularity of outdoor productions was linked to the wider variety of shows being staged. "When Illyria started on the open-air touring circuit, 23 years ago, it was almost exclusively Shakespeare, but as companies started offering more, people discovered that there is more that they want to see," he said.
This week, the company is set to perform Robin Hood at the historic Kellie Castle and Garden in Fife, Scotland, and recently put on Macbeth at Elgin Cathedral in Moray.
Mr Gray said the atmosphere of an outdoor venue often adds to the performance. "What is particularly dramatic about the Elgin Cathedral is that not only are the acoustics really good, but there is something haunting about a ruined site. Your eye is drawn to what isn't there. There is a wastedness, an abandonment, that is so appropriate for Macbeth."
Reuse content