The spoof talent show musical I Can't Sing!, written by comedian Harry Hill and backed by Simon Cowell, is to close its doors after just six weeks and three days.
The West End show had opened at the London Palladium with a celebrity-studded first night, but reviews were mixed. One critic said it was "a show of eye-smartingly bad taste" and another called the script "formulaic and self-consciously odd". But elsewhere it was described as "wonderfully funny" and praised for being "splendidly rude about Simon Cowell".
it has now become the latest big budget casualty to close sooner than expected in London's theatreland.
The final show will be on May 10, the producers said in a statement released on Saturday night.
It stars former EastEnders actor Nigel Harman as Simon Cowell and has teasing jokes about his fellow X-Factor judges Cheryl Cole and Louis Walsh.
Last month, Cowell had said the show would count as a winner if it surpassed the seven months that the Spice Girls musical Viva Forever! – one of the biggest flops of recent years - had spent in the West End.
The biggest West End flops
The biggest West End flops
1/10 Viva Forever

Mel B, Mel C, Geri Halliwell, Emma Bunton and Victoria Beckham at the press night of the Spice Girls musical Viva Forever, which turned out to be Viva Fo-Never when it closed on the West End in June 2013 after just six months

PA

2/10 Spider-Man: Turn Off the Dark

It cost a massive £48m to make and U2 penned the music, but after main cast members were injured in rehearsal, its opening night was postponed 6 times and its director resigned, Spider-Man: Turn Off the Dark has lost so much money it will take 12 years of sell-out shows to make an ounce of profit

Getty Images

3/10 Behind the Iron Mask

Behind the Iron Mask previewed on the West End in summer 2005 but was destroyed by critics and closed just 18 days after its official opening night

4/10 Lord of the Rings

Lord of the Rings opened in Covent Garden in summer 2007 but was criticised for being too long, confusing and dull, leading to a final curtain in 2008 after 492 performances

Gareth Cattermole/Getty Images

5/10 Thoroughly Modern Millie

Britain's Got Talent judge Amanda Holden made her West End debut as Millie in this 1920s flop - critics described her performance as 'thoroughly charmless' and the final curtain fell after 8 months in June 2004

6/10 Desperately Seeking Susan

Blondie's Deborah Harry poses with actresses Emma Williams and Kelly Price as they promote the launch of Desperately Seeking Susan - an odd combo of Madonna's 1985 film and Blondie's music that opened in 2008 and ran for just four weeks with just 200 people watching each night

7/10 Gone With the Wind

Darius Danesh, who sung 'Baby One More Time' during his Pop Idol audition, was cast in the iconic role of Rhett Butler, the show received poor reviews, was too long at over 3.5hrs and closed in 2008 after just 79 shows

Gone With the Wind

8/10 Twang!

Lionel Bart's 1965 Robin Hood musical (you know he has an arrow...twang...) opened with a nightmare first performance involving power failures, last-minute script rewrites and the musical director collapsing - unsurprisingly it closed after 43 shows and a flood of scathing reviews

9/10 Carrie the Musical

The musical adaptation of Stephen King's horror novel received a critical panning when it opened in 1988 - financial backers withdrew and it closed on Broadway after just 16 previews and 5 performances

10/10 Oscar Wilde the Musical

Written and directed by DJ Mike Read to coincide with Wilde's 150th birthday, the show opened at the Shaw Theatre in London on a Tuesday and closed on the Wednesday after the kindest review called it 'the worst musical in the world ever'
"Seven months and a day," he joked, when asked after what time period the show could be seen as a success. "I'm not au fait with numbers. You've got to be confident in what you do, otherwise you'd be paralysed."
The show had been put on by Stage Entertainment UK and Mr Cowell's company Syco Entertainment.
Rebecca Quigley, CEO of Stage Entertainment UK, said: "The West End can be an unpredictable place as the closure of a number of high profile productions has recently shown. I can't Sing has had audience on their feet night, four and five star reviews from the critics and an amazing company and creative team, but it seems that isn't always enough."
She added: "To open any big musical, and particularly a brand new British musical comedy at the London Palladium is no mean feat and hundreds of dedicated people have played a part in bringing this unique and wonderful show to the stage."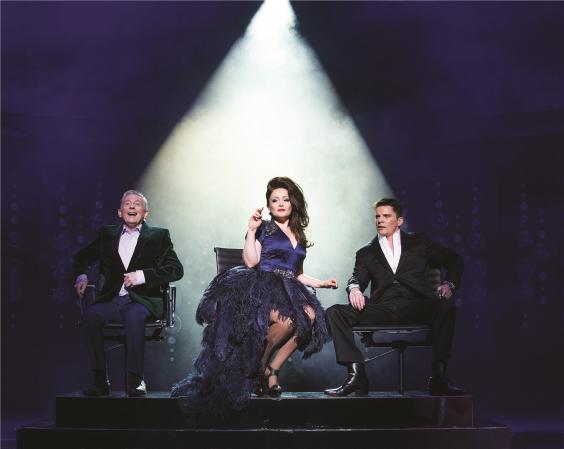 Nigel Hall from Syco Entertainment, Mr Cowell's company, insisted it had been a "fun project" and thanked the cast and crew.
Viva Forever! was said to have lost £5 million on its speedy closure, failing to bring in audiences despite being written by Jennifer Saunders and conceived by Judy Craymer, who had enjoyed success with the Abba musical Mamma Mia.
This year, two other big name West End shows have hit the buffers early.
Andrew Lloyd-Webber's show Stephen Ward the musical, a show relating to the Profumo scandal, closed at the Aldwych Theatre last month after slow ticket sales.
And earlier in the year, Sir Tim Rice's From Here To Eternity after a run which lasted only six months at the Shaftesbury Theatre. He later said: "I'm wondering if there's any market out there for musicals that aren't revivals, or jukebox musicals, or based on a recent hit film or something. It's difficult."
Reuse content