When the doors of St Paul's Cathedral closed to worshippers and sightseers in October 2011, because of anxiety over the proximity of the Occupy movement's protest camp, shockwaves reverberated far beyond the Church.
Indignation was expressed by those who had no intention of visiting Sir Christopher Wren's masterpiece at that time, but for whom the Italianate dome that survived the Blitz symbolised London, and Britain, at their most enduring, recognisable and unshakeable.
The protesters, turfed off the land of the City money-makers to whom they objected, have long since departed, even though the injustices to which they objected have, arguably, increased; food banks were scarcely spoken of then. But there was lasting change: two high-ranking clergy resigned, and it is their story that informs a new play at the Donmar Warehouse, Temple, opening next week.
As tents and benders were being erected in ever increasing numbers alongside the north walls and west-end steps of St Paul's, the playwright Steve Waters was leaving Westminster Abbey after a performance of 66 Books, the gigantic drama to mark 400 years of the King James Bible, to which dozens of authors contributed, and which lasted until dawn.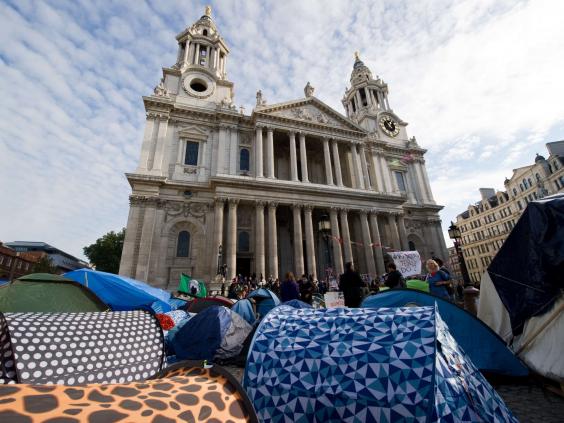 "I remember coming out of the abbey early in the morning, and down the road these events were unfolding. I was very interested in Occupy – still am," he explains. "It was a year into the Coalition, just after the London riots, a global movement, and yet all the issues they were raising are still with us – more so."
What intrigued Waters is the suddenness with which an apparently sure-footed body can be rocked off-balance, and how there is no mechanism for coping with unexpected crisis, even within the most ordered hierarchies. He chose to focus, not on the grievances of the protesters outside, who never appear in Temple, but on the individuals within, who had unprecedented problems to solve. "I'm not an Anglican, I'm not a practising Christian," he says.  "But I wanted to go into the heads of those who found themselves battled and beleaguered. There is lots of talk in the play about what Jesus would do."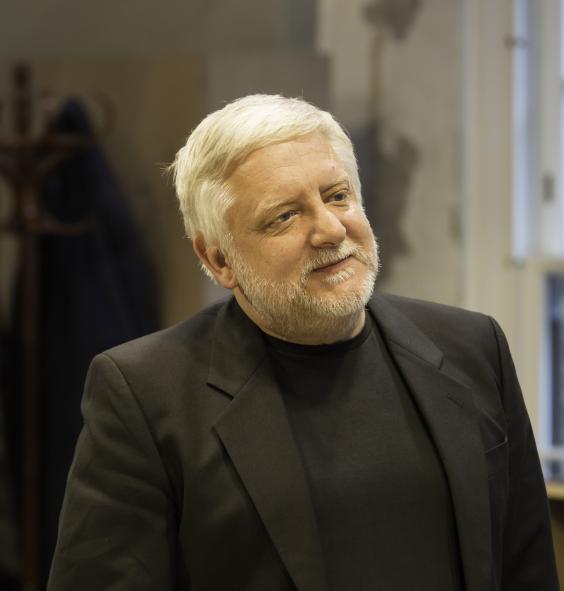 While focusing on the key characters in the real-life drama of October 2011 – the Canon Chancellor, the Rev Giles Fraser, a left-wing columnist and now a parish priest in south London; the Dean, the Right Rev Graeme Knowles, who took the decision to close the cathedral; and the Bishop of London, the Right Rev Richard Chartres – Waters has created a triumvirate of his own.
"It's worth stressing that this is a fiction: a fiction informed by factual circumstances," he says. Nevertheless, he talked at length to those involved, including Giles Fraser – "a really important figure" – and to the former Dean, whose stay in one of the top jobs in the country ended so abruptly. "It was very clear, initially, that this was not a period of his life that he wished to speak about," says Waters. Yet conversations went ahead, and an inspired piece of casting may have oiled the wheels. For however great the strain of resignation, who would not be flattered to have what Waters calls his counterpart played by Simon Russell Beale, the most sought-after actor of his generation, who has been involved in the project for a year.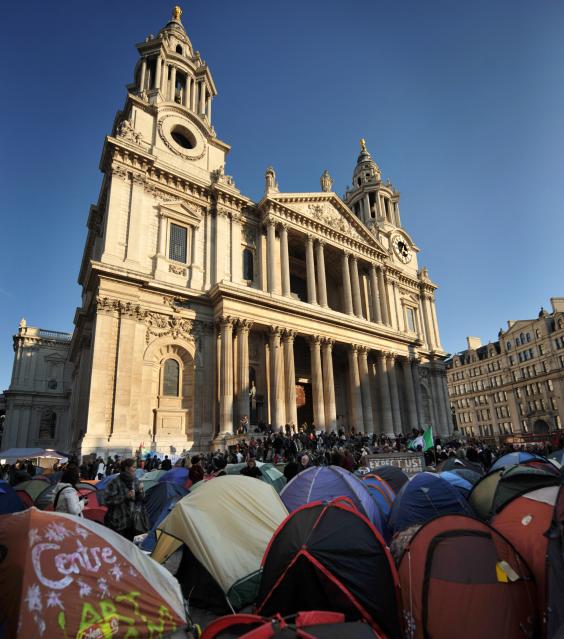 "Simon Russell Beale is amazing, because he has that complexity that sits very well with how the Dean is," says Waters. "Often what the Dean is doing is receiving and dealing with other people's problems, and then having his own crisis, and that sits well with Simon because of his generosity and humanity, but he also gets angry, and he bites back and he's clever, but he's not smart. And he's bringing that classical sense of theatre.
"Simon has a history with St Paul's: he was a chorister there, he was a singer before he was an actor, and the love of music is critical in this organisation." Music – and bells, which also play a part. The play is set within earshot of the quarter-hour chimes, which punctuate the rapidly unfolding events.
The themes of Temple are meant to go far beyond the clash of a few personalities in 2011. "If it's only about what happened a few years ago, it has missed a trick," says Waters. "It's a play about work, about how we keep alive in our work. I wanted to write about how everything is done through euphemism, the way English life works through indirectness, tacitness, things that go without saying. I think it was very interesting how Occupy conducted themselves because they refused to have representation, but it meant that it was impossible to have a conversation, because of that sense that as soon as someone is elected to speak for others they become corrupted.
"It's pretty clear that Jesus would be out there with Occupy, but the Dean argues differently. I was interested in a person who didn't think his role is to justify [himself]. He's a leader but he's not ambitious in an egocentric way. He has a higher authority [and] there's something quite liberating about a character who, when pushed to it, is not subject to the sort of pressures that most of us place on ourselves.
"What I think is moving is that they would probably talk about love at the back of the job: even when they hate each other, they love each other, because that's what they signed up to, a profession of love, and that's in fairly short supply elsewhere. I wanted to write someone who, in the end, is quite lacking in ego, and it's an interesting problem for a playwright and an actor – a central character who sets his face against having an ego."
As we talk at the Donmar's rehearsal space, the nation is going to the polls, and the conversation inevitably turns to the possible outcome, which in the event, in common with the pollsters and pundits, we do not foresee. Now, with anti-austerity protests making headlines, Waters' fascination with crisis and with those who lobby for a fairer society seems timely. "We're fragile people," he says. "We're fragile institutionally."
'Temple' runs from Thursday until 25 July at the Donmar Warehouse, London
Reuse content