If anyone can advise today's politicians how to avoid a career-shattering scandal, it is Mandy Rice-Davies. "As soon as a rumour starts going, just stand up and say 'Mea Culpa'," cautions the former good-time girl, who played a starring role in the Profumo affair, which left the Establishment teetering on the brink.
Fifty years on from the most notorious political sex scandal of the 20th century, Rice-Davies, 68, is acting as historical counsel to Andrew Lloyd Webber, whose new West End musical Stephen Ward, tells the story of the high-society fixer cast as the tragic scapegoat of the affair.
The musical, which opens in December at the Aldwych Theatre, is a sympathetic portrait of Ward, the osteopath who took Rice-Davies and her friend Christine Keeler - two glamorous girls on the make - under his wing and introduced them to powerful men.
"I wanted Stephen's story told in a way that would fill in the gap between the myth and the man," said Rice-Davies who famously gave evidence at the 1963 trial of Ward, the central figure in the scandal which erupted after the late John Profumo, then Secretary of State for War, lied in the Commons about his affair with showgirl Keeler, who was sleeping with a Russian naval attaché at the same time.
Ward committed suicide before a jury found him guilty of living off immoral earnings. Lloyd-Webber's musical, directed by Richard Eyre, with lyrics by the Oscar-winning Don Black, portrays the one-time friend to film stars, spies, models and ministers, as a "human sacrifice", demanded by a creaking Establishment, as the permissive mores of London's elite fed lurid front pages.
Lloyd-Webber also approached Keeler (played by Charlotte Spencer) for assistance but she declined. "She wasn't interested," said Rice-Davies, who hasn't spoken to her former friend for 30 years. "I don't know why but she doesn't like me. Maybe it's because I lived abroad and escaped a lot of the prejudice she suffered and I went on to be successful in what I did."
Lloyd-Webber said it was "remarkable" that the full transcripts of the Ward trial have yet to be made publicly available. Geoffrey Robertson QC, who attended the musical's launch at a Soho burlesque club, is seeking to get Ward's conviction quashed.
Rice-Davies, played by Charlotte Blackledge on-stage, has personally tracked down transcripts which she had been told were lost. "They were obliged to give me them under personal access rules," she says.
Ward, played by Alexander Hanson in the musical, was an "oddball," she admitted. "He was certainly part of the vanguard movement of free love and free sex and as with any vanguard he was shot down first. He was a scapegoat."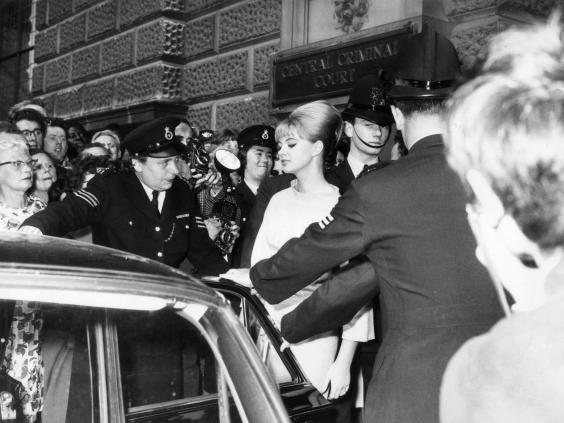 Does Lloyd-Webber believe that a social and political "Establishment" could close ranks over a similar scandal today? "Yes, I think it could easily happen now," the composer said. "We've tested the musical out with a young audience and they were fascinated. They asked 'did this really happen?'. There are people who feel it was one of the greatest miscarriages of justice that ever happened."
Rice-Davies said the Profumo affair heralded the triumph of the permissive society. "The Ward trial was about the Government trying to win back control. It was the very last attempt by any Government to control public morality. And they failed dismally."