In a departure from custom at Shakespeare's Globe, the company do not perform a rousing life-goes-on-style jig at the end of Jonathan Munby's revival of Antony and Cleopatra.
Perhaps it's because, contrariwise, the production opens with an extended orgiastic dance in the fleshpots of Egypt and includes a stamping all-male bacchanalian revel and manipulative drinking contest in the episode on Pompey's barge.
Or maybe a closing dance is dispensed with because Munby does not want to violate the rapt, spellbinding mood that Eve Best's bewitching Cleopatra creates by her stage-managed suicide. I have never seen the transition from living woman to regalia-laden icon effected with such uncanny stillness or with such a quietly painful mix of triumph and pathos as when this Cleopatra congeals into the statue of herself.
Best is a supreme mistress at working the Globe space with her gift for being at once playful and commanding and her witty, wonderfully unforced audience rapport. In her Duchess of Cambridge coiffure and white dress, she's a curiously English-seeming "serpent of old Nile", suggesting an alumna of Bedales who's gone mildly hippy or the black sheep first cousin of Shakespeare's Rosalind – and this, despite the warbling eunuch and the bare chested flunkies who haul her round on a bed and keep her cool with pulley-operated carpet-fans.  
But she brings a terrific impatient energy to Cleopatra's capricious changes of mood and a wry spontaneity of spirit to the compulsive histrionics that ensures the performance steers well clear of the terminally self-knowing raddled drag queen act. Her flirting with the groundlings (there's a moment when she even seizes one man in a kiss) is funny and charming but, though it's true that Cleopatra likes and needs an audience, it's more doubtful that she would ever stoop to please it.  And Best is not endlessly tantalizing.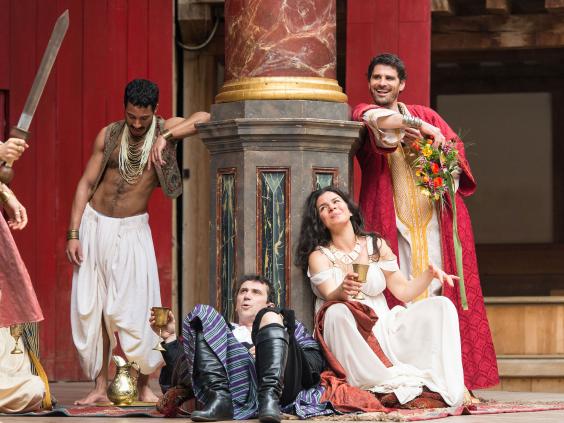 Clive Wood is a natural casting as Antony – a sexy ageing lion torn between two worlds (the severity of Rome is here represented by black Jacobean dress with dazzling white ruffs) and weighed down by the contrast between his past glory and present shame.
As the character vacillates between duty and pleasure, Wood's fine performance is greatly aided by the confident geographical sweep of the production and the bold way that it allows locations and scenes to overlap with each other.
The resulting stage pictures have a strong diagrammatic force – the bleak, consolatory embrace in Rome between Jolyon Coy's prissy, peevish Octavius and his sister whom Antony has just deserted engulfed  by shamelessly golden procession in Egypt, led by the title pair; Enobarbus, beautifully spoken and given a nice sardonic edge by Phil Daniels, looking to be in neither place simultaneously (so to speak) as the friend driven to switch sides. 
The production, which is patchy at the moment, has been dogged by ill health, with Wood (who is still a bit under-powered) missing several previews because of a virus. The exquisitely understated manner in which Best negotiates the various indignities littering Cleopatra's path to apotheosis in the last act will be even finer when the Snake Man is back from sick leave. 
How admirable of the Globe, though, to forge ahead with the press night undaunted.