Kristin Scott Thomas and director Ian Rickson are developing into one of the great creative partnerships of our time. After a Chekhov and two Pinters, they are reunited now on this devastatingly brilliant production of Sophocles'  great tragedy Electra.
With a design of eloquently elemental desolation by Mark Thompson (a barren tree and a free-standing tap are the only signs of life on the dusty forecourt of the royal palace whose shut blank double-doors look imminent with horror), it is staged as part of the Old Vic's remarkably potent in-the-round season. 
Any attempt to push these endlessly troubling proceedings to arm's length (it's a scenario in which, to different degrees, everyone is in the wrong, bar perhaps the chorus of three peasant women) is stymied by the collusive atmosphere induced by the circular all-seeing reconfiguration.
Sophocles' heroine, who obstinately refuses to give up grieving for her father, Agamemnon, has obvious affinities with Hamlet – except that in her case, she has been festering with hatred through long years as little better than a slave at the court of her murderous, remarried mother.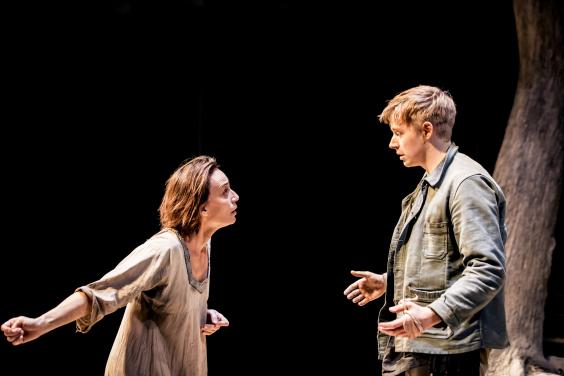 And she has bided her time in the fixated expectation that, one day, bloody vengeance will come in the shape of her long-exiled brother Orestes.  In a performance of uncanny psychological penetration and disturbed and disturbing charisma, Scott Thomas emphasises how the situation has trapped Electra in a terrible arrested adolescence. 
Her carven features luminous with famished, immature idealism, she flits about in her grey shift like the premonitory ghost of someone whose life was allowed to waste away, permanently on hold. 
She excruciates you in the manner of one of your teenage children who simultaneously drive you up the wall and yet, through their truculent absolutism, remind you of what is lost in middle-aged compromise. 
And yet, there is not an iota of sentimentality in her interpretation. The actress shows you, that vacuum-packed in the stalled adolescent, there is an eager impatient child. But this figure is not a pretty sight. 
When (after the superb recognition scene) she is finally reunited with her brother Orestes (Jack Lowden bringing an excellent vulnerability and open-ended quality to a character who could be simplified as a career killer-in-waiting), she gives way to squealing glee, as if all the problems are now sorted. 
Far from their being any tremors of incestuous feeling in the climactic encounter between these long-lost siblings, Scott Thomas's Electra presses her nose to parts of his body and snuffles up his smell like a wild animal trying to get its bearings. This and her precipitate volte-face into optimism bring a deliberate comic note to the gathering doom.
With wonderful performances from Diana Quick as a matronly indignant-but-radically-uneasy Clytemnestra and from Peter Wight who gives expert nuance to the dedication of the Servant, the production builds ineluctably towards a blood-letting release that is, in the end, calculatedly limited and anti-climactic. 
You register the adrenalin rush without the purgative closure of genuine catharsis. The problems of being Electra are not solved but merely entering a more frightening phase.
In empathetically intimating this, the production compounds one's conviction that this an evening of unalloyed magnificence.
To 20 Dec; 0844 871 7628
Reuse content