Halfway through the first half of Maxine Peake's Hamlet she pulls a strip from the tape holding down the floor covering and wrenches it up. Beneath the Michelangelo overlaid circle and square are revealed paint-patched floorboards. What is normally kept covered beneath the propriety of a Renaissance court is to be stripped bare.
We are not used to seeing a woman play Hamlet. The result here is a powerful and yet curiously domestic production. Peake brings to it all her characteristic direct emotional ferocity and commitment.  Her Hamlet is a student idealist repelled by the corruption and compromise of the adults around him. He is not just clever and quick but emotionally intelligent – his antennae pick up very swiftly that Rosencrantz and Guildenstern are informing on him, that Ophelia is being manipulated by her mother, and he senses from his own mother's body language that there is someone else in the room.
The result is an intense family drama. A man murders his brother and then marries the dead man's wife. Her son is outraged by the killing and disgusted by his mother's semen-soaked bed.  But the production plays down Hamlet's tightrope dance with madness. And it dismisses entirely the statecraft of a kingdom preparing for war which is invaded while the court is preoccupied with family crisis. This Hamlet is no prince but a grieving son in psychological turmoil.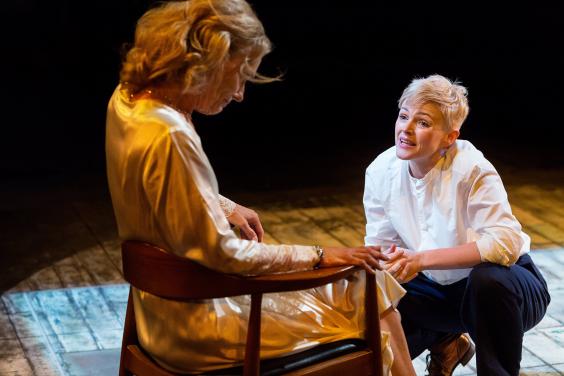 The programme notes talk of "an exploration of gender" but Peake's androgynous Hamlet is not a study in that, though she has learned to hug like a man – her embrace of her father's all-too corporeal ghost is most moving – and she produces a gleeful little dance like a delighted boxer. Rather it invites us to the gender equivalent of the colour-blindness the production presents with black Laertes whose sister and mother are white.
Other members of the cast cross the gender divide, with a female Rosencrantz, Marcellus, Player King, Gravedigger and Polonius. It works. Claire Benedict is a commanding Player King and Michelle Butterly has a swaggering Scouse impertinence as the Gravedigger. And Gillian Bevan copes well with the tricky contradictions of Polonia, who has to be both a garrulous fool and a wise prime minister, by presenting the female equivalent of Yes Minister's Sir Humphrey – clever but too pleased with herself and in love with the sound of her own voice.
But it is Peake herself who convinces us to gender-blindness as a star, who happens to be female, taking on what is perhaps Shakespeare's most starring part. She has that quality of drawing the eye whenever she is on stage.
There is a strong cast. John Shranel has an intense desperation as the unshriven ghost and a menacing calculaton as Claudius. Barbara Marten has a cool Diana Mitford elegance as Gertrude. But it's hard to feel any sexual chemistry between Hamlet and Katie West's self-harming Ophelia who unnecessarily removes her clothes in defiance of the text telling us that she drowns weighed down by the bulk of her garments.
Director Sarah Frankcom plays with the lines in ways which often make them seem fresh-minted and funny. There is some imaginative set design, though the in-the-round setting, as ever, results in some words being lost when the actors turn their back. But overall this Hamlet is compelling.
Reuse content