If You Kiss Me, Kiss Me is a personal project that never feels personal. Jane Horrocks sings a group of new wave songs that she's loved since she was a teenager, in a staging that's part gig, part dance show. It's all very glossy, cleaned of sweat and guitar feedback.
The project started with Horrocks, an actor known for her singing. Her imitations of divas such as Judy Garland drove the play and film The Rise and Fall of Little Voice. This time, she wanted to go back to the songs of her own adolescence.  Her track list – Joy Division, Buzzcocks, Soft Cell, The Smiths – is from the north of England in the late 1970s and early 1980s.
Aletta Collins' staging avoids period detail, with clinical set design by Bunny Christie and rock-heavy musical arrangements by Kipper. There's little nostalgia, but also little sense of how these songs, or these performers, have changed with time.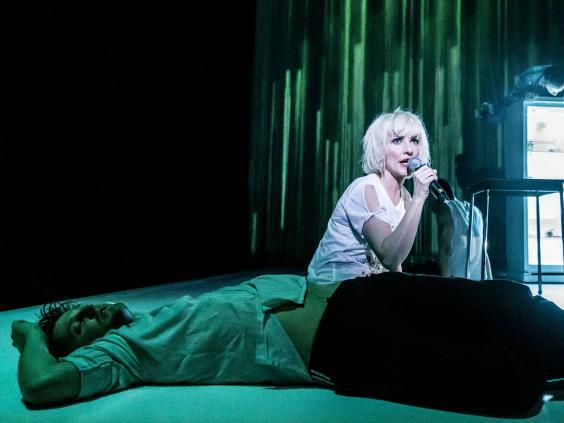 It starts with Horrocks, a chic-punk figure in boilersuit and boots, doing a spoken passage from Gang of Four's Anthrax. While she talks about why bands choose love for a subject, two dancers pose behind her, playing a flirtation. The desk and chair suggest a school setting, while the costumes are carefully neutral. Christie's set design shows a giant plug and socket; a normal sized-fridge is rolled on stage, giving Horrocks somewhere to park her microphone.
As Horrocks shifts from speech to singing, she dances where she stands, or acts out lines from the song: she lies on the desk, legs and arms in the air, for "a beetle on its back". Though there are amplifiers and microphones set up at the side of the stage, the band plays out of sight for most of the hour-long show. In instrumental sections, it's not always clear that this is live music. That's because Collins clears the stage for dancing, but it's also a sign of how any rawness has been smoothed away. As her dancers hold high leg extensions, turning carefully on the spot, they're the most human thing in the show.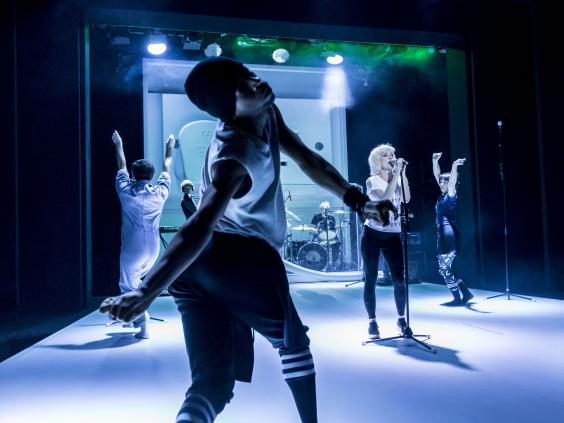 Horrocks switches vocal tones, from clipped to husky and back. She and Collins have most fun with The Human League's Empire State Human. Horrocks perches on the giant plug of Christie singing about getting taller as she perches on the giant plug. Dancers tilt a microphone stand to reach her mouth, as if adjusting for a great height difference.
There's an unexpected shift of mood for The Smiths' I Know It's Over. This is simply staged, with Horrocks alone in the spotlight as she sings about rejection. She clenches her hand on the back of her chair, eyes big and body language vulnerable. Yet this feels like a performance within a performance, a self-conscious plunge into torch song territory. Whether deconstructing love songs, or actually singing them, Horrocks is sophisticated and remote. These songs weren't part of my adolescence, but If You Kiss Me, Kiss Me doesn't show me why they were so important to hers.
Until 16 April. Box office 020 7922 2922. 
Reuse content