Jewels, Royal Opera House, London, review: Marianela Nuñez leads the ballet with radiant authority
George Balanchine's ballet was inspired by the beauty of the gem stones he saw in the New York store of jewellers Van Cleef & Arpels and the music of Fauré, Stravinsky and Tchaikovsky
4
Click to follow
The Independent Culture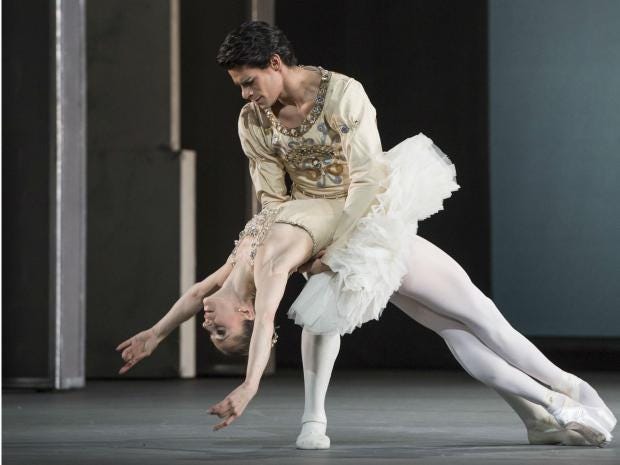 In Diamonds, Marianela Nuñez has a glow that goes beyond glitter. She's both mysterious and tender, dancing on a grand scale in a strong Royal Ballet revival of George Balanchine's Jewels.
Fifty years old this year, Jewels was designed as a company showcase for Balanchine's own New York City Ballet: three contrasting ballets, with plenty of solo roles and chances to shine. Danced to a Fauré score, Emeralds is misty, romantic and French. Rubies, to jazzy Stravinsky, is all New York pizazz, while Diamonds looks back to Tchaikovsky and the imperial classicism of St Petersburg, where the choreographer trained before coming to the West.
In recent years, Jewels has become one of Balanchine's most popular works, danced by companies internationally. Though the theme and title are immediately accessible, it can be tricky to bring off on stage. The choreography isn't quite 24-carat Balanchine, with some rhinestones as well as real sparkle. 
This revival is cleanly danced and well-paced. Emeralds, which can be a chilly opening to the evening, kept its momentum. Beatriz Stix-Brunell has a windblown fairy-queen quality as the first of the two ballerinas, curling her wrists through airy patterns. Laura Morera is dreamy but also courtly, darting quick and precise through the hopscotch footwork. 
Rubies has a bravura male role and lots of Broadway energy. The corps de ballet women swing and thrust their hips like chorus girls, while the leading man zigzags through like syncopated comet. Steven McRae is sometimes broad in the comedy, but he has firecracker technique and plenty of presence. He and Sarah Lamb bring a flirtatious quality to their duet, while Melissa Hamilton is big and bold in the "showgirl" role. The jazz-hands side of Rubies doesn't come naturally to the Royal Ballet, who work hard at the speed and attack but find it harder to make it joyful.
Diamonds is aristocratic and serene, a world of tutued women and devoted cavaliers winding through intricate, occasionally pedantic patterns. This cast is fresh and light in the scherzo, confident in the regal tableaux. 
Nuñez leads the ballet with radiant authority, her dancing rich in texture and mood. In the duet that is the ballet's heart, she moves towards and away from Thiago Soares, but the space between them always feels charged. In her solos, she soars through jumps, then brings a playful delicacy to the footwork. This is dancing that has both outward dazzle and inner warmth.
Reuse content
Comments