Mary Stuart, Almeida, London, review: 'A remarkably satisfying achievement'
Juliet Stevenson and Lia Williams are exceptional in Schiller's play
4
Click to follow
The Independent Culture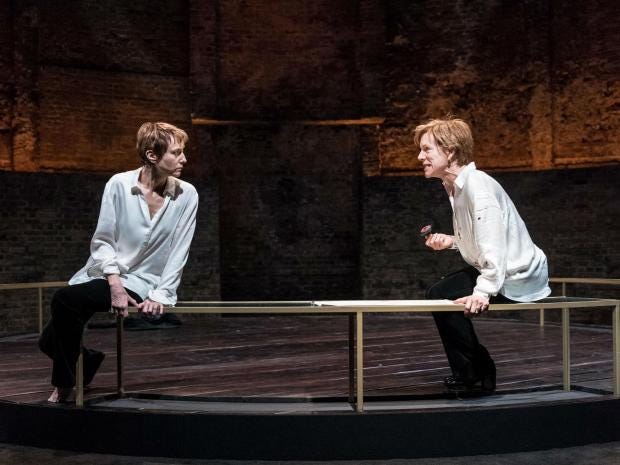 Robert Icke has adapted and directed this extraordinarily gripping, edge-of-your-seat version of Schiller's great play. There were moments, during the three-and-a-quarter-hour proceedings, when I caught myself wondering when I last took a conscious breath.
The productions stars Juliet Stevenson and Lia Williams and which of them plays Elizabeth I or Mary at a particular performance is decided by the flip of a coin. The actresses, dressed in identical outfits (black velvet suits and white shirts) and with similar boyish coiffures, make their way like sundered twins down separate aisles to the circular wooden stage where the rest of the cast, in modern grey suits, await them. But this solemn ceremonial is no prelude to a joyous Twelfth Night-like recognition scene. Williams calls heads and we watch the spinning metal in close-up on the overhead monitors. It was tails at the performance I saw and in an instant the courtiers made deep bows to Stevenson's Elizabeth, while Williams's Mary is divested of her jacket and shoes and led off to prison.
But in what sense can one talk of winners and losers in this situation? That's a key question that Icke's account addresses with particular penetration with his strategy of having the actresses play, as it were, both sides of the same coin and his searing emphasis on the paradoxes of the final outcome. I have never seen the mutual obsession of these two monarchs – who only meet once in an encounter invented by Schiller – communicated with such a symbiotic intensity of attraction and repulsion (almost erotic at times).
And that's because Stevenson and Williams, who are exceptional, have been rehearsed to inhabit the nervous system of the rival queen, too, whom they accordingly know from the inside.
"I wear the crown but she holds all the cards/ ... her prison cell's the centre of the state," declares Elizabeth in the fourth act of this adaptation. The Catholic Mary is her cousin once removed and, through her lineage, has a claim on the English throne, posing a dire threat to Protestantism. But Elizabeth, who has kept her under lock and key for 18 years, hesitates to sign her death warrant. It may be even more dangerous to execute her, given her friends and allies in Scotland and France. The play brilliantly dramatises the intrigue and counter-intrigue at court and the factionalism is portrayed with black sardonic humour by Icke's excellent cast. Both protagonists are prisoners – women alone at the top of "man's world" and at the mercy of deeply unreliable male supporters. Rudi Dharmalingam is superb as Mortimer, a hot-headed pro-Mary Catholic convert and aspiring martyr whose reckless zeal turns chillingly ugly here. By contrast, John Light's Leicester is the quintessential cold, calculating operator who deploys his sex appeal to lure and manipulate both monarchs.
Icke's version glints with contemporary parallels (to Brexit, among other things, as when Elizabeth chafes at following the will of a public she despises) without overdoing it or warping the play. What comes across with great persuasive force is how their backgrounds have shaped these women differently. Williams's Mary – warm, humane, wittily seductive – feels that she has a right to rule because it's been dinned into her during her cossetted youth. For all her finger-clicking imperiousness and sudden icy tirades, Stevenson's Elizabeth is riddled with insecurity on this score. The encounter at Fotheringay, during which the two women are reduced to hissing at each other at ground level snakes, is taken to a disastrous pitch when Mary roars out that Elizabeth is a "bastard queen" and that "this honest country is/the victim of a con". Now condemned to the block, Mary is liberated into a beatific freedom as she prepares for death that the pyrrhic victor, Elizabeth, could never know. I don't want to spoil it by disclosing the unforgettable way Icke's production develops this sense of ironic reversal, except to say that the sequence is played out to an original song by Laura Marling. Throughout, the choreography of the women's symbolic proximity to each other has an unforced rightness and the excellent sound design by Paul Arditti unobtrusively ministers to the tense atmosphere. A remarkably satisfying achievement.
To Jan 21; 020 7359 404  
Comments