My Country; a work in progress, Dorfman, National Theatre, review: Carol Ann Duffy brings a major's poet's ear to the music of the text
Following the Brexit vote, real testimonials were collected from people nationwide and interwoven with speeches by politicians in this play by Poet Laureate, Carol Ann Duffy and National Theatre artistic director, Rufus Norris
5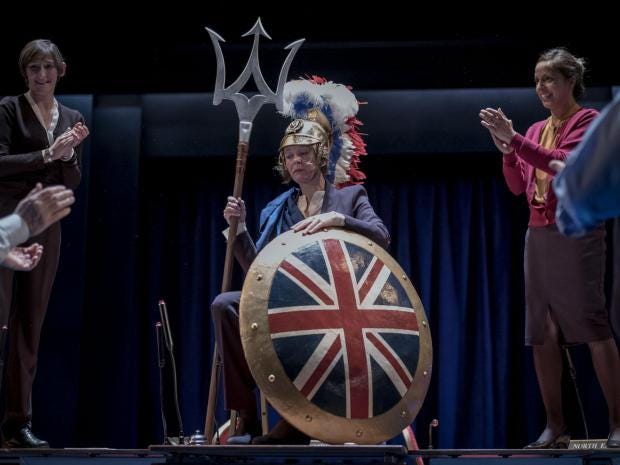 It will give you a flavour of the uncategorisable brilliance of this show if I report that about half way through the sly climb of its unbroken 90 minutes, I found myself assailed by a weird thought. Wow, I wouldn't put it past this splendid company to give us the full Ovid any moment now. You know the routine: folk start metamorphosing into real-life flora and fauna (namely Daphne's fibrous re-think as a laurel bush). Only this time, the "destination" veggies would all be emblems of particular parts of these Isles. Handy for a piece that is gradually revealed – in stealthy little hops and skidding rallentandos – to be a take on Brexit Britain that is unlikely to be confused with Question Time or Newsnight, despite its verbatim basis.  
What it means to "represent" something – in a parliamentary democracy, in art – is a question thrown into painful relief by the referendum vote to leave the European Union on 23 June last year. The problem is sent twirling through a more imaginative series of hoops here than it would get from, say, a discursive debate about the differences between being a delegate and a conviction MP or about the tyranny that can be exerted by small majorities. Some punters may regret this.  
My Country; a work in progress is a collaboration between Poet Laureate, Carol Ann Duffy and Rufus Norris, the artistic director of the National Theatre. They've worked together before on a modern version of Everyman. The new project could be described as a verbatim post-Brexit cantata, drawn from interviews with people nationwide, ranging in age from 9 to 97. The testimonies have been edited into a tapestry by Duffy that is interwoven with speeches from party leaders. Norris directs the piece in the Dorfman in a style that's very sensitive to the strange and eloquent way the show conducts itself. Suddenly, as if at some lightly potty version of Pentecost, the actors start to give tongue in voices that are counter to their own gender, race and age. A ventriloquial shudder can pass through a bearded, actor and turn him into an Alan Bennett-style woman. Categories and coordinates misbehave. There's an absurdist outbreak of metempsychosis, region by region, performed as if it's – nearly – the most natural thing in the world.
Light-headed, you feel simultaneously the arbitrariness of faction and its obdurate factuality. The conceit is that Britannia (Penny Layden) has convened a meeting of some of her constituent parts – Caledonia (Stuart McQuarrie); Cymru (Christian Patterson); the North East (Laura Elphinstone) et al – in order to discuss the implications of the forthcoming Brexit vote. She impersonates various politicians. Arms blustering behind her like sheets to the wind, she does a brilliant Boris Johnson – "Knickers to the pessimists about that? Let's say knickers to the pessimists".
In this very theatre a few years back Michael Frayn's Democracy – which is the about problems of coalition amongst the parties in Cold War Berlin – posited that there's an inalienable design fault in this least worst form of government. We are each of us so personally divided – such a hubbub of competing desires and needs inside – that it's an illusion to think that a sole representative can fight one's corner. My Country exposes a Britain where you could argue that it's unsurprising that that illusion is more and more virulent as people object to each other's right to space, religious freedom on a playing field that resists being levelled because of history and first/third world differences.
The piece is both a valuable listening project – with a sharp ear for difficult and uncomfortable cases of injustice (such as the Somali refugee who receives plush accommodation, while the hard-working Midlander gets nothing). And it's a kind of thought experiment that takes the pith and the piss out of the things that epitomise difference. Cardiff Bay is represented by Shirley Bassey – played by a big bloke, Christian Patterson, who leads the gang in a delirious snatch of "Goldfinger". Almost exactly a year ago on a miserable work trip, I saw Bassey who has retired to the Riviera, disappearing into the club class lounge at Nice airport. It's all done with good humour and more effective because of its even temper.
Carol Ann Duffy rings a major's poet's ear to the music of the text. "Listen" is an anagram of "silent" – as Shakespeare noticed in several of what Bertie Wooster was pleased to call the "Bard's gags". She avails herself beautifully of this relationship between the words – "Silence loosening/Within the sacrament of listening" – like an announcement of intent near the start. There are people who will accuse the piece of being a case of Remoaner self-indulgence. I think it recognises – and takes practical steps to address – a deep need at the moment. Every day, one feels one's head done in by the latest what-fresh-hell-is-this? effrontery to one's synapses. You need a clear spirit, head and heart to make important decisions. My Country therapeutically unkinks your brain and lets you hear at the end a more reverberant and ionised silence. It's a political intervention; not a retreat into aesthetics. Roll on the next instalment.
'My Country; a work in progress' tours the UK from 28 March, including dates in Glasgow, Liverpool and Birmingham
Reuse content
Comments