Abi Morgan has gone on to achieve renown as a screenwriter (for The Irony Lady, Shame etc) since this play was premiered in Edinburgh fifteen years ago. It's good to report that Robert Hastie's meticulous and mountingly mesmeric revival proves that it has stood the test of time. We're in the opulent state residence of some unnamed but probably East European dictatorship where four women from very different backgrounds and cultures find themselves cooped up together on the snowy eve of civil war. 
Genevieve O'Reilly's coolly appraising Western photojournalist has arrived to take the dictator's picture together with a young interpreter (Zawe Ashton) who comes from the suspect north of the country and takes sly delight in the power of deliberate mistranslation. Her bitchy grande dame manner cracking under the strain of the waiting game, Sinead Cusack's brilliant Imelda Marcos-like First Lady dispenses shots of chilli vodka and tries to bluff it out that there's nothing amiss in her husband's protracted absence, while biliously sniping with her supposed best friend (Michelle Fairley).
The rising tension of the situation, our sense of the mutual mistrust and misunderstandings within the group and the historic injustices and barbarity of the imploding regime – all of this is heightened by Morgan's artfully fractured dramaturgy.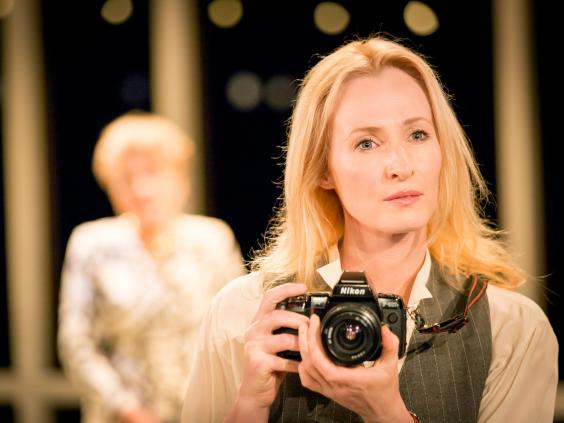 The effect is Cubist as scenes are naggingly replayed with slight variations, each time signalled by the sound of the accidental smashing of a Venetian vase, a present eerily returned to the First Lady that day by a friend who has evidently been reading the political entrails (beds of broken glass also fringe the tiled circular floor in Peter McKintosh's sleek design).
The excellent cast have full measure of the edgy musicality of Morgan's script with its interior monologue asides and Cusack's performance ends up giving the First Lady's discarded plight a wonderfully sardonic tragic dimension. Strongly recommended.
To 26 September; 0844 871 7624
Reuse content