The Boy in the Striped Pyjamas, Richmond Theatre, review: A clumsily literal staging of the novel
Daniel de Andrade's new staging of John Boyne's novel is part of Northern Ballet's generally successful push to widen its repertoire
2
Click to follow
The Independent Culture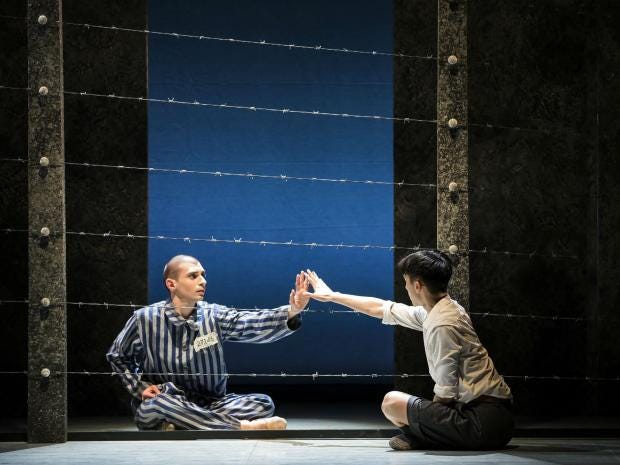 Meaning well is not enough. Northern Ballet's new work wades into the subject of the Holocaust with a clumsily literal staging of John Boyne's novel. It's a production full of good intentions that never comes close to coping with its subject matter. 
Published in 2006, The Boy in the Striped Pyjamas tells the story of a friendship between a child in a concentration camp and the camp commandant's son. Despite controversy over historical inaccuracies, it was a huge success and was adapted as a film in 2008. 
Daniel de Andrade's new staging is part of Northern Ballet's generally successful push to widen its repertoire, while still sticking to the literary subjects that have made his company's name. 
An early sequence shows the persecution of Jews in Berlin, but the tone is hopelessly off. Apart from the Star of David arm bands, the scampering corps de ballet could be citizens in any perky musical. When Bruno, the young hero, is taught racist ideology by his Nazi tutor, it's both too vague and far too on the nose. The tutor writhes and points and waves a book around. Then there's the Fury, a stylised embodiment of Nazism, who leaps about wearing a gas mask, tattered leather coat and pointy-fingered fetish gloves.
It doesn't help that de Andrade has cast adult dancers as children. Kevin Poeung dances heroically as Bruno, but can't suggest the naivety of a child's viewpoint. Meanwhile the prisoners, including Bruno's young friend Shmuel, have athletic choreography that is meant to suggest their exhaustion and physical weakness. Later scenes have less tonal clash, but de Andrade's choreography for the camp scenes remains plodding. With the focus so firmly on Bruno and his family, the ballet ends up giving Nazi characters more individuality than their victims.
Gary Yershon's new score has atmosphere but little dramatic momentum. Mark Bailey's designs are clean and effective. The scene shifts smoothly from garden to dinner party to the camp itself, evoked through a bare fence and the suggestion of horrors just off stage.
Northern Ballet's dancers perform with their usual whole-hearted engagement, doing their best with intractable material. Poeung dances with bold attack, while Luke Francis gives Shmuel a gentle melancholy. As Bruno's sister, Rachael Gillespie has a wide-eyed energy, while Dreda Blow has both protectiveness and nervous strain as his mother. Dale Rhodes is charismatic as an ambitious lieutenant.
Reuse content
Comments