"All women dress like their mothers, that is their tragedy. No man ever does.  That is his."  So declares a schoolmaster in drag during the lovely Wildean pastiche in Alan Bennett's Forty Years On. 
Theatre history, of course, disproves this proposition.  Consider the recent spate of men (including Brian Bedford and Geoffrey Rush) who have been willing to slip into something a good deal less comfortable in order to play Lady Bracknell.
But while you could argue that it was always only a matter of time before Gyles Brandreth or Bette Bourne corseted up for the part, it comes as a bit of a shock when David Suchet (of Poirot and straight classical theatre renown) sweeps in with a bosom like the prow of a battleship and a glare that could paralyse a stampede of elephants in heat in Adrian Noble's highly entertaining production.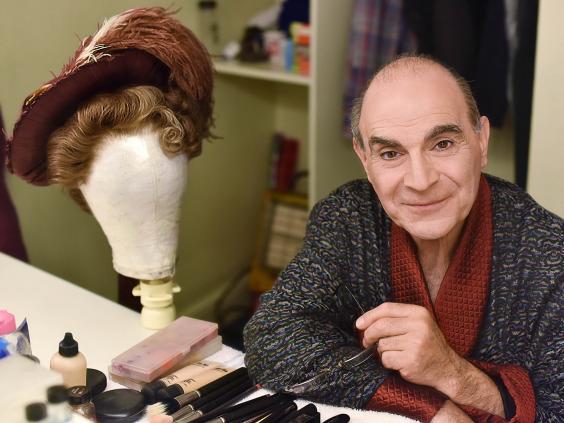 The dreadnought dowager takes, you notice, quite a few lumps of sugar in her tea.  She certainly needs the energy boost for I have never seen the role played live with a more formidable poised ferocity nor heard Bracknell's ex cathedra utterances delivered with such swooping dogmatism.  This is a Bracknell that, at times, has an amused awareness of her effect on people =- for example in the slow, menacing flourish with which she opens her little notebook for her interview with Jack.  But there are also hints, in Suchet's rich portrayal, that – just as Catholic converts become the biggest sticklers about doctrine – Lady Bracknell has all the beady-eyed, rabid snobbery of the social upstart. 
In her disapproval of mercenary marriages, the character reveals that "When I married Lord Bracknell I had no fortune of any kind". Curiously, I felt that this was the one juncture where Suchet overdid things.  His hand flies to his mouth as though he's dropped a terrible, self-incriminating clangour, before he archly nudges the audience's ribs with "But I never dreamed for a moment of allowing that to stand in my way". 
I think it's funnier if she sails serenely through those passages that allow Lady B to sound reactionary and anarchic in the one cadence.  Elsewhere, Suchet's emphases are fresh and persuasive.  It is not the handbag detail that affronts milady; she sinks, though, as if kicked in the stomach at the thought that the baby was left in the cloak-room of a railway station, a dubious place that "might serve to conceal a social indiscretion" – and I don't think we are talking split-infinitives here.
A transvestite Bracknell redoubles the sense that she is another impostor in a comedy full of pretence, alter egos and alibis.  There's a delicious dynamic between Philip Cumbus's louche, cynical Algy and Michael Benz's flustered, slower-on-the-uptake Jack that erupts in a hilarious muffin fight. Imogen Doel's modern-seeming dreamy teenager of a Cecily and Emily Barber's attitudinising, vulgarly posh Gwendolen (a chip off the maternal block) strike very droll sparks off each other.  And Michelle Dotrice is bliss as Miss Prism giddily wobbling girlish infatuation for Richard O'Callaghan's Canon Chasuble.  Warmly recommended.
Reuse content