The Kid Stays in the Picture, Royal Court, London, review: The latest brilliant piece of experimental, multi-media theatre from Simon McBurney and Complicite
Simon McBurney directs a new play about the rise and fall of legendary film producer Robert Evans, who saved Paramount Pictures from collapse and produced films such as 'The Godfather' and 'Chinatown'
5
Click to follow
The Independent Culture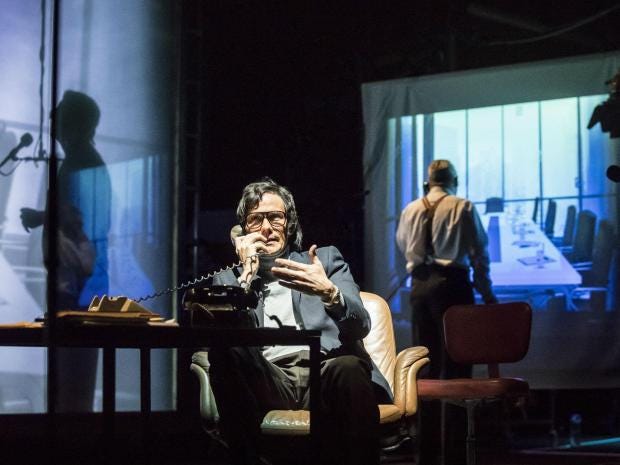 Bette Midler is currently in previews for the Broadway revival of Hello, Dolly! that opens next month and will doubtless occupy her for quite some time, so regrettably we are unlikely to see her over here in the play I'll Eat You Last: A Chat With Sue Mengers, giving her infamously funny portrayal of the most powerful Hollywood agent (to Barbra Streisand and other superstars) in a sector of showbiz that was overwhelmingly male-dominated in the 1970s.
Also centred on a major power player in Tinseltown of that vintage, The Kid Stays in the Picture is the latest brilliant piece of experimental, multimedia theatre from Simon McBurney and Complicite. The differences are instructive.
The focus here is on the rise and fall of Robert Evans (born in New York in 1930 and still going), the producer and Paramount Pictures boss who treated the world to such historic and/or game-changing movies as Love Story, Chinatown and The Godfather before cocaine and indirect involvement in a murder case sent him to the top of the unwanted list in those fragrant hills.
Film writer David Thomson came up with an unbeatable description of the young Evans's beauty and infectious, almost involuntary narcissism: "His smile had the unshy self-love of a man seeing his own dazzle in the mirror." Midler's Mengers, zaftig and stuck on the sofa for the duration, is her own woman throughout the one-woman format, unflaggingly generous with those trademark zingers: "Like I always say, if you can't say anything nice about someone, come sit by me."
By contrast, you get a strong but more and elusive Whitman-like quality ("I am large; I contain multitudes") in this production. Evans's identity is created by the collective effort of the company. Different aspects of the man – the son, the brother, the lover and so on – intermingle. This is a cantata for voices that sound like the husky sublimate of an ash tray as they confide their separate truths into the array of stand-up microphones.
Presented at a terrific pace, this deeply funny and moving show presents its protagonist as a contradictory figure. He's the young man who finds his metier through a series of humiliating strokes of luck (so to speak). The title comes from what producer Daryl F Zanuck shouted through a bull-horn at the cast of the 1957 movie version of The Sun Also Rises, all of whom (apart from Errol Flynn) wanted to fire Evans.  He was a limited actor but that moment brought home to him with the force of a revelation where the real power in movies lies.
There is exquisitely droll "home movie" footage in saturated technicolour of these weird moments where potential greatness was haplessly thrust upon, as when the avid face of screen icon Norma Shearer looms over the side of the Beverley Hills swimming pool and selects this unknown pretty sportswear model for the role of her dead husband – celebrated producer Irving Thalberg, who'd been cut off in his prime – in the movie Man of a Thousand Faces.  
Evans was decidedly dodgy casting for these fictionalised versions of the past greats.  A crisp contrast, then, with the man who later dragged Paramount back from the brink? The production brings out beautifully how a sense of cock-up and narrowly avoided catastrophe attended even his greatest triumphs, such as The Godfather, which demonstrated his genius for "multi-platforming" and his ability to anticipate a zeitgeist.  A-bustle in an almost abstract way, this is a show that relishes its jokes in a quick, take-it-or-leave-it manner – Brando's infuriating recurrent refusal to attend awards ceremonies; Kissinger's stand-in duties, the sense that there is something savingly naïve about Evans who is also the sophisticated operator, shrewd enough to dismiss, say,  the first cut of The Godfather as a "trailer" in order to force Coppola into making the family epic he is after.
By the end, as he glides like a ghost through footage of the home that would have been his had he not screwed up (and which Jack Nicholson bought back from the developer), there's a melancholy and an unrepining spirit that bring you close to loving this ambiguous figure. Perhaps not a show for those who are clueless about cinema history, but I am grateful that I cannot get it out of my head.
Reuse content
Comments