The ending of Mozart's near-flawless pre-French revolution opera buffa, The Marriage of Figaro, is classic happy ever after: marriage is joined and restored, with reconciliation all round. But what happens to Beaumarchais' beloved characters once the honeymoon is over, through the upheavals of 1789 and beyond?
In the third instalment of Welsh National Opera's wonderfully adventurous 'Figaro Forever' season, Elena Langer's Figaro Gets a Divorce takes up the story, but not in literal historical terms from where Mozart leaves off. Instead, she imagines a bleak 1930s future in which Figaro, Susanna, the Count and Countess are forced to flee revolution across countries unnamed. Satirically-edged, dark but ultimately optimistic, Langer's Divorce proves a brilliant follow-up to Mozart's sparkling Marriage in WNO's strongly-envisioned, broadly period-based productions, directed by David Pountney and Tobias Richter respectively (Pountney is also Divorce librettist, drawing superbly on Beaumarchais' The Guilty Mother and Horváth's acerbic 1936 play, Figaro Gets a Divorce).
Crucially, Langer's opera also stands alone and, while it could benefit from trimming in places, shows a rare, genuine affinity for drama and characterisation; the Figaro backstory adds poignancy but is not essential to the tale. Twinned here (in an English-language trilogy with Rossini's The Barber of Seville), the operas share an inventive design team headed by Ralph Koltai, whose beautifully lit panel walls rotate to create spaces now opulently aristocratic (Marriage), now stark with Soviet-style propaganda cues (Divorce). Yet, like its 'prequel', the heart of Divorce is domestic, not political: how do members of a precarious family group cope with external dangers beyond their control?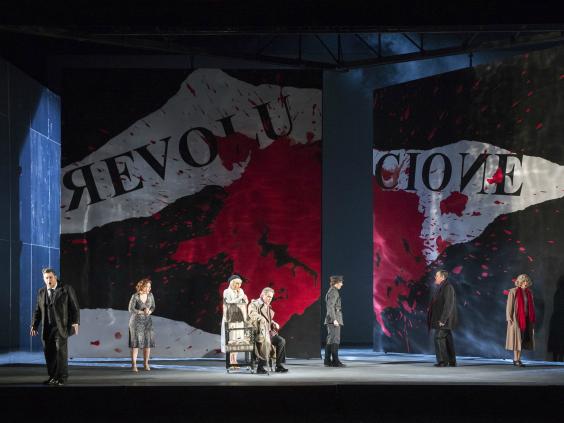 Richter brings Mozart's subversive wit and pathos to the fore in demolishing Almaviva's presumption of archaic sexual rights. Fast-forward to a shadow-world reminiscent of Berg, Langer uses delicately intense scoring, lithe with cabaret rhythms and bristling accordion, to convey black humour, terror, ennui and heartache with touching humanity. All the Figaro ingredients make the Divorce mix, but flavoured with menace: letters, blackmail, confusion, gender-bending disguises - even a barber, echoing Sweeney Todd - and with character additions, exclusions and twists aplenty.
The casts were supremely capable and, overlapping in key roles, supported by the splendid WNO orchestra, they performed the Langer with dramatic flair (conducted by Justin Brown) to match the sumptuously sung Mozart (conducted with velvet depth, if occasional haste, by Lothar Koenigs). David Stout's Figaro was triumphant in Marriage and cynically depressed in Divorce; strong but not so striking as Mark Stone's Count, who was every inch Mozart's lecherous aristocrat, slipping, cuckolded, into Langer's emigré gambler.
Elizabeth Watts excelled as the Countess in both operas, exuding despair and determination. There were different Susannas and Cherubinos: in Marriage, an outstanding Anna Devin flirted cheekily with Naomi O'Connell. In Divorce, Marie Arnet and Andrew Watts enjoy altogether sleazier embrace as the entire Figaro clan find themselves at the mercy of the evil Major. Langer's sinister spy chief may fail in his mission to destroy our cherished, dysfunctional family but, with Alan Oke's bravura insouciance, he succeeded in stealing the show.
Reuse content