Damon Albarn set high expectations for his new musical Wonder.land. Perhaps too high.
In the pre-publicity he made much of how the subject of the show – Alice's Adventures in Wonderland – haunted his childhood giving him recurring nightmares which have last throughout his life. But parents need not worry about their kids being scared by this opening production of the 2015 Manchester International Festival which transfers to the National Theatre at Christmas and the Théâtre du Châtelet in Paris.
It is premised on an ingenious conceit. Cyberspace is the contemporary equivalent of Lewis Carroll's wobbly wonderland. The rabbit hole down which Alice falls is available to every modern child via their mobile phone.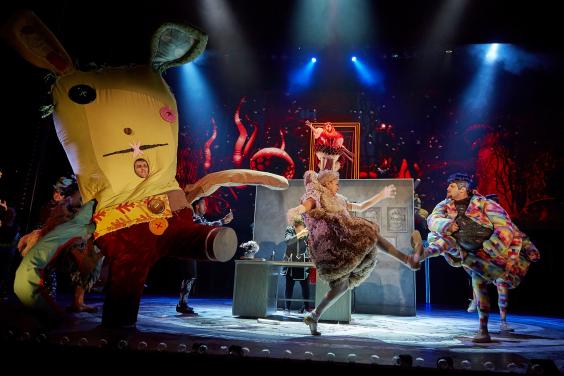 Wonder.land

is a place where everyone "can be exactly who you want to be". The show's heroine Aly – a mixed race miserable teenager whose parents have separated over her father's online gambling – creates an Alice avatar in which she is whiter, thinner, blonder and more glamorous than in real life. The interaction between Aly and Alice promises intriguing interplay between aspiration and actuality.
It opens very strongly. Over and around her drab grey bedroom Aly conjures a kaleidoscopic wonderweb world of projected computer animations, psychedelic graphics and weirdly costumed actors beetling about the stage with purposeless speed. It is Lewis Carroll out of Hieronymus Bosch, Magritte, Lucy in the Sky with Diamonds and the vivid CGI projections of the world of gaming. Rae Smith's spectacular but subtle sets are the real star of this show.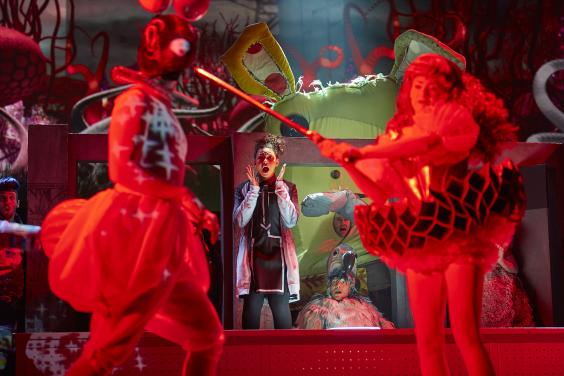 But the urbane menace of her cartoon Cheshire Cat, seductive and sinister, never finds fulfilment in what follows. Despite a strong scene of internet bullying (which seems straight out of Enda Walsh's far more chilling play and movie Chatroom) the story provided by the award-winning playwright Moira Buffin proceeds along conventional tramlines. Aly overcomes the bullies through friendship forged in the real rather than the virtual world in which her primary loyalties seem initially located. She reconciles her parents, with the father being painlessly transformed (by an unlikely job in a garden centre) from online addict to cheeky cockney chappie. Screens must be our servant rather than our master, the show neatly concludes.
Albarn's jaunty score is serviceable but it lacks both the edge and the melodic hooks of the songs that made him and Blur famous. The show's most memorable tune is a pastiche of "Knees Up Mother Brown". Hardly cutting edge. The direction, by Rufus Norris, the National's new artistic director, is slick, imaginative and pacey. He draws strong performances from Lois Chimimba as the frustrated teenager Aly, from Anna Francolini as her repressed Red Queen headteacher and Sam Archer and Sam Mackay as an inventively-choreographed Tweedle Dum and Dee. Rosalie Craig offers a performance of range switching from good to bad as the avatar.
Best Band Reunions
Best Band Reunions
1/11 The Libertines, 2014

Pete Doherty with Carl Barat at The Libertines' reunion gig in Hyde Park

Getty Images

2/11 Fleetwood Mac, 2013

The Sixties rock band reunited for a world tour in 2013 following rumours that had been circulating since 2008. Christine McVie joined the band on stage for their London shows, and announced in January 2014 that she would rejoin the band for good

Polaris

3/11 Blur, 2008

The Britpop band announced their reunion in 2008 with a concert in London's Hyde Park. They later went on to headline Glastonbury that summer. Damon Albarn recently released solo material, but said the band will continue together

4/11 Outkast, 2014

The hip hop duo announced they would be headlining Coachella 2014 as part of their comeback to celebrate their 20th anniversary

Getty Images

5/11 S Club 7, 2014

S Club 7 reunited for a Children in Need performance before announcing a 2015 arena tour

BBC

6/11 Black Sabbath, 2012

Black Sabbath reunited in 2012 at the O2 Academy in Birmingham, marking the band's first concert together since 2005. Drummer Bill Ward said he would not join the reunion until he was given a 'signable contract'

7/11 My Bloody Valentine, 2008

Irish alternative rock band My Bloody Valentine reunited for a world tour in 2008, over ten years since their split following a successful 20 year career

8/11 Rage Against the Machine, 2007

Rap metal band RATM reunited to headline Coachella in 2007. The reunion was described by guitarist Morello as a vehicle to voice the band's opposition to the 'right wing purgatory' of George W Bush's presidency

Getty Images

9/11 Led Zeppelin, 2007

Led Zeppelin reunited to headline a benefit concert in London's 02 in 2007, marking the band's first full concert since the death of drummer John Bonham in 1980

Rex Features

10/11 Pixies, 2004

The alternative rock band reunited ten years after their split to sell-out tours at London's Brixton Academy. The dates became the fastest-selling in the venue's history

Getty Images

11/11 Blink 182, 2009

Four years after announcing their 'indefinite hiatus', the band returned with force. 'To put it simply, we're back. We mean, really back. Picking up where we left off and then some. In the studio writing and recording a new album,' they said on their website.

Getty Images
But the high production values of this show barely disguise the predictability of a plot and score which are less wonderland than wonderbland. It is jolly family entertainment but it lacks the deeper darker dimension it promised and needs.
Reuse content