Woolf Works, Royal Opera House, London, review: Alessandra Ferri is luminous as the Virginia Woolf figure
The revival of Wayne McGregor's ballet triptych is inspired by Virginia Woolf's novels 'Mrs Dalloway', 'Orlando' and 'The Waves' – mixed with parts of her letters, diaries and essays
4
Click to follow
The Independent Culture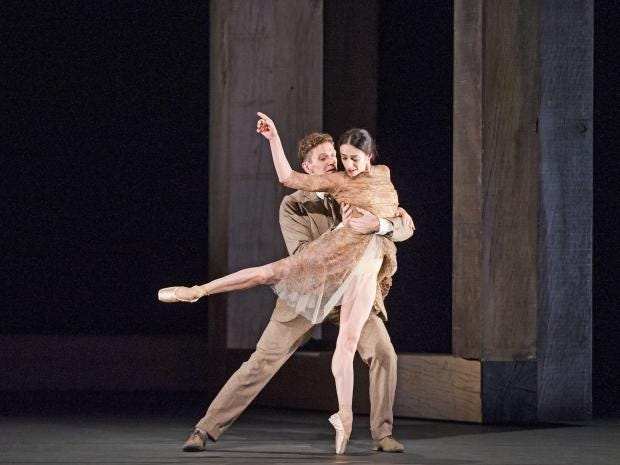 At its creation in 2015, Woolf Works felt like a breakthrough for choreographer Wayne McGregor, adding a new emotional weight to his athletic force and fascination with technology. In this first revival, it's even stronger, with Alessandra Ferri luminous as the Virginia Woolf figure.
Created in three parts, Woolf Works isn't a story ballet. Instead, McGregor's three acts tap into three of Woolf's novels, layered with images from her own life. It allows him to experiment with form while drawing on the Royal Ballet's rich narrative traditions. This is a new and fertile common ground for McGregor and the company; it's noticeable that Becomings, the central and most abstract section, is by far the weakest.
I now, I then is based on Mrs Dalloway, with Ferri as the heroine remembering her past through the course of a day. Clocks chime through Max Richter's score, nudging her from memory to the present and back again. Characters echo their younger selves. Francesca Hayward flits through as an entrancing memory. She dances with both Ferri's and Beatriz Stix-Brunell's versions of Mrs Dalloway, a single kiss both experienced and reflected on. Time also means loss as well as age, with Edward Watson's shellshocked soldier struggling with his memories and with the present.
At this revival, the dancers find a new weight in the choreography, an extra nuance in its layers of understanding. I loved Ferri and Stix-Brunell's pacing, moving through time and holding on to the moment.
Becomings is all dazzle, but feels both relentless and overlong. Inspired by Woolf's Orlando, Richter's music goes from Elizabethan-tinged strings to electronica, while Lucy Carter's spectacular lighting fills the stage and the auditorium with laser beams. The choreography is super-fast and super-bendy, filled with busy fidgets. Moritz Junge dresses them in glittering gold, but the Elizabethan ruffs and trunks make the dancing less legible. Eric Underwood dances with grand authority, giving this act a majestic change of pace. Natalia Osipova literally glitters, her spins impossibly fast.
Tuesday opens with a reading of Woolf's farewell letter to her husband. Ferri is a woman facing her own mortality, as lines of dancers emerge from darkness, framing and partnering her. At 54, she moves with fluid grace, her dancing dark-toned and grand in scale. In this act, she travels an emotional arc from sorrow to resolution. It's a thoughtful, heartfelt performance in a ballet that is both intelligent and tender.
Reuse content
Comments