Wayne McGregor's new Woolf Works glows with ambition, crowned by Alessandra Ferri's charismatic central performance. In his first evening-length work for The Royal Ballet, McGregor blends biography and fiction in a production that sweeps from high-tech glitter to tender evocations of the past. His choreography can't always keep up, particularly in the busy second act, but the scale of his vision carries him through.
McGregor is a contemporary dancemaker known for cerebral, science-inspired works. When he became The Royal Ballet's resident choreographer in 2006, he joined a company with a strong tradition of story ballets. Woolf Works aims to bridge the gap, creating a less literal kind of narrative. The three sections are inspired by three of Virginia Woolf's novels, Mrs Dalloway, Orlando and The Waves, weaving in elements of her own life story.
I now, I then explores the layered memory and stream-of-consciousness of Mrs Dalloway. Ferri suggests both Woolf and her heroine. Now aged 52, returning to the company that launched her as a ballerina, Ferri is a commanding presence. With dark eyes and a pliant body, she flows through McGregor's steps, winding and folding into soft lines. Looking at Beatriz Stix-Brunell, who plays her past self, Ferri manages to show emotion both felt and remembered.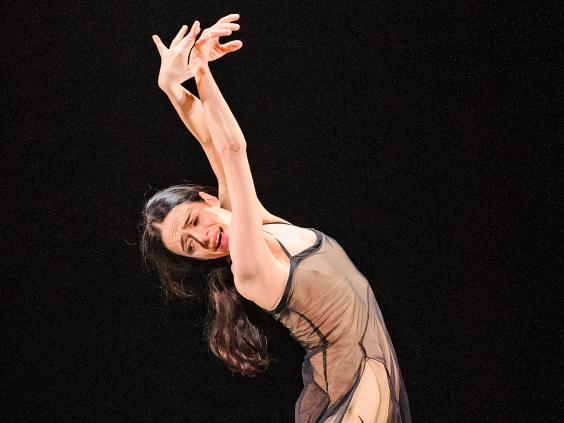 McGregor moves well out of his own comfort zone, digging into feelings rather than pursuing physical extremes. Some of these dances drift, but his characters are well drawn, and powerfully performed by his fine cast. Francesca Hayward flits through as a remembered friend or lover; Edward Watson and Akane Takada are touching as a war veteran and his despairing wife.
Becomings, based on Orlando, is a clashing change of mood, all golden ruffs and laser beams. Natalia Osipova leads the cast in fast, fidgety moves, pushing herself into hyperflexible poses. Moritz Junge dresses the starry cast in gilded Elizabethan costume, layers of ruffs, tutu frills and big skirts for men and women. Lighting designer Lucy Carter spears the stage with lines of light, or sends them sparkling out into the auditorium.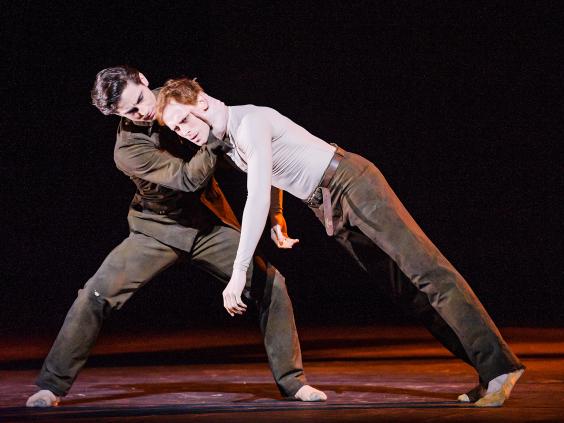 Max Richter's music evokes the novel's long timespan, going from mock-baroque to bubbling electronica, but the dancing sticks to the same hectic note. The dancers are tireless, with Osipova, Steven McRae and Eric Underwood standing out, but McGregor's choreography can't match the invention of his collaborators.
Tuesday, the last section, is the most biographical. Ferri returns, a woman confronting her own mental illness and mortality, as Gillian Anderson reads Woolf's suicide letter. Behind her, a huge photograph of waves slowly begins to move, Ravi Deepres' video imagery gradually speeding up to become a tidal surge.
Facing death, Ferri's character is still part of life. She plays with children on the beach, and joins in livelier dances with Sarah Lamb. Ferri's mournful grace is never gloomy as she moves among waves of dancers, choosing to drown in the sea of movement. McGregor's corps de ballet dances are too repetitive, failing to create rhythmic force, but the larger imagery is effective. It's a fitting conclusion to a brave, thoughtful work.
Reuse content