"It's frightening, isn't it?" says Mark Gatiss, sweeping his foppish, floppy hair behind his ear, as I remark how much he looks like his screen alter ego Peter Mandelson in Channel 4's absorbing new one-off drama, Coalition.
James Graham, previously responsible for This House, the acclaimed 2012 National Theatre production set in the House of Commons between 1974 and 1979, has written this film about the tense five days after the last general election, when all three of the main parties indulged in their own version of Greco-Roman wrestling in an attempt to form a coalition government. In it, Gatiss plays the politician nicknamed the "Prince of Darkness" as just the right combination of master-tactician, manipulator, mischief-maker and Machiavelli. Gifted with a stillness that inexorably draws the viewer's eye, this Mandelson steals every scene he's in. As the actor says of the real-life politician, "You can't take your eyes off him."
In a break between filming scenes of delicate coalition negotiations between Mandelson, Gordon Brown (Ian Grieve) and Nick Clegg (Bertie Carvel), Gatiss comes over to join me. He adjusts his immaculate tie and straightens his even more immaculate cuffs before going over to a stylish swivelling office chair. "I'll sit in Blofeld's chair," says the actor, a twinkly smile playing across his lips. "I should have a white cat to stroke, shouldn't I?"
Gatiss has had an enviably varied career, from co-creating and starring in The League of Gentlemen and portraying Bamber Gascoigne in Starter for 10 to writing and appearing in Doctor Who and playing the bluff Major Benji in Mapp and Lucia. However, these days he is best known around the world for his compelling performance as the brainier Holmes brother, Mycroft, in the BBC's global hit drama Sherlock.
The best TV to watch in 2015
The best TV to watch in 2015
1/13 Game of Thrones

Sky Atlantic, April

HBO

2/13 Poldark

BBC 1, March

BBC

3/13 Fortitude

A murder mystery set in a close-knit Arctic Circle community, with an impressive ensemble cast -Sky Atlantic, January

Sky Atlantic

4/13 Banished

BBC 2, March

BBC

5/13 Ordinary Lise

BBC 1, March

BBC

6/13 Life in Squares

Phoebe Fox, James Norton and Lydia Lynch in 'Life in Squares'

BBC

7/13 Wolf Hall

BBC2, January

BBC

8/13 Better Call Saul

Netflix, February

Netflix

9/13 Mel & Sue chat show

ITV, January

Princess Productions

10/13 Mad Men, Series 7, Part II

Sky Atlantic, Spring

©Lionsgate

11/13 Dementiaville

This series of documentaries explores both the heart-breaking experiences of those with dementia and a ground-breaking new approach to their care - Channel 4, Summer

Georgie Scott/Age UK 2013

12/13 Morning Has Broken

More than a decade since Nighty Night established Julia Davis's reputation for caustic character comedy, she's back with a new creation on Channel 4

BBC

13/13 Cucumber/Banana

Sixteen years after Queer as Folk, Russell T Davies returns with two interlinked series about gay life in Manchester on Channel 4

c.Showtime/Everett/REX
But the actor, who also co-created Sherlock with his Doctor Who colleague Steven Moffat, has an admission to make. He says that he has Mandelson to thank for landing his most celebrated role. "Mandelson is the reason I'm playing Mycroft. I auditioned to play Mandelson in Channel 4's Mo [a part which went to Steven Mackintosh in the end], and that very same day Steven [Moffat] and I had a meeting and talked about how Mandelsonian Mycroft is.
"Mycroft is the British government. He is the éminence grise, the power behind the throne, the same as Mandelson. So there and then a consensus emerged that I should play Mycroft. So I owe Mandelson an awful lot!"
Mandelson's very first appearance in Coalition, which goes out at 9pm on Saturday, underscores his shadowy, puppet-master image. He is seen on the set before the first televised leader's debate, emerging from a cloud of smoke. At that moment, Clegg mutters to an aide, "No wonder he's called the Prince of Darkness." Later, Mandelson dismisses David Cameron (Mark Dexter) with a magisterial put-down: "All he has is Brylcreem and a smile."
This Mandelson is a mesmeric figure – to Gatiss as much as the rest of us. The 48-year-old confesses that, "I'm rather obsessed with Mandelson. I find him just fascinating. I have a lot of issues with the things he's done and signed up to, but he's very funny and very dry.
"He's flirtatious and likes a scene. I also think he loves the fact that he's called the Prince of Darkness, because it works for him."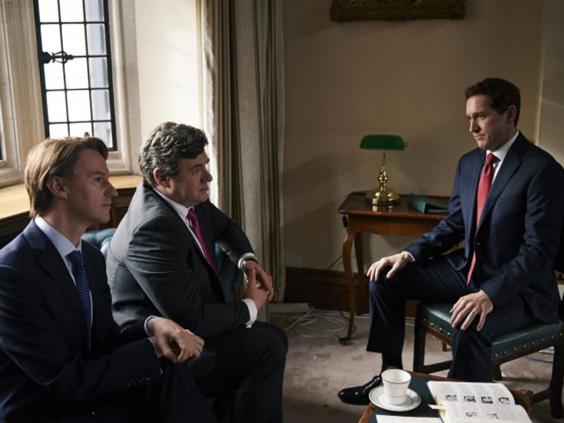 In the run-up to filming Coalition, Gatiss spent many weeks poring over footage of Mandelson. "I don't know where we'd be without YouTube!" he says. "There's a wonderful BBC documentary called Mandelson: The Real PM? about his role in Labour's 2010 election campaign. It's clear in that that he's half banging his head against the wall and half enjoying it precisely because he's banging his head against the wall.
"There's a very revealing bit where he quite unguardedly talks about Brown's untidiness – 'Oh Gordon, he's a lost cause. I'd settle for a straight tie'. Mandelson's very indiscreet and I like that. One of my favourite bits in the documentary is when he spills yoghurt on his tie and just hands the pot to his right without looking, knowing that there'll be someone there to take it. It's marvellous."
Beyond the amusement, the actor clearly feels for Mandelson. "There is the sense in the film of Mandelson being the last man standing," reflects Gatiss. "You can't help but admire the fact that these politicians have been around the block for so long – they're like old boxers or soldiers.
"Mandelson and Brown are like Ali and Frazier. You imagine them facing each other, cut and bleeding, but saying, 'Well, we're still here!' In human terms, you feel that. Mandelson actually cried when he finally left government."
In the same way, Gatiss thinks there is great poignancy in Brown's last minutes clinging on to power. "That moment where Brown says, 'That's it, I'm going, it's over', is not just the end of what for him was an unexpectedly short premiership. It's not even just the end of 13 years of Labour government. It's the end of The Project.
"Brown and Mandelson and Harriet Harman all felt it was their Goetterdaemmerung, their last act. There is something rather noble about that – 'At least we can go with our heads held high'."
Gatiss finds echoes of Mandelson's role in another part he has played recently – Stephen Gardiner, Henry VIII's cunning adviser and Thomas Cromwell's (Mark Rylance) great rival in BBC2's Wolf Hall. "Gardiner was the Tudor Mandelson. I've obviously entered my patrician phase."
He continues that, "There has always been someone like that standing beside the king. It's amazing how that role recurs. Elizabeth I had Robert Cecil, and Henry VIII had Gardiner and Cromwell. They probably hated each other because they were so alike.
"It's about being a fixer, saying the unsayable, sticking the knife in when you have to, and being polite and saying all the right things when you need to. It's an important role, and there's always someone doing it."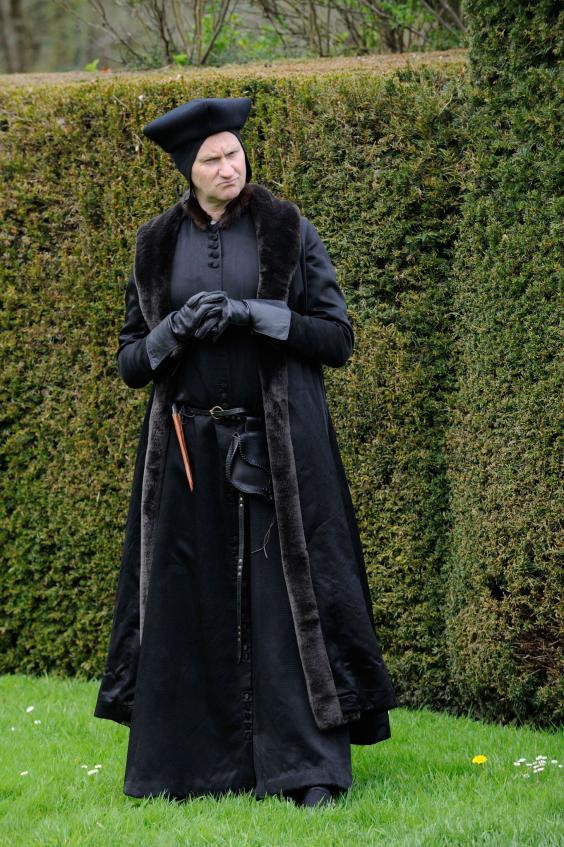 There is certainly an element of classical tragedy in Coalition's central idea about the pretenders – Cameron, Brown and Clegg – all trying to grasp the hollow crown. Gatiss, who also stars in Game of Thrones, another drama with a Shakespearean hue, observes that, "What's always appealed to me about these political dramas is that it's the same story throughout history. It's the struggle for the crown. That's what gives this a classical dimension. You can change the clothes and the personnel and the customs – people don't get killed off now – but it's still the same story."
A self-confessed "political junkie" – "At school, I remember drawing pictures of Edward Heath and Harold Wilson, while other children were drawing the Bay City Rollers" – Gatiss says gleefully that, "We've got another marvellous political drama coming up which is, of course, about the Miliband brothers. That's absolutely Shakespearean."
Coalition also works as an antidote to the prevailing cynicism about politicians. Perhaps in reaction to such brilliant but corrosive satires as The Thick of It and Veep, Graham's drama attempts to show that not all politicians are irredeemably venal and only in it for themselves.
Gatiss agrees. "The thing that makes me slightly despair is that the well has been poisoned so much of late that people tar all politicians with the same brush," he says. "That makes me cross. Many MPs really do want to make sure that people get their hip operations done and their bins taken out. No one gives them any credit. There's no money in being a politician. They have terrible hours, and everyone is encouraged to think that they're only in it to get their faces in the trough. I don't think that's true.
"If in this film we can present a balanced picture of the ins and outs of being a politician, then that would be a very good thing. Obviously, there is still massive drama and subterfuge and back-stabbing, but these are nevertheless real people. They have their own frailties and arrogance and fears and warmth and friendships. It's important to see that. The cynical view is that politicians are all the same – but they're not."
Next up, reaffirming his love of politics, Gatiss will be appearing in The Vote, another political play by Graham, this time set in a polling station. In a bold move, it will be broadcast live from the Donmar Warehouse on More 4 in the 90 minutes leading up to the polls closing on 7 May.
'Coalition' is on Channel 4 on Saturday at 9pm
Reuse content