The last time viewers spied Tom Hollander's Adam Smallbone, the dog-collared protagonist of BBC2's Bafta-winning comedy Rev, he was having a topsy-turvy kind of Christmas. Then, back in 2011, he had turned on his congregation during a drunken Midnight Mass, before things came good with a Christmas lunch at which his wife Alex (Olivia Colman) announced that she was pregnant. 
But what of the beleaguered inner-city vicar now? Well, praise be, for at last Rev fans can catch up with the clergy and congregation of the "socially disunited" St Saviour in the Marshes in London's East End. "The baby is now a year old, so that would account for the time-gap between the end of series two and the beginning of series three," says Hollander, when I meet him on set, before he scuttles off to shoot another scene.  
Rev is filmed in St Leonard's Church in Shoreditch, the rapidly gentrifying neighbourhood where the wealth of the City of London butts up against the deprivation of Hackney and Tower Hamlets. This morning, the church's Palladian interior has been gaudily transformed for a scene involving an "ecumenical fete" co-hosted by a trendy imam played by Kayvan Novak; the Four Lions actor is one of several notable guest stars in the new series, alongside Dexter Fletcher as a Damien Hirst-style YBA, and the returning Ralph Fiennes as the Bishop of London.      
As extras walk about with trays of flatbread and woks of curry, Adam entertains the black-gloved Archdeacon Robert (Simon McBurney channelling Peter Mandelson), who has bad news about the state of the church's finances. Monetary woes will be at the heart of the new series, with Joanna Scanlan and Vicki Pepperdine, of Getting On fame, playing diocesan officials determined to close down Adam's debt-ridden parish.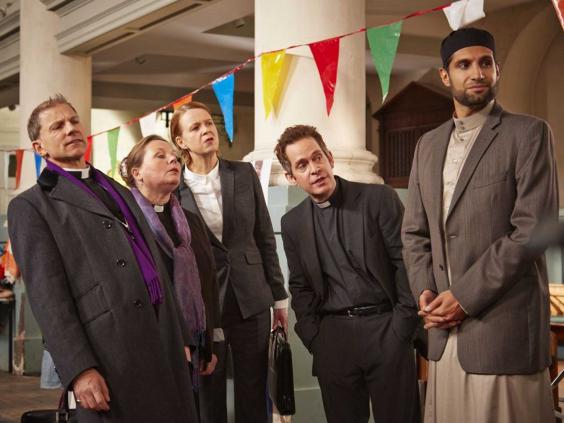 It's a near-the-knuckle storyline, says the real vicar of St Leonard's, Paul Turp, who needs to raise £90,000 every year just to keep his church open. The location fee for Rev must swell his coffers, I suggest. "We got paid £15,000 for the first series, which helped us break even that year," says Turp. St Leonard's received "an OK amount" for this latest series, he says, but won't specify further. This six-episode run will climax at Easter, with Adam undergoing his own personal Calvary. "The other week I had to carry a cross through Stoke Newington," says Hollander, offering a taste of what's in store.   
Meanwhile the second episode, dealing with gay marriage, could hardly be more topical: it will broadcast a week after the Marriage (Same Sex Couples) Act comes into force. The show homes in on the fact that the legislation is opposed by the Church of England, with Adam caught in a dilemma when two of his gay friends ask him to bless their union.  
Hollander is not only the star of the series, but also its creator. He came up for the idea for Rev in 2009 when he heard whispers of Notting Hill Tories sucking up to the vicar to get their children into the highly rated local C of E primary school. "If you think of a traditional Anglican vicar, a slightly awkward figure, being invited to lots of racy parties in the metropolis .... I just thought 'what's that like from the point of view of the priest?'."
Hollander took his idea to his friend, the screen-writer James Wood, whose grandfather happened to be an Army chaplain. Their partnership has proved to have a winning dynamic. "James pulls towards a more muscular comic voice and I'm pulling towards, 'there's got to be some sort of kindness in it'," says Hollander. "And for me, that's what it boils down to – what is the predicament of being a vicar? It's not Father Ted or All Gas and Gaiters, which were essentially about a ridiculous person."
Rev's sympathetic tone has won friends in high places: around the time of the second series Hollander, Wood and the cast were invited to Lambeth Palace for drinks with the then Archbishop of Canterbury, Rowan Williams. "He [Williams] loved episode six of the first series … it's the one where Adam had a crisis of faith," says Hollander. Has he heard from Williams's successor, Justin Welby? "Rev hasn't been on since Justin has been Archbishop so we'll see."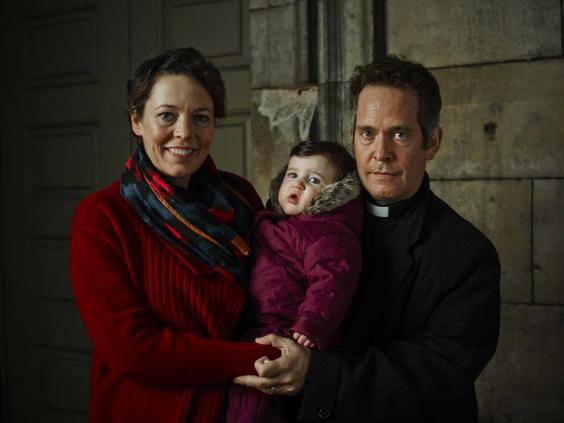 However, Wood and Hollander do have regular contact with a focus group of men of the cloth, who provide ideas and vet scripts for howlers. "The ones we talk to are very amusing about their own predicament", he says. "And because they're used to interpreting parables in their sermons … they tend to be natural storytellers."
Hollander thinks that the idea of an inner-city vicar is endlessly fertile. "Even though we live in an increasingly secular society, the church is still at the centre of our communities," he says. "It also provides a background for amazing characters because churches are surrounded by strange types." Among these are Colin (Steve Evets), a hard-drinking lost soul who in one memorable episode was discovered shooting "crack squirrels" in the churchyard, and Nigel (Miles Jupp), the pedantic Lay Reader.   
However, despite its endless fertility, this series will probably be the last. "Everyone wants to go off and do other things", says Hollander. Wood however rejoins with "Never say never" – especially, he says, after he and Hollander were taken out to lunch by BBC Worldwide, who revealed that Rev now sells to more than 140 different countries. That doesn't quite make it a Downton Abbey-sized export, but it's not too far off.
In the interval between series, Hollander took the title role in the Oscar-nominated short film The Voorman Problem, about a man who thinks he is God. He's also filmed a new drama for the BBC called  A Poet in New York, about the last eight days in the life of alcoholic Welsh bard Dylan Thomas. 
On the subject of drunks, the actor tells me about being mistaken for a real vicar while shooting Rev. "Some guy falling out of a pub asked me for a blessing, so I gave him one. As I did it I saw him wanting to believe in it. Nobody knows if any of it's true – and yet when I did this to an old piss-head outside a pub I could see in his eyes this child-like desire for it to mean something. And that will never not be a moving part of the show – whatever the frankly tedious debate about whether God exists or not, the human desire for something to transcend one's everyday tawdry existence is quite a touching thing."  
One of the clerics advising on the show went further, discerning the divine in Rev. "He said: 'You realise God is writing your show'", says Hollander. "I thought, that's quite a statement. Rev really touches people, and that's rare". How does it feel to be an instrument of God, then? "The whole problem with Rev for me is the feeling of responsibility, so if I can give it over to a higher power then that's fine."
'Rev' returns to BBC2 on Monday 24 Mar.
Reuse content