It was the television schedule clash only Ukip voters could have dreamt of, as Channel 4's Benefits Street Live Debate went head to head with The Big British Immigration Row: Live on Channel 5 last night.
But, aside from rehearsing hackneyed opinions cobbled up by the usual TV pundits - including Katie Hopkins, the shows did little more than provide a platform for people to shout at each other.
Benefits Street Live Debate proved as rambling and unfocused as the documentary that sparked the hour-long studio show, with 'neutral' host Richard Bacon veering across topics and adding his own opinions Jeremy Kyle-style.
The 'them' and 'us' audience division of benefits claimants sat opposite well-educated journalists seemed like another ploy from Channel 4 to stoke the embers of the debate, and did little to stop the endless shouting that drowned out the speakers.
Channel 5's Immigration Row: Live was a more orderly affair by comparison, but also played too obviously into the hands of the awaiting Twitterati.
With a rotating panel every advert break, it was hard to keep track of the number of publicity-courting pundits who claimed suddenly to have an opinion about the state of immigration in Britain.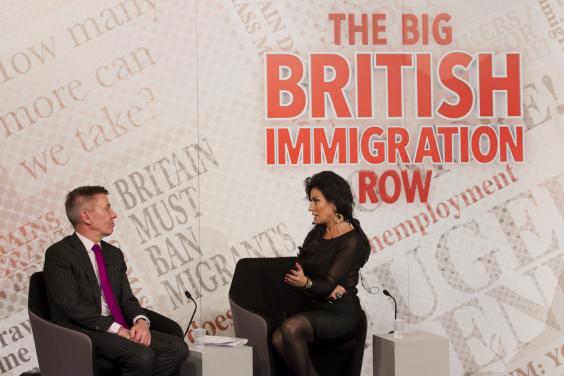 The Guests
Immigration Row: Live included professional motor-mouth Katie Hopkins, fellow Apprentice runner-up Luisa Zissman, and - even more randomly - Nancy Dell'Olio.
Even 'former prospective Tory MP' pop star Adam Rickitt had something to say on the issue, urging British people to blame the immigration system and not the immigrants.
Katie Hopkins predictably delivered the most shocking and un-PC statement of the night, telling the audience: "I've always said if you go into a school playground and shout Mohammad, you'll probably get 100 children running towards you!"
Katie Hopkins' most offensive moments
Katie Hopkins' most offensive moments
1/16 Katie Hopkins on 'plus size'

'To call yourself 'plus-size' is just a euphemism for being fat. Life is much easier when you're thinner. Big is not beautiful, of course a job comes down to how you look.'

2/16 Katie Hopkins on naming children

'I think you can tell a great deal from a name. For me, there are certain names that I hear and I think 'Urgh'. For me, a name is a shortcut of finding out what class that child comes from and makes me ask, 'Do I want my children to play with them?' There's a whole set of things that go with children like that and that's why I don't like those sorts of children. 'Hi, this is my daughter Charmaine'. I hear: 'Hi, I am thick and ignorant.''

3/16 Katie Hopkins on gender equality

'Women don't want equal treatment, they couldn't handle it if they got it. It's a tough world out there. What a lot of women are actually looking for is special treatment. What women need to realise is that they have to toughen up.'

4/16 Katie Hopkins on immigration

'I've always said if you go into a school playground and shout Mohammad, you'll probably get 100 children running towards you!"

5/16 Katie Hopkins to Benefits Street's White Dee

'Do you not feel like the patron saint of druggies and dropouts?'

Channel 5

6/16 Katie Hopkins on tattoos

'Are tattoos just a badge for the stupid? For me, and for lots of people like me, when you see tatoos you think of someone who is just looking for attention, who hasn't managed to find a way in their life through conventional means and who is just shouting 'I want attention! I want to be looked at!'

7/16 Katie Hopkins on addiction

'I don't believe what Russell Brand says about addiction. I just don't buy it. Gazza likes drinking, let him crack on. He is enjoying himself.'

8/16 Katie Hopkins on The X Factor

'The X Factor 2013 has ended in a painful showdown between a fat mum in a jumpsuit (Sam Bailey) and a small boy in whatever his mum laid out for him on his bed (Nicholas McDonald)'

ITV

9/16 Katie Hopkins on the Egyptian uprising

'The difference between most mothers and me is that I didn't sit around drinking coffee at baby group for 12 months after the birth of my baby. No, in three weeks I was back in my suit, back at my desk earning profit for my business and I don't see why other women shouldn't do the same.'

10/16 Katie Hopkins on maternity leave

'Egyptian uprising continues to look like Bonfire Night. Protest fireworks. Right up there with angry cup cakes.'

11/16 Katie Hopkins on 'gingerism'

'Ginger babies. Like a baby. Just so much harder to love. A ginger person with tattoos called Jayden? The triumvirate of horror!'

12/16 Katie Hopkins on affairs

'I lied to get someone else's husband because I wanted him. I give myself 8 out of 10 for ruthlessness for that one.'

13/16 Katie Hopkins on the elderly

'Personally I hate mobility scooters. I find their owners intolerable. Ran past a mobility scooter going up hill. Made me giggle. I need to grow up and stop being an arse.'

14/16 Katie Hopkins after the Glasgow helicopter crash

'Life expectancy in Scotland is 59.5. Goodness me. That lot will do anything to avoid working until retirement.'

15/16 Katie Hopkins on Ramadan

'Channel 4 broadcasts Islamic calls to prayer for Ramadan. A 30 day reminder that minority rules in the UK. Any more PC, it'd be a bloody laptop.'

16/16 Katie Hopkins on self-harming

'I am advised by the Twitterati to 'cut myself'. I grazed myself on my house gate yesterday. Will that suffice?'
Benefits Street Live Debate on the other hand had just two panel members sat at the front of the crowded auditorium in Birmingham, minister of State for Work and Pensions Mike Penning MP, and shadow minister Chris Bryant MP.
Chris Bryant embarrassed himself from the start by admitting he had never watched or heard much about the show, and had caught up on the first three episodes that morning.
The two politicians did their best to centre the debate on policy, but were too often shouted down by other members of the audience, including strange off-topic interjections about the price of diesel versus petrol.
The Best Moment
Immigration Row: Live - When Katie Hopkins stopped talking
Benefits Street Live Debate - White Dee saying she would run for parliament (before taking it back)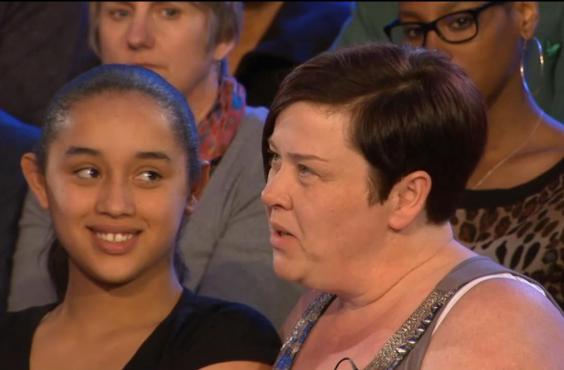 Twitter reaction
Both shows succeeded in getting 'the nation talking', but ultimately seemed like a desperate attempt on behalf of both channels to up their ratings rather than host an orderly debate.
#bigimmigrationrow -appallingly orchestrated live show.Ppl talking over each other,hosts weak,audience ill mannered! Embarrassment!

Jonty (@jonathanwturpin) February 17, 2014
#bigimmigrationrow very careless and irresponsible broadcasting Channel 5 to allow Katie Hopkins to air her bigoted views.

Linda Maruta (@ariesbelle) February 17, 2014
Can't stand shows like #bigimmigrationrow making poitics & important issues like immigration into a game for boring oiks

Sam Rabin (@SamRabin96) February 17, 2014
Such incendiary topics should not be debated on tv lest they stir people up & lead to conflict. #bigimmigrationrow #immigrationrow

Munyaradzi G Mtunzi (@MunyaGregory) February 17, 2014
#benefitsstreet If anything the live 'debate' was worse than the series. Ch4 and Love productions remain proud of their work. Unbelievable!

Dorothy Hobson (@hobsondp) February 17, 2014
#BenefitsStreet Richard Bacon made a mess of hosting that live debate last night. They should've used a professional like Nikki Campbell

Mark G Briggs (@moonpunk) February 18, 2014
#benefitsstreet. Rubbish discussion last night on an important subject.

Andrew Powell (@apowell1962) February 18, 2014
@Channel4 #benefitsstreet #debate totally ruined by richard bacon not giving anyone a chance to speak! #annoyingman #alwaysbuttingin aargghh

Charlene McNeil (@charli_mac19) February 18, 2014
---
Watch Iain Duncan Smith discuss Benefits Street