If you thought Game of Thrones fans were angry at a certain death that occurred this week, their rancour is nothing compared to that over Hank Schrader's demise in the final series of Breaking Bad.
When Walter White's drug busting DEA brother-in-law, played in true bulldog style by Dean Norris, bit the dust at the hands of a bunch of neo-Nazis and was buried in an unmarked grave somewhere in the desert, it was hailed as the most gut-wrenching Breaking Bad episode ever – no easy feat.
But quite why Hank had to meet such a grizzly end was one of the most talked about threads to come out of the now infamous Ozymandias episode.
Best Netflix originals to watch in 2015
Best Netflix originals to watch in 2015
1/11 Orange is the New Black (Season 3)

Aussie model Ruby Rose has confirmed she will be the next star in stripes at Litchfield Penitentiary when OITNB returns on 10 July.

2/11 Daredevil

Marvel's new Netflix series will be released on 10 April (all 13 episodes), starring Charlie Cox as blind lawyer by day and masked vigilante by night Matt Murdock.

Netflix

3/11 What Happened, Miss Simone?

Music legend and civil rights activist Nina Simone is the subject of this film from Oscar-nominated Liz Garbus. Expect unheard recordings and rare archival footage.

Netflix

4/11 Marseille

The French port city of Marseille will be the focus of a new drama about the local mayor, who is forced to face the man he chose as his heir in the elections.

Simon Calder

5/11 Grace and Frankie

Jane Fonda will arrive on Netflix on 8 May in this show about two rivals brought together after their husbands announce they are in love and plan to marry. Also starring Lily Tomlin.

Reuters

6/11 Sense8

No not The Matrix - but directors Andy and Lana Wachowski have created a new sci-fi drama series involving eight strangers from around the world who suddenly become mentally and emotionally connected after a tragic event.

Rex Features

7/11 Narcos

Ten-episode series Narcos will see Brazilian actor Wagner Moura play notorious Colombian drug lord Pablo Escobar.

8/11 Dreamworks Dragon

This will bridge the gap between How to Train Your Dragon 2 and the third film. Storylines include Hiccup's new flight suit, the secrets of his dragon blade and the young Viking's budding romance with Astrid.

9/11 Better Call Saul

The Breaking Bad spin-off series began in February starring Bob Odenkirk as sleazy lawyer Saul Goodman. The drama documents the trials and tribulations of Goodman before he moves to his strip-mall law office in Albuquerque.

Netflix

10/11 House of Cards (Season 3)

Kevin Spacey is back as the conniving Frank Underwood on 27 February for the third season of this hit White House drama.

AP

11/11 Crouching Tiger, Hidden Dragon: The Green Legend

The sequel to this Oscar-winning martial arts epic hits Netflix on 28 August - the same day of its cinematic release.

Netflix
When collared by The Independent's editor Amol Rajan on the subject in the loos recently (more on which here) Walter White actor Bryan Cranston allowed himself 90 seconds to think about the answer.
"That's a damn good question and I don't know the answer," he said. "Let me have a piss and I'll tell you when I come out."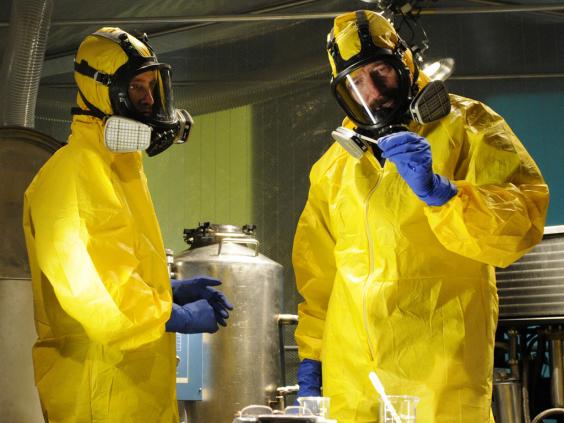 When he emerged from the toilet Cranston told the newspaper editor: "I've got it. Hank was a cancer. He couldn't contain what I did."
Reuse content