Britain's Got Talent hopeful Paddy and her partner Nico secured a place in the final of the competition after the 79-year-old salsa dancer battled back from injury to impress the judges and public.
Sarah "Paddy" Jones and her Spanish partner Nicolas Espinosa had been forced to withdraw from the live semi-final after she injured her ribs during rehearsals.
But she was able to take to the stage after all, as the pair danced to Ricky Martin hit "She Bangs".
Swing group Jack Pack won the public vote in the last semi-final but judges picking the second act of the night to go through chose Paddy and Nico by three votes to one over 15-year-old singer-songwriter Bailey McConnell.
Jack Pack and Paddy and Nico join the winners of the four earlier semi finals in next Saturday's final - there are also plans for a wild card entry.
Britain's Got Talent past winners
Britain's Got Talent past winners
1/8 2014- Collabro

English boyband Collabro celebrate winning BGT with their musical theatre performances.

Rex

2/8 2013- Attraction

Hungarian shadow dance act Attraction won 2013's contest after a British-themed display including the voice of Winston Churchill. Cowell described their victory as "a bit of a surprise".

PA

3/8 2012- Ashleigh and Pudsey

Ashleigh and her loveable dancing dog Pudsey met the Queen after winning 2012's Britain Got Talent. Simon Cowell loved this act so much he made Pudsey: The Movie.

Reuters

4/8 2011 - Jai McDowall

Jai McDowall has faded into obscurity since winning Britain's Got Talent in 2011. He took victory from Ronan Parke but his subsequent career was short-lived after its debut solo album Believe failed to make an impact.

Rex

5/8 2010 - Spelbound

Another dance group followed Diversity in the form of Spelbound, who won in 2010. They became the first act to perform at the new Olympic Stadium and appeared twice at the closing ceremony. Many of the original members have since left.

Rex

6/8 2009 - Diversity

Diversity dance group took the Britain's Got Talent title in 2009 after a dramatic final showdown with singer Susan Boyle. Diversity have toured multiple times and performed at several high profile events since their triumph.

Getty Images

7/8 2008- George Sampson

George Sampson won Britain's Got Talent in 2008 after winning fans with his impressive dancing in the rain. The youngster, now 19, has since appeared on stage and in Natwest advertising campaigns. He made his cinema debut in Streetdance 3D and went on to star in Waterloo Road and Mount Pleasant.

Rex

8/8 2007 - Paul Potts

Paul Potts won over Simon Cowell with his rendition of Nessum Dorma and went on to become Britain's Got Talent's first victor. Potts has enjoyed a successful operatic career since the competition, with Harvey Weinstein even making a biopic of his life starring James Corden in the lead.

Getty Images
Through to the final from earlier semi finals are musical theatre boyband Collabro and illusionist Darcy Oake; teenage singer James Smith and 26-strong street dance crew The Addict Initiative; opera singer Lucy Kay and camp dancing trio Yanis Marshall, Arnaud and Mehdi; and classical violinist Lettice Rowbotham and teenage rap sensation Bars and Melody - 13-year-old Leondre Devries and his friend Charlie Leneham, 15.
Last night show supremo Simon Cowell told Paddy and Nico: "I salute your courage, everything about it, you did this for your country. I think the British people are going to vote you through to the final."
Fellow judge David Walliams told them: "You do bang, you do move amazingly, and what I got from that was your incredible bravery, to come back from injury and do that."
A spot on the Royal Variety Performance is one of the prizes for the winner of the ITV1 show, and judge Amanda Holden told Paddy and Nico: "I adore you both, I'm so proud of you. You are the epitome of Great Britain, and you are something that the Royal Family would just adore on the Royal Variety Show."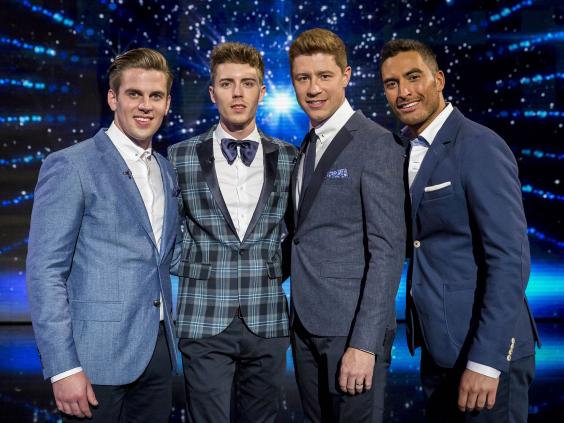 Jack Pack, from London, had previously impressed the judges with their rendition of the classic Frank Sinatra song "That's Life", and were back with Ol' Blue Eyes for "My Way", winning a standing ovation from judges and audience.
Cowell told them: "I love this era of music. This only works if you have good voices and respect the era, and you win on both counts. I've always wanted to work with a group like this, four guys doing the Rat Pack thing."
Walliams said: "I didn't think anybody could follow Paddy and Nico, but that was the performance of the evening."
Holden said: "I think you are going to storm it tonight, you are like a dream boy group. I love that music, you did it beautifully."
Judge Alesha Dixon said: "If I was at home, I would be picking up the phone and voting for you."
Just 45 acts made it through to the live semi-finals of the show from the thousands who applied and the hundreds who auditioned.
Those in the final are hoping to win a prize of £250,000 as well as the spot at the Royal Variety Performance.
Press Association
Reuse content