The new series of Broadchurch will be "vastly different" to other murder mystery television series, says one of the stars of the show.
Andrew Buchan, who plays bereaved father Mark Latimer in the Bafta-winning series, told The Independent, "It'll be nothing like Midsomer Murders and I don't mean that in a disrespectful way – far from – I'm a huge fan of Neil Dudgeon, if that helps.
"But by that, I just mean plot-wise, it'll be vastly different. I can't give anything away about the plot," he added.
The forthcoming series will take viewers back to Broadchurch and feature the same cast, which is similar to the premise of Midsomer Murders and numerous other whodunits.
Writer Chris Chibnall has also said that the new series will be different to the first and not rely on the same formula this time around.
So far very little is known but earlier this year photos emerged of filming taking place in a graveyard and a heavily pregnant Beth Latimer, played by Jodie Whittaker, which would suggest the story is picking up several months after the events of last year.  
Meet the cast of Broadchurch 2
Meet the cast of Broadchurch 2
1/12 Broadchurch 2 cast

The Broadchurch 2 cast read through Chris Chibnall's 'brilliant' new script ahead of shooting

ITV

2/12 David Tennant

He's been making the US version of Broadchurch (Gracepoint) but Tennant has been confirmed to return for the second series in Dorset. The former Doctor Who star plays DI Alec Hardy in the crime drama - but will his troubling heart problems get the better of him this time around?

ITV

3/12 James D'Arcy

James D'Arcy, known for Cloud Atlas and Hitchcock, is another new face for Broadchurch series 2. Executive producer Jane Featherstone has promised he will be a 'thrilling and important' addition

Getty Images

4/12 Olivia Colman

Fresh from her Best Actress win at the 2014 TV Baftas, Colman will be back as DS Ellie Miller for the second series of Broadchurch. Her character has been re-invented by Breaking Bad's Anna Gunn but Colman insists she is not 'really cross' at her stateside replacement. Colman has read the first few scripts of Broadchurch 2 and says they are 'brilliant'

Getty Images

5/12 Marianne Jean-Baptiste

Black British actress Jean-Baptiste, pictured here in James Baldwin's The Amen Corner, is a new arrival on Broadchurch. Creator Chris Chibnall said he would have 'wept for months' if she had turned down a role that was specifically written with her in mind. Jean-Baptiste is set to make an 'indelible impact' on the show, apparently

6/12 Charlotte Rampling

Veteran film and TV actress Charlotte Rampling will play a new character in Broadchurch, with details being kept as hushed as possible, bar that her role will be 'integral'. 'There's none more exceptional than Charlotte' said creator Chris Chibnall

Getty Images

7/12 Jodie Whittaker

Whittaker will reprise her role as Beth Latimer, mother to murdered 11-year-old schoolboy Danny and friend of Ellie Miller. She was in attendance at the 2014 TV Baftas to receive the award for Best Drama Series for Broadchurch

David Sandison

8/12 Eve Myles

Torchwood and Frankie star Eve Myles is set for a central role in Broadchurch 2 but once again, details are being kept heavily under wraps

AP

9/12 Arthur Darvill

Arthur Darvill will be back as local vicar and recovering alcoholic Reverend Paul Coates

Rex

10/12 Phoebe Waller-Bridge

Phoebe Waller-Bridge is known for her work in several acclaimed stage productions and is described as being 'on the way to superstardom' by Broadchurch's Chris Chibnall

Rex

11/12 Andrew Buchan

Andrew Buchan will return for Broadchurch series 2 as Danny's father Mark Latimer. Mark was one of the first suspects in the hunt for Danny's killer

Getty Images

12/12 Meera Syal

Meera Syal, who is renowned as a member of the team that created Goodness Gracious Me, will have a "pivotal" role in series 2

Getty
To add to the confusion and secrecy, it appears that the makers of Broadchurch are even keeping the cast in the dark over plot details.
Buchan has hinted that none of the actors quite know what to expect this year, "I've only read episodes one and two, so I've no idea what's coming."
"It's like that feeling, you know at the end of Indiana Jones and the Last Crusade when he has to step out, where he has to trust that the path is there, we're all trusting that the path is there. Stepping out and hoping that we're not going to plummet," he added.
The first series of the show followed the murder investigation of 11-year-old Danny Latimer in the sleepy seaside town of Broadchurch.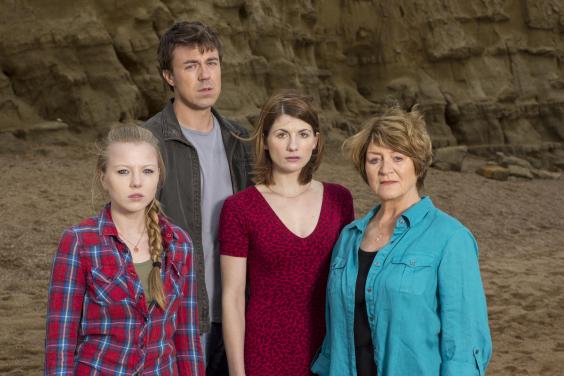 During filming the cast did not know the identity of the killer, only to be told towards the end of the shoot, and it appears that something similar has happened again this year.
The new series is currently being filmed in Somerset and Dorset, and will return to Broadchurch in the aftermath of the events from last year.
Series two also features the same cast, including David Tennant and Olivia Colman as DI Alec Hardy and DS Ellie Miller.
Along with the familiar faces, there are some new additions, including Marianne Jean-Baptiste, Eve Myles, James D'Arcy and Charlotte Rampling.
Buchan is currently starring in The Honourable Woman on BBC Two.
Reuse content