Every bit as washed up and burnt out as its protagonist after seven patchy seasons, Californication bowed out last night, with its season 7 finale seeing Hank Moody make a bid for on-off girlfriend Karen's heart with an epistolary declaration of love.
*Read no further if you're avoiding spoilers*
Finding romance in the most unromantic of surroundings (an airplane cabin), Hank read aloud to Karen from a letter as they headed to New York:
"Our time in the sun has been a thing of absolute f*cking beauty.
"The nightmares, the hangovers, the f*cking and the punching, the gorgeous shimmering insanity of this city of ours, where, for years, I woke up, fucked up, said I was sorry, passed out and did it all over again.
"As a writer, I'm a sucker for happy endings. The guy gets the girls, she saves him from himself, fade to fucking black. As a guy who loves a girl I realize there's no such thing.
"There's no sunset. There's just now, and there's just the two of us."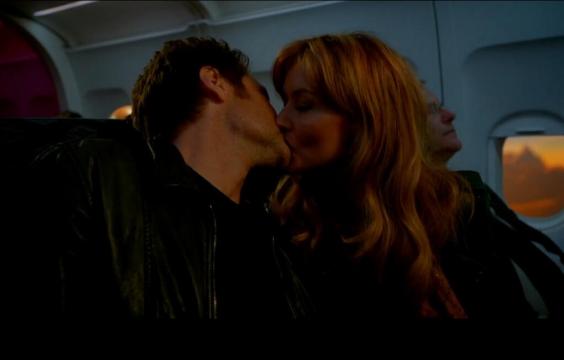 A guarded happily-ever-after, the ending was cut to Elton John's Rocket Man.
While their love for each other has been unwavering, Hank and Karen were repeatedly drive apart over the course of the show's seven seasons by indisgressions on both sides, but David Duchovny has no doubt that Hank will now remain faithful and that the pair will spend the rest of their lives together.
"I never saw that at all as even a question," the actor told Variety. "I'm not sure you can find any time in the show when Hank was with Karen that he was with somebody else. If you look at the history of the show, what split them up in the beginning was (that) Karen went off with Bill. Karen had an affair and that kind of sent Hank into whatever alcoholic and discriminate hooking up that he did and (that) became the hallmark of the show. But whenever Hank and Karen were on, Hank did not fool around.
"Because of the name of the show and because of certain kind of focus on T & A, sometimes that kind of overloads the true nature of the character. The way I saw him was that if Karen's not available it doesn't matter who he's with. Hank has been faithful in spurts, when they've been together, so I don't see any reason that he wouldn't be able to do it again."
Reuse content