Celebrity Big Brother is facing a possible Ofcom investigation after airing some of the most controversial scenes in the show's history.
Viewer complaints about the Channel 5 reality TV show have reached 342, with the recently-evicted boxer Evander Holyfield's "gay ain't normal" remarks generating the most at 98.
The former heavyweight champion was seen arguing with The Apprentice's Luisa Zissman when she said there should be more openly gay sports stars.
"If you're born and your legs were turned this way, what do you do? You go to a doctor and get it fixed back right," he responded.
"Sexist comments" made by N-Dubz's Dappy have notched up 52 complaints, following a heated discussion about promiscuity broadcast on 11 January.
The rapper told Zissman and model Jasmine Waltz that it was wrong for women to have multiple sexual partners. "I'd rather be a pig than a s**g" he shouted. "Tell me how many men you have slept with in one night – that's dirty, that's disgusting."
Celebrity Big Brother 5: Meet the 2014 housemates
Celebrity Big Brother 5: Meet the 2014 housemates
1/12 Dappy

He got kicked in the face by a horse only recently, but the N-Dubz rapper has seemingly recovered in time for some Celebrity Big Brother drama. Tulisa Contostavlos' cousin, the controversial singer is known for his catchphrase 'Na Na Niii' and wearing woollen hats coined 'Dappy hats'. Dappy has collaborated with Tinchy Stryder on the chart-topping single 'Number 1' since leaving the band.

2/12 Sam Faiers

Star of augmented reality TV, Towie's Sam Friers is best remembered as getting a 'vajazzle' done – the 'prettification' of one's lady area with gemstones. The ex-fiancée of Joey Essex and former gymnast almost became a Page 3 girl for The Sun and says she would still love to model for Ann Summers. Joey recently appeared on I'm A Celebrity Get Me Out Of Here, so was Faiers jealous of his limelight perhaps?

3/12 Jasmine Waltz

She might or might not have punched Lindsay Lohan in the face in a 2010 catfight over rugby player Danny Cipriani. Aside from that, Waltz is known for her involvement in the celebrity dating scene. She has been romantically involved with Jesse McCartney, David Arquette (who admitted sleeping with her while married to actress Courtney Cox), Chris Pine and Ryan Seacrest among others.

4/12 Evander Holyfield

Mike Tyson bit off this guy's ear in 1997 during the famous 'Bite Fight' in Las Vegas. Evander 'The Real Deal' Holyfield is a four-time world heavyweight boxing champion, so the other celebrities had best not start a squabble with him. He made over $230 million while competing in the ring but has donated a large proportion of his earnings to the Church. This should be interesting…

5/12 Casey Batchelor

She's a British Glamour Model best known for…her 34GG breasts. Things could get competitive with a certain other lady with *ahem* 'assets' entering the house this year. 'I think they're amazingly feminine and make every outfit sexy, which can be a problem sometimes,' Casey said. 'By the time I was 15 they were an E, then by 18 they'd hit FF!'

6/12 Liz Jones

The one-time editor of Marie Claire, Jones is renowned as a Daily Mail columnist. The British journalist claims to have been anorexic aged 11 and was sacked from Marie Claire for refusing to use bulimic models in the magazine. She sparked controversy in 2012 when she criticised presenter Holly Willoughby for posting a photo of herself sans make-up on Twitter, calling the act 'a betrayal to women'.

7/12 Jim Davidson

Arguably the biggest hitter in the line-up, the cockney comedian experienced a 20 year battle with alcohol and was declared bankrupt in 2006. Davidson has had four failed marriages and been in rehab twice. He was awarded an OBE for his charity services and is known for his controversial views. 'Women are meant to be slim and attractive,' he once wrote on his blog.

8/12 Lee Ryan

The English pop star was a member of the boy band Blue. They sold over 14 million records worldwide including classics such as 'All Rise' and 'One Love'. In 2003, he got engaged to Atomic Kitten's Liz McClarnon but they split due to the pressures of being a celebrity couple.

9/12 Luisa Zissman

She was the runner-up on Alan Sugar's The Apprentice, but that's boring compared to how she describes herself – with the energy of a Duracell bunny, sex appeal of Jessica Rabbit and a brain like Einstein, apparently. She speaks openly about regularly attending sex parties (yes…) and owns a cake shop chain.

10/12 Ollie Locke

'Bicurious' Made in Chelsea star Locke is known as an entertaining character. He was attacked outside a nightclub at his friend Cheska's birthday party by a hater of the show. Locke quit the reality TV show in August 2013, claiming that 'the party's over for me'. A big partier, he claims to always carry eyelash curlers and admits to being vain, 'but not arrogant'.

11/12 Lionel Blair

British TV personality Blair started acting in London Underground stations and air raid shelters during WWII. He was the star of popular TV game shows Name That Tune and Give Us A Clue and like Nolan, enjoyed a West End career too.

12/12 Linda Nolan

Nicknamed 'Naughty Nolan' after her raunchy photo shoots, Linda first hit stardom in family act The Nolans. The group released disco hit 'I'm in the Mood for Dancing' before Nolan went on to enjoy an acting career with a West End appearance in Blood Brothers as Mrs Johnstone. She survived breast cancer in 2006 after undergoing a mastectomy.
Last Sunday's '18 Certificate' task, which saw some of the housemates don PVC bondage attire and attempt to create 'adult' footage, sparked 47 calls to Ofcom. After completing the task, playboy Blue singer Lee Ryan, 30, declared: "You think last night was f***ng dirty? You wait."
Another 40 viewers complained about a hot-tub scene involving Dappy, Zissman and Waltz. The two female housemates were persuaded to kiss in a game of Truth or Dare.
"Ofcom will assess all complaints before making a decision to investigate," an Ofcom spokesperson told The Independent. "It is unlikely that a decision on whether or not we will investigate will be taken until the end of the series."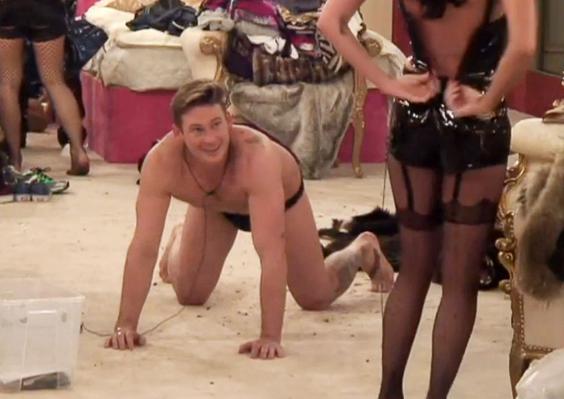 Despite the complaints, ratings for Celebrity Big Brother have increased to 3.3 million viewers – adding 500,000 to the 2.8 million who watched the start of the last series.
Channel 5 bosses are  extending this year's series by an extra weekend, meaning that the final will take place next Tuesday 28 January, rather than Friday 24 as planned. The show usually lasts for around 20 days.
This year's Celebrity Big Brother is not the only series to offend viewers. In 2013, the show received 438 complaints throughout its run, while in 2009, calls to Ofcom totalled 414.
No series has come close to rivalling the 2007 series, however, which sparked a massive 45,159 complaints.
During that memorable run, Bollywood actress Shilpa Shetty found herself at the centre of a global race row when her housemate, the late Jade Goody, called her "Shilpa Poppadom".
Ofcom ruled that the code of conduct had been breached and statutory sanctions were placed on Channel 4, the show's broadcaster at the time.