Everyone's got their opinions on the new Top Gear line-up. For better or worse; though in Bob Mortimer's mind, part of that is certainly the worst. 
The comedian took to Twitter to slam Chris Evans' inclusion in the new look team. Evans is joined by Friends star Matt LeBlanc, F1 commentator Eddie Jordan, world record-breaking German racing driver Sabine Schmitz, car reviewer and TV presenter Rory Reid, YouTube star Chris Harris and of course, the Stig.
And, though he quickly deleted the offending statement, Digital Spy managed to nab a screenshot before it disappeared.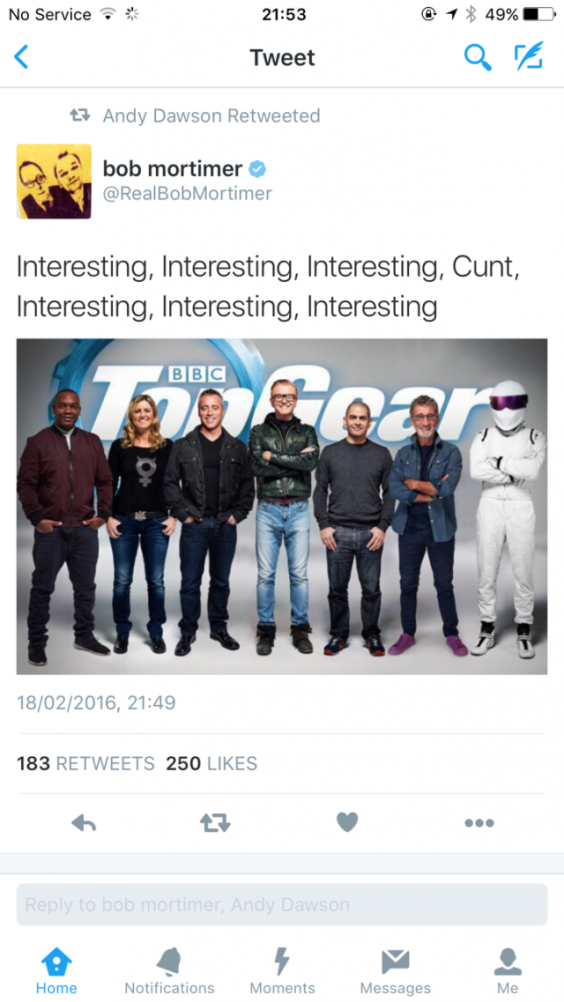 Mortimer posted the first official picture of the team alongside the caption, "Interesting, interesting, interesting, c*nt, interesting, interesting, interesting."
Meanwhile, Matt LeBlanc and Chris Evans have both been spotted filming one of the new series' first challenges - a race in Reliant Robins, with a finishing line in Blackpool.