Disney has revealed its first Latina princess – meet Princess Elena of Avalor.
Sixteen-year-old Elena is set to make her big debut in a "special episode" of children's TV show Sofia the First next year.
Sofia, voiced by Ariel Winter, has the power to speak with animals and summon other Disney princesses but little does she know that Elena (Aimee Carrero) has been trapped inside her magical Amulet of Avalor for decades.
Sound confusing? It is a bit. Sofia is on a mission to transform Elena back into a human and reunite her with her family, after the evil sorceress Shuriki tore her from them and displaced her as Avalor's rightful heir.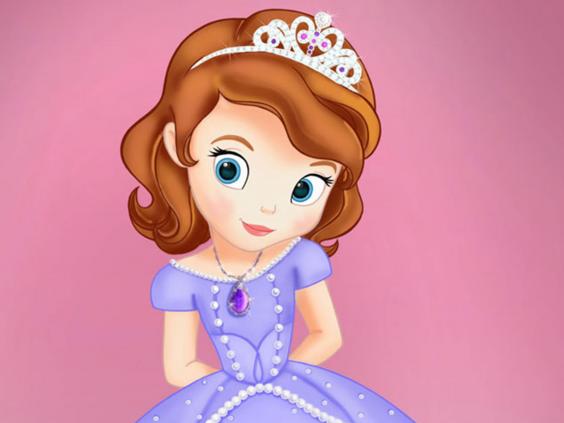 Once she's got her breath back, Elena will headline her own animated series, Elena of Avalor, on Disney Junior sometime in 2016.
She is described as "bold, caring, funny and clever…a confident and compassionate teenager in an enchanted fairytale kingdom inspired by diverse Latin cultures and folklore".
Elena will learn how to rule a kingdom from her grandparents Tito and Cici and a royal advisor called Duke Esteban. Then there's young wizard Mateo and mystical flying creature Skylar.
Who voiced your favourite Disney characters?
Who voiced your favourite Disney characters?
1/14 Zazu from The Lion King...

Poor Zazu has his work cut out looking after the lion cubs in The Lion King. But who voiced him?

2/14 ...Rowan Atkinson

Mr Bean actor Rowan Atkinson voiced Simba and Nala's hapless guardian Zazu in The Lion King

Rex Features

3/14 Belle from Beauty and the Beast...

She might have experienced Stockholm Syndrome and fallen in love with her captor but Belle from Beauty and the Beast is one of the most iconic Disney princesses. Who voiced her?

Walt Disney

4/14 ...Paige O'Hara

Broadway actress Paige O'Hara voiced the beautiful Belle in Beauty and the Beast

5/14 Mickey Mouse...

Steamboat Willie was the first animation featuring Mickey Mouse in 1928. But who voiced the iconic character?

Rex Features

6/14 ...Walt Disney himself

Walt Disney provided Mickey Mouse's high falsetto voice himself for nearly 20 years before Jimmy MacDonald took over in 1946

7/14 Rapunzel from Tangled...

Rapunzel's magical long hair caused her all sorts of problems in Tangled. But who was the real voice behind the character?

8/14 ...Mandy Moore

Singer, actress and fashion designer Mandy Moore voiced Rapunzel in Disney's 2010 hit Tangled

9/14 Hercules from Hercules...

Hercules and Meg in Disney's 1997 animated movie Hercules. Who voiced the god?

10/14 ...Tate Donovan

Tate Donovan who you might recognise from Argo and The OC played Disney god Hercules in the movie of the same name

11/14 Bolt from Bolt...

Bolt is the canine star of Disney's Bolt who believes his powers are real and embarks on a mission to save his co-star from a threat he also thinks is real. But who voiced him?

12/14 ...John Travolta

Grease and Saturday Night Fever star John Travolta played lovable Disney dog Bolt

Photo by Arthur Mola/Invision/AP

13/14 Scar from The Lion King...

He killed his own brother Mufasa and tried to take Pride Rock from baby Simba. But who voiced Scar?

IMDB

14/14 ...Jeremy Irons

Jeremy Irons voiced Simba's evil uncle Scar in The Lion King - arguably the most villainous Disney creation
"Our creative team has delivered a universal story with themes that authentically reflect the hopes and dreams of our diverse audience," said Nancy Kanter, executive VP of Disney Junior Worldwide.
"What excites us most is the chance to use distinctive animation and visual design to tell wonderful stories influenced by culture and traditions that are familiar to the worldwide population of Hispanic and Latino families and reflect the interests and aspirations of children as told through a classic fairytale."
In other Disney princess news, new Polynesian princess Moana will be introduced to us in a self-titled 2018 movie and Hollywood star Emma Watson has been cast as Belle in the live action remake of Beauty and the Beast.
Reuse content