Downton Abbey fans could see George Crawley jiving to Elvis or Lady Edith's daughter Marigold become a hippie in the film version of the hit TV series, if producers get their way.
Executive Producer Liz Trubridge said she would most like to see Downton Abbey set in the Seventies if it were to get a film incarnation.
Speaking to press ahead of the series six Downton Abbey premiere, Julian Fellowes agreed the Seventies would fit the fading aristocratic family well.
'Until the end of the Seventies it was very uphill trying to keep the show on the road in these places,' he said.
Producer Gareth Neame said he most would like to see the Grantham family fast forward 30 years to the mid Fifties when George Crawley would be running the family estate.
What are the Downton Abbey stars doing now?
What are the Downton Abbey stars doing now?
1/14 Jessica Brown Findlay - Lady Sybil Crawley

At just 24, Jessica Brown Findlay has made her name in Hollywood after starring as Beverly Penn in the film adaptation of Mark Helprin's 1983 novel Winter's Tale, alongside Will Smith, Russell Crowe and Colin Farrell.

In 2011 she starred in the leading role in British comedy-drama Albatross and will be playing Lorelai opposite Daniel Radcliffe and James McAvoy in Paul McGuigan's remake of Frankenstein.



ITV

2/14 Dan Stevens – Matthew Crawley

Since leaving the show in 2012 and moving to New York with his family, Stevens made his debut in Broadway opposite Jessica Chastain and David Strathairn in The Heiress.

He has recently been cast in Hollywood blockbusters A Walk Among the Tombstones, The Cobbler, Criminal Activities, and Night at the Museum: Secret of the Tomb, all of which are due to be released later this year or early 2015.



ITV

3/14 Sophie McShera - Daisy Mason

Bradford-born Sophie McShera joined the cast of Jez Butterworth's award-winning stage play Jerusalem as Pea for the show's return to London's West End in 2011 at the Apollo Theatre.

She starred as Job Centre regular Bryony in the ITV sitcom The Job Lot and will be reprising the role for series two which will air on ITV2.

She will also star in the 2015 remake of the Disney classic Cinderella as Drizella, one of the mean stepsisters.

Carnival/ITV

4/14 Michelle Dockery - Lady Mary

Dockery has found fame in Hollywood since playing Lady Mary Crawley, with roles in Hanna, and Tom Stoppard's Anna Karenina in which she played Princess Myagkaya.

In January 2014, she starred in aeroplane thriller Non-Stop together with Liam Neeson and Julianne Moore, and in the same month she was listed in Debrett's 500 most influential people in Britain.

She has also been cast alongside Ryan Reynolds and Ben Kingsley in Selfless, an unconventional sci-fi drama which is due for release in April 2015.

AP

5/14 Laura Carmichael - Lady Edith Crawley

Carmichael made her West End debut in October 2012 as Sonya in Uncle Vanya, opposite Anna Friel and Samuel West. She made headlines when Royal Shakespeare Company founder Sir Peter Hall shouted at her in a half-sleepy state during her performance.

She starred as a receptionist in BAFTA-winning Tinker Tailor Soldier Spy back in 2011 and will be playing the role of Henriette alongside Mia Wasikowska and Rhys Ifans in forthcoming film Madame Bovary.

6/14 Maggie Smith - Dowager Countess

Dame Maggie Smith reprised her role as Professor McGonagall in the final instalment of the Harry Potter series in 2011 before starring as Muriel Donnelly in the hugely successful The Best Exotic Marigold Hotel alongside Dame Judi Dench and Bill Nighy.

NICK BRIGGS

7/14 Hugh Bonneville – Robert Crawley, Earl of Grantham

Since taking on his role as Robert Crawley in 2010, Hugh Bonneville has starred in comedy film Burke and Hare, war drama The Monuments opposite George Clooney and Matt Damon, and Muppets Most Wanted.

In 2011 and 2012, he played the role of Ian Fletcher in the award-winning BBC comedy series Twenty Twelve and is due to star as Mr Brown in the upcoming family comedy Paddington.

ITV

8/14 Elizabeth McGovern - Cora

American actress Elizabeth McGovern has starred in drama Angels Crest and comedy Cheerful Weather for the Wedding since appearing in Downton.

In 2013, she was awarded the Will Award by the Shakespeare Theatre Company for her work on-stage over the years.

McGovern is currently filming alongside Ryan Reynolds and Dame Helen Mirren for drama Woman in Gold, which is due for release in 2015.

9/14 Brendan Coyle - John Bates

Primetime Emmy and Bafta Award nominee Brendan Coyle starred as Terry in Sky comedy series Starlings between 2012 and 2013.

He appeared in crime-thriller The Raven alongside John Cusack in 2012, and is due to portray Gerry Shaw in new Irish film Noble in September 2014.

NICK BRIGGS/ITV

10/14 Joannne Froggatt- Anna Bates

Since joining the cast of Downton Abbey, Froggatt has starred in John Donnelly's play The Knowledge at the Bush Theatre in West London and played guest roles in The Royle Family Christmas special and the TV mini-series True Love.

In 2013, she starred in the comedy drama Filth, based on Irvine Welsh's novel of the same name and Ulberto Pasolini's award-winning Indie film Still Life.

ITV

11/14 Isobel Crawley - Penelope Wilton

Between 2011 and 2012, Penelope Wilton played the role of Mary in the TV series North by Northamptonshire and starred as Lady Mary Murray in the 2014 drama Belle, opposite Matthew Goode.

Wilton will be joining her Downton co-star Dame Maggie Smith in The Best Exotic Marigold Hotel 2 as Jean Ainslie when it is released in 2015.

ITV

12/14 Jim Carter – Mr Carson

In 2011, Carter played the role of Barry in My Week with Marilyn opposite Michelle Williams and Kenneth Branagh, and has since narrated a range of documentaries from Secrets of the Stonehenge Skeletons to Pothole Britain – Drivers Beware!

Carter frequently cycles for charity causes and travelled to Ghana in 2011 to raise money for clean water in the small impoverished town of Tafo. He intended to raise a minimum of £2,750 but actually raised more than triple that amount with £8,670.

13/14 Phyllis Logan – Mrs Hughes

When she isn't playing the maternal Mrs Hughes, Logan starred in several TV series from 2010 including A Touch of Frost, Lip Service and Vera.

ITV

14/14 Lesley Nicol - Mrs Patmore

Since joining the cast of Downton, Nicol played guest roles in the US TV series Once Upon A Time and Raising Hope. She also played a recurring role in the TV series Sarah & Duck in 2013 as Scarf Lady.
While a Downton Abbey film would be met with delight from fans of the hit TV series across the world, showrunners said a movie version has only been mooted at this stage.
But Neame said he thought the whole cast would agree to the project if it were green-lit, joking: 'I don't suppose we could do it without them.'
He added the challenge for the film version would be making it 'just like the Downton TV show and at the same time different.'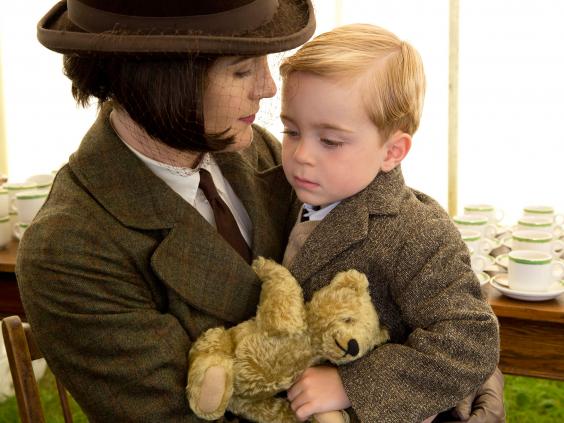 Downton Abbey will end its six series run this Christmas after becoming one of the UK's most popular TV exports in recent years.
Shown in 250 countries, the period drama has been an unprecedented success, especially in the US where it has become the most watched PBS drama in the channel's history.
But Fellowes said it was right to bow out before audiences get too bored.
'If we go on too long the audience will feel they've had enough. I think the ending is satisfactory. I hope it is.'
Reuse content