Dumb & Dumber To has released its first official image, seeing Jim Carrey and Jeff Daniels back in the roles of Lloyd Christmas and Harry Dunne.
The pair sit atop a deer statue in the still, with Harry clutching a brown parcel and both giving trademark goofy grins.
It follows a couple of teaser pictures that came from the set last year, with Carrey first sharing a picture of Lloyd's chipped teeth in September.
An image of Carrey and Daniels on set then followed, with their dim-witted characters being pictured attempting to read then newly-released children's book How Roland Rolls.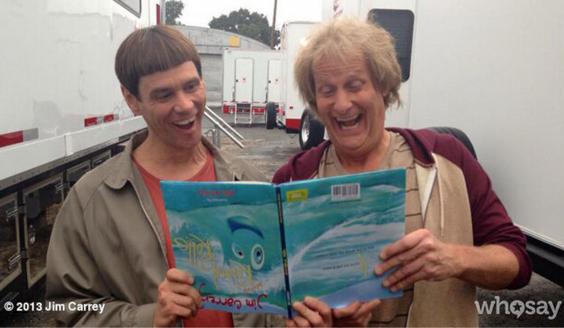 Despite their success in more serious roles in the 20 years following the first Dumb & Dumber, Daniels promised the sequel would be sillier than ever.
He even said the infamous toilet scene would be topped, teasing: "[It] pales in comparison and I can't divulge what, but just that they've topped it. [The] best thing about it? I get to work with a comedic genius."
Dumb & Dumber To is set for a November release date.
Reuse content