Last year, Republicans were outraged when Family Guy — a Fox show — mocked the then-Presidential candidate Donald Trump with their Emmy bid emailer.
Despite the minor backlash, creator and Democrat Seth MacFarlane has bashed the Trump administration, once again using the show's Emmy bid.
Rather than portray Peter Griffin as Trump, the overweight character wears the blue, red, and white outfit Kellyanne Conway wore to the inauguration ceremony.
Above the characters head, a joke lambasting Conway's 'alternative facts' comments, reading: 'Alternative fact: we are the smartest comedy on Television'. See below, via Deadline.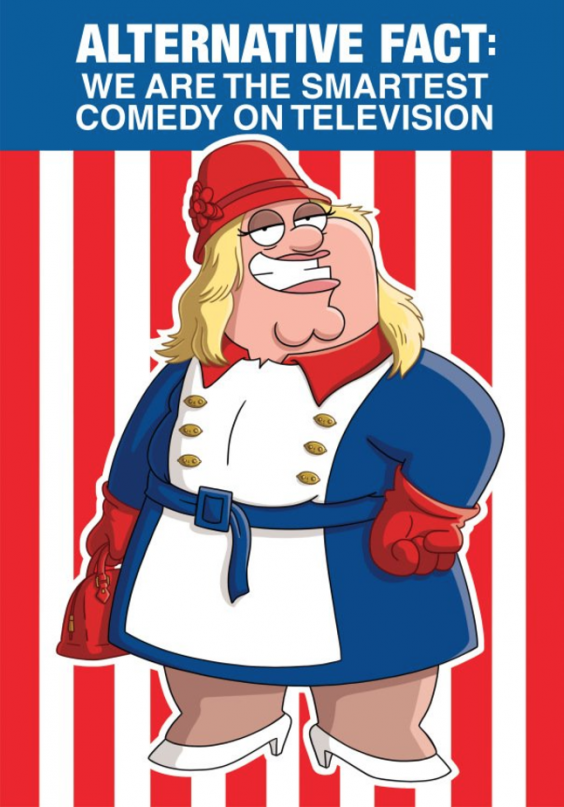 Conway was recently mocked by Saturday Night Live, who asked in one sketch Where in the world is Kellyanne Conway?, the pundit having been missing from TV screens for some time.
However, Conway recently reappeared, answering questions on CNN regarding Trump's firing of FBI director James Comey.
Donald Trump's first 100 days: in cartoons
Donald Trump's first 100 days: in cartoons
1/33

Donald Trump's first 100 days in office were marred by a string of scandals, many of which caught the eye of the Independent's cartoonists

2/33

Trump's first 100 days have seen him aggressively ramp up tensions with his nuclear rivals in North Korea

3/33

Mr Trump has warned of a "major, major conflict" with the pariah nation lead by Kim Jong Un

4/33

Mr Trump dropped the "mother of all bombs" on alleged ISIS-linked militants in Afghanistan, amid an escalation of US military intervention around the globe

5/33

Mr Trump has been accused of falling short of the standards set by his predecessors in the Oval Office, including Franklin D Roosevelt

6/33

The tycoon's ascension to the White House came at a time when the balance of power is shifting away from Western nations like those in the G7 group

7/33

Western politicians, including the British Conservative party, have been accused of falling in line behind Mr Trump's proposals

8/33

Brexit is seen to have weakened Britain, reducing still further any political will to resist American leadership

9/33

Mr Trump's leadership has been marked by sudden and unexpected shifts in global policy

10/33

Trump's controversial missile strike on Syria, which killed several citizens, was seen by some analysts as an attempt to distract from his policy elsewhere

11/33

The President has also spent a large majority of his weekends golfing, rather than attending to matters of state

12/33

Though free of gaffes, a visit from Chinese president Xi Jinping spotlighted trade tensions between the two states

13/33

One major and unexpected setback came when Mr Trump's Healthcare Bill was struck down by members of his own party

14/33

Mr Trump has been a figure of fun in the media, with his approval at record lows

15/33

A string of revelations about Mr Trump's financial indiscretions did not mar his surge to the White House

16/33

Outgoing President Barack Obama was accused of wiretapping Trump Tower by his successor in America's highest office

17/33

The alleged involvement of Russian intelligence operatives in securing Mr Trump the presidency prompted harsh criticism

18/33

The explosive resignation of Security Adviser Michael Flynn, who lied about his links to the Russian ambassador, was just one scandal to hit the President

19/33

Many scandals, such as the accusation Barack Obama was implicated in phone-hacking, first broke on Mr Trump's Twitter feed

20/33

Donald Trump's election provoked mass protests in the UK, with millions signing a petition to ban him from the country

21/33

Donald Trump cited a non-existent terror attack in Sweden during a campaign rally

22/33

Donald Trump stands accused of stoking regional tensions in Eastern Asia

23/33

North Korea has launched a number of failed nuclear tests since Mr Trump took power

24/33

Theresa May formally rejected the petition calling for Mr Trump to be banned from the UK

25/33

When Mr Trump's initial so-called Muslim ban was struck down by a federal justice, the President mocked the 69-year-old as a "ridiculous", "so-called judge"

26/33

A week after his inauguration, Theresa May met with Mr Trump at the White House

27/33

Donald Trump's first days in office were marked by a hasty attempt to follow through on many of his campaign promises, including the so-called Muslim ban

28/33

Donald Trump's decision to ban citizens of many majority-Muslim countries from the US sparked mass protests

29/33

Revelations about Donald Trump's sexual improprieties were not enough to keep him from being elected President

30/33

British PM Theresa May was criticised by many in the press for cosying up to the new President

31/33

One of Mr Trump's top aides, Kelly Anne Conway, was mocked for describing mistruths as "alternative facts"

32/33

British PM Theresa May was quick to demonstrate that her political aims did not hugely differ from Mr Trump's

33/33

Donald Trump's inauguration, on 20 January 2017, sparked protests both at home and abroad
Last year, Family Guy's Emmy bid pictured Griffin as Trump alongside the message: "As long as we're voting for loud dumbmouths, can I get an Emmy?"
Following the mailer's release, the show's Facebook page was overrun with critical comments, many aimed at MacFarlane, such as "Seth MacFarlane is a liberal socialist douche".
Reuse content