The family of a leading Conservative politician who was killed by an Irish National Liberation Army bomb attack in the 1970s has said a Channel Four drama that fictionalises his death should not be aired.
Relatives of the former MP and Shadow Secretary for Northern Ireland, Airey Neave, say that the latest series of Channel 4's controversial drama Utopia should not be broadcast as it not only trivialises their relative's death but also creates a false image of Neave.
Neave was a leading member in the Conservative Party before a bomb planted by the Irish National Liberation Army in the House of Commons car park ended his life in 1979.
However, the fictionalised drama, which is scheduled to be aired on Monday at 10 pm, reportedly does not attribute the killing to the IRA splinter group and, instead, pretends that Neave's death was carried out by a secret MI5 cell.
The series is also said to include real life footage of the aftermath of the explosion, including the wreckage of Neave's car.
In reaction to this, Neave's children have spoken out in criticism of the show.
Neave's oldest son Patrick, 66, called the show an "utter travesty" and said that the family had been upset that they had not been contacted before the show was due to air.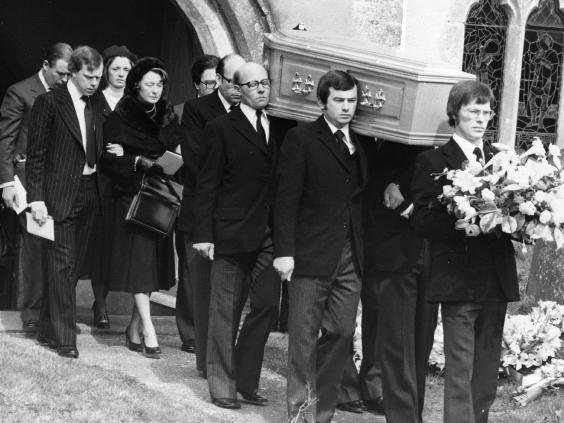 He told Mail on Sunday: "Who do these people think they are, reinventing history for the purpose of entertainment? To show real-life footage of my father's death is in incredibly poor taste."
'We will be sending a very terse message of disapproval to the head of Channel 4. They didn't even have the courtesy to contact us about this. That is the very least they should have done."
The drama also paints Neave as a drinker who was involved in a number of shady political deals, a portrayal that Neave's family say is false on both counts
According to the family, Neave barely drunk after doctors had warned him against it following a heart attack in 1959.
William Neave, 60, Airey's youngest son, told The Mail on Sunday: "I am upset and I would dearly like to protect my father's reputation from lies and fabrication. "
'It seems that when somebody dies, people can say whatever they like. We would love to stop it from airing.'
The family also said that they were worried that the Channel Four's demographic of people from 20-30 might mistake Utopia's fictional view of the past as the truth.
In reaction to the criticism, a Channel 4 spokesperson said: "The drama series Utopia is entirely fictional.
"A conspiracy thriller about a fictional organization called The Network, Utopia occasionally blends real moments in history with fictional storylines, and therefore some events and characters have been adapted for dramatic licence.
"It was not our intention to cause offence and Utopia does not suggest that any other real organisation was responsible for the death of Airey Neave."
Adding: "That period in history has been both widely reported and dramatized over the last 35 years and is the subject of many conspiracy theories."
Reuse content