Some 3,500 fans queued up in Spain for the chance to be a Game of Thrones extra earlier this summer but while seemingly everyone wants to get involved with season six, most have little idea what the job actually involves.
They will be needed from 3 to 18 September and paid just $50 (£35) per day, but according to one extra who helped out in season four's dramatic Purple Wedding scene, it was "an amazing experience".
Felipe Ferri describes himself as a "hardcore Game of Thrones fan" and shared his story in response to a question on Quora. He played a servant during King Joffrey's wedding feast and shot scenes for the hit HBO series in Croatia's stunning coastal city of Dubrovnik.
"The five days I spent on the set were amazing. They were intense - we had to meet at a pickup point at 4am and were dropped off at the same point at 7pm, but everything was so exciting that even the long hours didn't matter," he wrote.
"We spent the whole day in costumes and it was amazing to be surrounded by noble men and women, soldiers, servants and maids."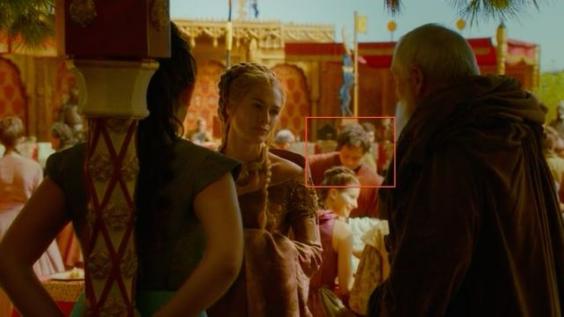 Ferri became so immersed in Thrones life that he began to think the actors in armour were really soldiers, despite knowing that they were regular people.
"It is funny that you kinda begin to think that everything is real," he said. "It is kinda scary, if you think about it. It was also extremely funny the anachronisms that you see in a place like that. Though your brain is starting to accept that you are in a medieval world, suddenly when you look to the side you see a servant typing on his iPhone."
Shocking Game of Thrones scenes
Shocking Game of Thrones scenes
1/9 Sansa/Ramsey rape scene

Season 5, episode 6: Fans were outraged as the episode ended with Sansa Stark being brutally raped by her new husband, Ramsey. The camera soon panned to Theon as he watched on, terrified.

HBO

2/9 Shireen burns at the stake

Season 5, episode 9:Stannis burns his daughter Shireen at the stake after Red Priestess Melisandre advises him to make a sacrifice to gain more power

3/9 Theon gets his penis chopped off

Season 3, episode 10: While being tortured by Ramsey, Theon Greyjoy goes through all sorts of pain. The most horrible though is when his penis is cut off and then sent to his family.

YouTube

4/9 George Bush's head on spike

Season 1, episode 10: According to the directors, they couldn't get enough prosthetic heads made up for the show and ended up using the spare one's lying around. One of those just happened to be the fake head of George Bush, which eventually ended up on a spike.

YouTube

5/9 Joffrey murders two prostitutes

Season 2, episode 4: In one of his most violent moments, Joffrey finds himself with two prostitutes in his room and the most disgusting thing he can think to do with them, uses them as living targets.

YouTube

6/9 The Red Wedding

Season 3, episode 9: It was the turning point for the entire show. Just as everyone thought it was going the Starks way, they nearly all end up murdered in one of the bloodiest episodes of any TV series ever.

HBO

7/9 Rat torture

Season 2, episode 4: Torture is a pretty common occurrence on Game of Thrones, but none were quite a bad as this. In the scene a bucket of rats is put to a man's chest and then heated up with a flame so they must eat through the man to escape. Terrifying.

YouTube

8/9 Mountain head explosion

Season 4, episode 8: Just as everything was going Oberyn Martell's way, it all literally blew up in his face. The warrior ended up looking like a squashed watermelon in one of the most awful scenes in the entire series.

9/9 Theon botched beheading

Season 2, episode 6: Beheadings: In one of the more gruesome beheadings, Theon strikes Ser Rodrick Cassel not just once but four times in the neck, finally taking it all the way off with a kick.
Ferri had only read one of George RR Martin's books before heading out to Croatia, so was left shocked by the plot's dramatic developments. Spoiler alert, but one he was prepared to roll with, especially as the cast was so "extremely nice".
"I had the rare opportunity to see that little p**ck King Joffrey choke to death a dozen times just a few paces from me!" he wrote. "It wasn't me who poured his wine though."
Game of Thrones is expected to return next spring.
Reuse content