Praise the old gods and the new, it seems Jon Snow really is coming back from the dead. Valar not so morghulis.
Last week Kit Harington was spotted at the filming of a battle scene, and now he's made a somewhat telling slip during an interview with Dutch magazine Humo.
This was the exchange, according to a Dutch speaker on Reddit:
Kit: The important thing is that I now know exactly how long I am still under contract, and in the meantime-
Interviewer: How many more seasons would that be?
Kit: Nice try (laughs). I can't talk about that. Let's just say that Game of Thrones will remain a part of my life for a while, I'll probably be in my thirties when it's over. One thing's for sure: the day I'm no longer on Thrones is the day I'll bury myself in movie projects (laughs).
Currently aged 28, if Harington is still in the show "in his thirties", then he's certainly sticking around for longer than a funeral scene or a couple of flashbacks, and it looks like there's going to be at least 8 seasons.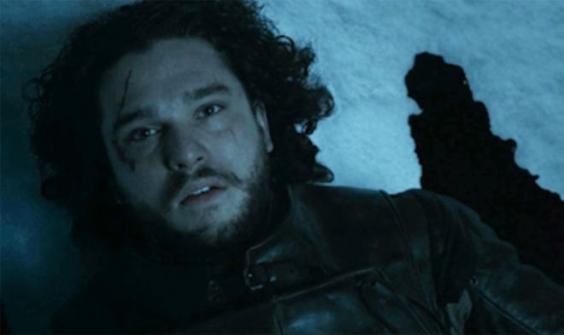 Unless this is all a fake-out a la Sam "I'm not doing the Bond theme" Smith (he now is), the news will renew fan theorising over how Jon will return, the leading idea being that Melisandre will be involved with his resurrection.
While the news will come to the joy of fans who feared the Lord Commander of the Night's Watch dead, Harington himself has mixed feelings about his continuing role in the series.
"I often felt frustrated as well," he said during the same interview. "I had to pass on amazing parts because I was attached to Game of Thrones. So the show is like a double-egded sword to me: I owe a lot to it, but, at the same time, it has almost completely drained me. Oh well, I try not to think about it too much."
Game of Thrones season 6 is expected to arrive on HBO and Sky Atlantic in April 2016.
Shocking Game of Thrones scenes

Shocking Game of Thrones scenes

1/9 Sansa/Ramsey rape scene

Season 5, episode 6: Fans were outraged as the episode ended with Sansa Stark being brutally raped by her new husband, Ramsey. The camera soon panned to Theon as he watched on, terrified.

HBO

2/9 Shireen burns at the stake

Season 5, episode 9:Stannis burns his daughter Shireen at the stake after Red Priestess Melisandre advises him to make a sacrifice to gain more power

3/9 Theon gets his penis chopped off

Season 3, episode 10: While being tortured by Ramsey, Theon Greyjoy goes through all sorts of pain. The most horrible though is when his penis is cut off and then sent to his family.

YouTube

4/9 George Bush's head on spike

Season 1, episode 10: According to the directors, they couldn't get enough prosthetic heads made up for the show and ended up using the spare one's lying around. One of those just happened to be the fake head of George Bush, which eventually ended up on a spike.

YouTube

5/9 Joffrey murders two prostitutes

Season 2, episode 4: In one of his most violent moments, Joffrey finds himself with two prostitutes in his room and the most disgusting thing he can think to do with them, uses them as living targets.

YouTube

6/9 The Red Wedding

Season 3, episode 9: It was the turning point for the entire show. Just as everyone thought it was going the Starks way, they nearly all end up murdered in one of the bloodiest episodes of any TV series ever.

HBO

7/9 Rat torture

Season 2, episode 4: Torture is a pretty common occurrence on Game of Thrones, but none were quite a bad as this. In the scene a bucket of rats is put to a man's chest and then heated up with a flame so they must eat through the man to escape. Terrifying.

YouTube

8/9 Mountain head explosion

Season 4, episode 8: Just as everything was going Oberyn Martell's way, it all literally blew up in his face. The warrior ended up looking like a squashed watermelon in one of the most awful scenes in the entire series.

9/9 Theon botched beheading

Season 2, episode 6: Beheadings: In one of the more gruesome beheadings, Theon strikes Ser Rodrick Cassel not just once but four times in the neck, finally taking it all the way off with a kick.
Reuse content