When Game of Thrones returns later this year fans can expect plenty more uncompromising brutality and medieval gore.
Although it may be hard for viewers to stomach, star Kit Harington says that the violence in the HBO fantasy drama is not gratuitous and is integral to the story.
The 28-year-old actor, who plays Jon Snow in the series said, "I don't see a problem with it because you mostly always feel the consequences of that person dying."
Game of Thrones season 5 cast
Game of Thrones season 5 cast
1/9 Game of Thrones season 5

Oscar-nominated New Zealand actress Keisha Castle-Hughes will play the fiery Obara Sand, one of Prince Oberyn's illegitimate daughters, who is seeking revenge for her father's murder at the hands of the Mountain in season four

Getty Images

2/9 Game of Thrones season 5

Nymeria "Nym" Sand will be played by Jessica Henwick, her best known role to date is in television series Silk and Spirit Warriors

BBC

3/9 Game of Thrones season 5

Jonathan Pryce will star as the High Sparrow, a religious figure who could be making waves in King's Landing

Getty Images

4/9 Game of Thrones season 5

Alexander Siddig, who will be playing Doran Martell, the stoic ruler of Dorne and the older brother of the gruesomely slain Oberyn

Getty Images

5/9 Game of Thrones season 5

Enzo Cilenti (left) will take on the part of the slave trader Yezzan

Rex Features

6/9 Game of Thrones season 5

London-born star DeObia Oparei will play Areo Hotah, the loyal protector of Doran Martell

Getty Images

7/9 Game of Thrones season 5

Rosabell Laurenti Sellers will play Tyene Sand, one of the illegitimate daughters of Oberyn Martell, the Prince of Dorne

Getty Images

8/9 Game of Thrones season 5

Myrcella Baratheon will be played by newcomer Nell Tiger Free

Rex Features

9/9 Game of Thrones season 5

Newcomer Toby Sebastian will take on the role of Trystane Martell, the youngest son of Doran
"In Thrones it's war and awful, awful things happen, as we see on the news daily. And if we've got an appetite for watching these things on the news then you can't shy away from it on cable drama," he told RadioTimes.com.
But Harington admitted that the series is as "gory as hell" and added "People are always dying around me in Thrones."
Some of the most violent moments on the show have included: a pregnant woman being stabbed repeatedly in the stomach, a man tortured and castrated, and a prostitute repeatedly shot with a crossbow.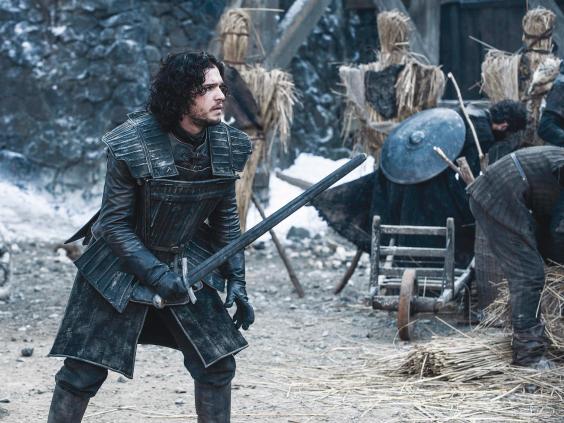 Harington wrapped up filming on Game of Thrones earlier this year and has said that the forthcoming season is going to be "phenomenal".
"They've built it in the right way – it could have got a lot sillier a lot earlier and it hasn't. It's progressed in the right way story-wise. It's so brilliant this year."
The storyline for season five will be based on George RR Martin's fourth and fifth novels, A Feast for Crows and A Dance with Dragons, but as usual the plot may deviate from his A Song of Ice and Fire book series.
Season five of Game of Thrones will be broadcast in the spring but eager fans will not have to wait that long. HBO is set to release a preview special featuring new footage.
The preview titled A Day in the Life will be broadcast on Sunday 8 February.
Reuse content