A Song of Ice and Fire author George RR Martin is far too busy finishing The Winds of Winter to be talking about writing The Winds of Winter, but given he hasn't set a release date for the sixth book in the epic franchise, fans are taking whatever crumbs they can.
His latest post to LiveJournal might have actually confirmed one plot detail that was left dangling at the end of book five, A Dance With Dragons: the accuracy of 'the pink letter' Ramsay Bolton wrote to Jon Snow, which detailed the fates of a number of characters.
After one fan posted a comment on Martin's blog, asking "Alright Mr Martin, let's cut the c**p, is Stannis alive or dead" the author responded with "In my books? Alive, beyond a doubt".
Martin's answer throws one of the book's most intriguing mysteries off-balance: the details of what the fandom have nicknamed 'the pink letter'. And this is where it starts to get interesting.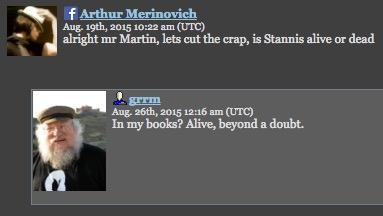 What is the pink letter?
Named after the pink wax Ramsay uses to seal his letters, 'the pink letter' is a note sent to Jon in the closing moments of the fifth book.
The note informs Jon that Stannis' rebellion failed, his army was destroyed after a seven-day battle and Ramsay killed Stannis himself.
Ramsay goes on to say he has captured Melisandre and Mance Rayder and he makes a number of demands of Jon, including the return of his 'bride' and his Reek.
While Ramsay marries Jon's sister Sansa in the TV show, in the books he marries a Northern girl posing as Arya Stark to retain his house's hold of the North. But like the TV show, Theon escapes with Ramsay's bride by leaping from the walls of Winterfell - but we never see him make it to Jon.
The contents, which Jon believes to be accurate, shake him into taking action against the Boltons, but he is stabbed in the back by his sworn brothers as they fear the consequences of The Night's Watch getting involved in the political machinations of Westeros.
If Martin says Stannis is alive 'beyond a doubt' then that suggests the contents of the pink letter are a complete lie. A sample chapter from Winds of Winter, released on Martin's website, showed Stannis and his army alive and well, but several scenes in the book are reportedly to take place before or during the fifth book's timeline.
So while the show's creators have confirmed Stannis didn't survive Brienne's own form of justice in the season five finale, Stannis in the books seems, for now at least, to be fighting another day. Valar morghulis.
Reuse content